When it comes to Hollywood couples, few are as cool and cute as Emily Blunt and John Krasinski. The combo of their sense of humour and genuine love for each other is all the #couplegoals.
And being that it's award season and they're doing the rounds together for their films: A Quiet Place (which Krasinski directed and Blunt starred in) and Mary Poppins Returns. Blunt has already scooped up a Screen Actors Guild Award for Outstanding Performance by a Female Actor in a Supporting Role for A Quiet Place in which she gushed about her hubby's brilliance during her acceptance speech.
Of course, awards season isn't just about the actors, it's also about the other crew members too. At the 2019 Writers' Guild Award Krasinski was nominated for Original Screenplay for A Quiet Place, shared with Bryan Woods and Scott Beck and although he didn't win, he did win the red carpet look with Blunt.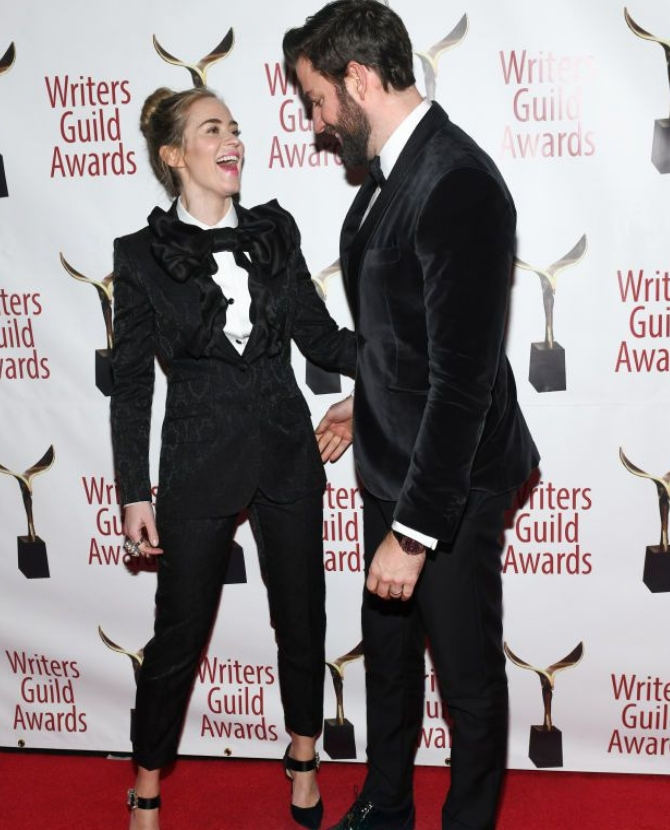 The two opted to show off their matchy-matchy skills by donning some slick suits. Blunt wore a Dolce & Gabbana number with an oversized bowtie with a ruffled lapel while Krasinski went for a velvet suit with your more traditional bowtie. What we loved the most was how fun and playful they both were – it's totally refreshing to see a Hollywood couple not take themselves seriously. We salute…
We can't wait to see what they wear for the 2019 Oscars next week.
Until then, familiarise yourselves with the 2019 Oscar nominees.