It was a busy day for the royal family yesterday with three of its members on public outings across the day. First, Kate Middleton was spotted at the Royal Opera House where she visited the Costume Department to learn more about their design process. Then, Meghan Markle had back-to-back engagements for two very charitable causes.
First, the Duchess of Sussex paid a visit to Mayhew, the animal charity she was handed patronage of earlier this week by the Queen. During her visit she met with volunteers to hear about the work the shelter does and also met some of its adorable residents. In one hilarious but heart-stopping moment, one volunteer told Meghan she was "a very fat lady" in reference to her pregnancy sending the Duchess into a fit of laughter before answering, "I'll take that!" For the visit, Meghan opted for a cream colour palette and wore a maternity dress from H&M which she paired with a custom Armani coat and a Stella McCartney handbag.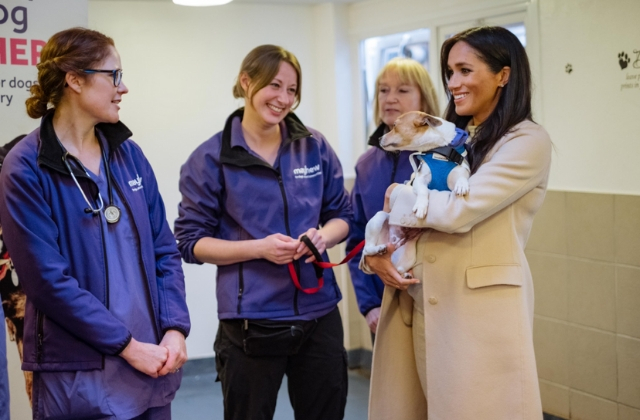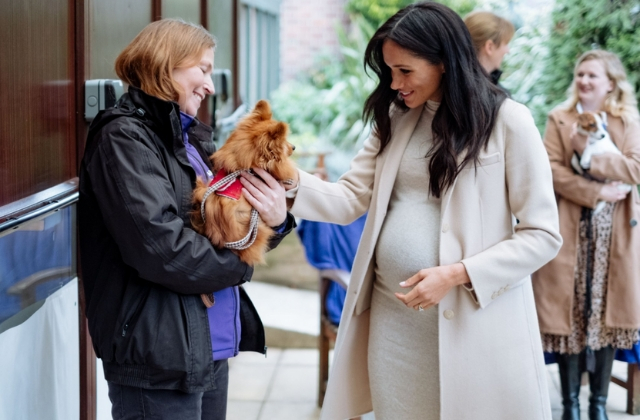 Then, just hours later, the Duchess had a rather dramatic costume change for a night out to see a Cirque du Soleil performance at Royal Albert Hall in support of Prince Harry's charity, Sentebale. The Duchess was glittering in a floor-length sequin gown by British designer Roland Mouret, teamed with a Givenchy clutch and a bracelet that was previously owned by Princess Diana. The pair met with performers and members of Sentebale ahead of the show before taking their seats to watch the performance.
Earlier this week, Meghan revealed that she and Prince Harry's first child is due in April and yet, with just four months to go, the newest royal is showing no sign of slowing down just yet. Well, when your bump is looking that good and you've got that pregnancy glow going on, we can't blame her.
Now, find out where the Duchess of Cambridge will show off her gardening skills later this year.