Earlier this week, Queen Elizabeth appointed Prince Harry as the Commonwealth Youth Ambassador and on Monday, the young royal officially marked the opening of the Youth Forum.
Today, Prince Harry and his bride-to-be Meghan Markle (who wore a dress by Altuzarra, a black blazer by Camilla and Marc, and a bag by Oroton) were spotted at the Queen Elizabeth II Conference Centre in London as they met with delegates taking part in the Commonwealth Heads of Government Meeting this week, marking the former Suits actress' first official appearance on behalf of the Queen.
Just a month away from the highly anticipated royal wedding, Prince Harry and Meghan Markle were introduced to around 40 of the 500 young leaders taking part in the forum's sessions.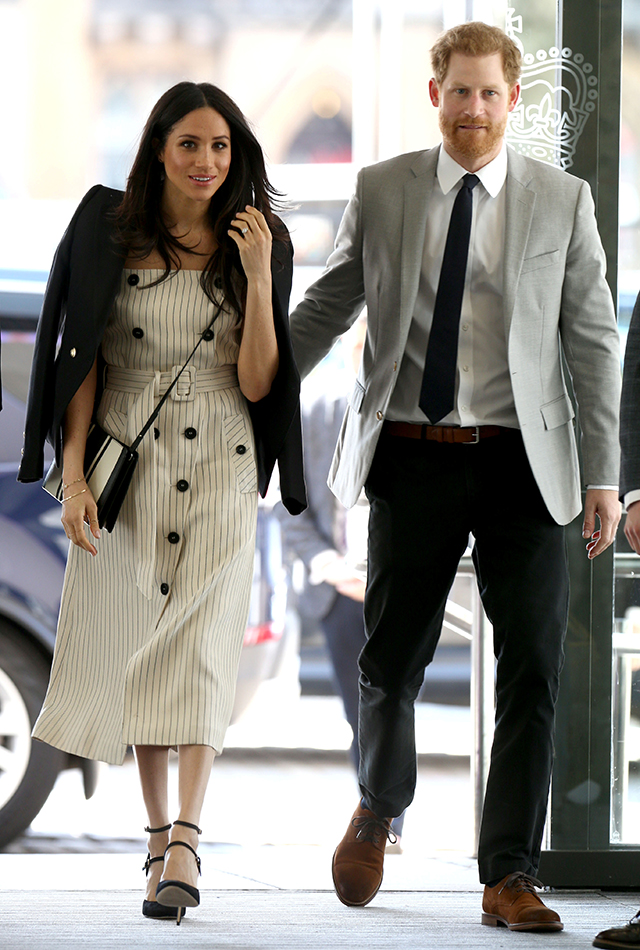 According to a statement released by the Kensington Palace, the pair "met young delegates at the Commonwealth Youth Forum" and that "delegates told Prince Harry, who opened the forum earlier this week, and Ms. Markle what they have learnt from each other over the course of the last few days." The pair also "met past winners of the Queens Leaders Award, who were taking part in the forum too."
In line with supporting the Queen (who is the head of the Commonwealth), the royal duo will be taking a lead in Commonwealth youth matters moving forward and will continue to attend different events throughout the week including the Women's Empowerment reception on Thursday, hosted by Foreign Secretary Boris Johnson.
Now, find out who Prince Harry and Meghan Markle's wedding photographer is.