Yesterday, Abu Dhabi played host to the opening of the 'Flânerie Colbert, French Luxury in the 21st Century' event (running in parallel to the Louvre's '10,000 Years of Luxury' exhibition) to highlight the French luxury sector and its bond to the UAE through a slew of events that centre around excellence skills and contemporary art.
Started in 1954 by 15 French visionaries, Comité Colbert is now made up of 84 French luxury houses and 16 cultural institutions of which, Chanel is considered an eminent member.
The maison participated in the inaugural event to boost its cultural dialogue as it unveiled a series of exciting initiatives to highlight its exceptional savoir-faire, kicking things off with its newly renovated boutique in the city's Galleria Mall.
In part due to its partnership with Flânerie Colbert, visitors of the boutique will discover a captivating window display created in collaboration with two other members of the Comité Colbert: the Ritz Paris and the Monnaie de Paris. Why those two specifically? The famous Parisian hotel was a personal favourite of Gabrielle Chanel (plus, it's synonymous with luxury and excellence). The Monnaie de Paris embodied the profile of Gabrielle Chanel with precious mirrors, the iconic number 5 and the diamond quilting — which is now, an emblem of the fashion house.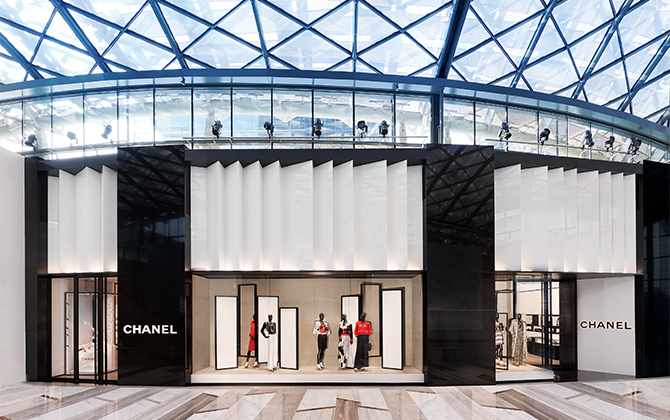 The Flânerie Colbert inaugural party kicked off overnight as guests were invited to celebrate Chanel's unique craftsmanship and savoir-faire with Joaquin Jimenez, the master engraver at the Monnaie de Paris. A unique experience to all, Jimenez demonstrated how he created the image of Gabrielle Chanel for a coin using plaster.
Also, artisans from the House of Lesage (one of the Maisons d'art belonging to Chanel's Métiers d'art) demonstrated the Luneville crochet hook embroidery technique set on an embroidery frame.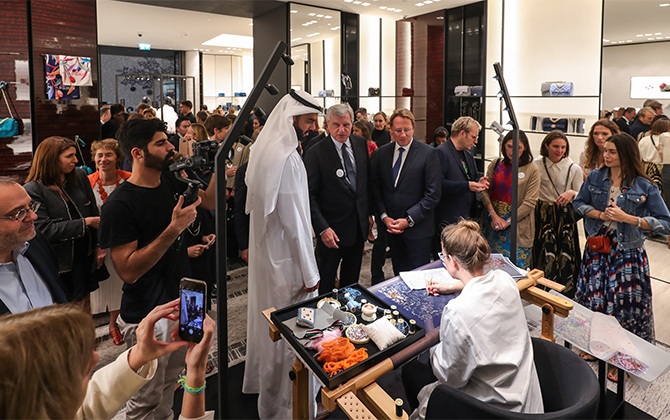 To further discover the traditions of French luxury (including the virtuosity and creativity of artisans that the maison continues to support endlessly), the House of Lesage organised an embroidery workshop in the heart of a culture site located in the centre of Abu Dhabi.
The Al Hosn neighbourhood played host to the event as guests were welcomed to create an oeuvre representing the architecture of the Louvre Abu Dhabi.
Throughout November 12-21, atelier embroiderers will be on site to perform demonstrations and speak about a traditional weaving technique in the UAE, the Al Sadu savoir-faire.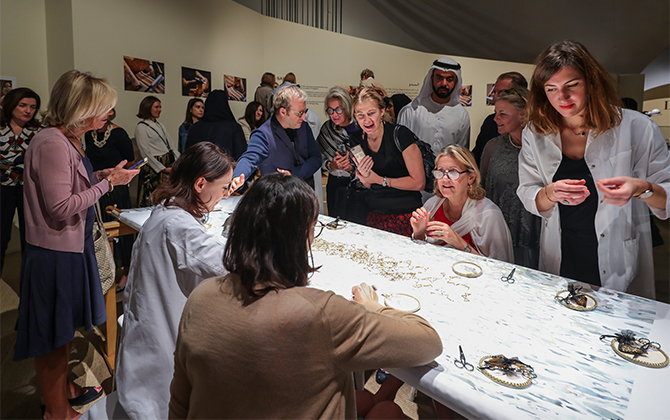 The Flânerie Colbert, French Luxury in the 21st Century, taking place in Abu Dhabi from now until December 14th 2019.
Now, go ahead and listen to Chanel's new 3.55 podcast.