There are officially less than two months to go until the royal wedding and whilst the world excitedly waits for the May 19 date, Kensington Palace has been continuously teasing us with tantalising details over the past few months, and overnight, they revealed another new detail.
Members of the Armed Forces (250 to be exact) will carry a special role in the wedding of Prince Harry and Meghan Markle.
According to the British Ministry of Defence, "Regiments and units that hold a special relationship with Prince Harry" including the Royal Navy Small Ships and Diving, Royal Marines, 3 Regiment Army Air Corps, The Royal Gurkha Rifles and RAF Honington "will provide ceremonial support at the wedding and during the carriage procession at the request of Kensington Palace."
Also, details emerged that "members of the Household Cavalry will form a staircase party at St George's Chapel, Windsor Castle as part of the wedding. The State Trumpeters and a Captain's Escort from the Household Cavalry will also provide ceremonial support. Streets within the precincts of Windsor Castle will be lined by members of the Windsor Castle Guard from 1st Battalion Irish Guards, and by Armed Forces personnel."
There has always been a close connection between the British royals and the military. Prince Harry, in particular, has had a connection to all of the units that will be represented at the wedding. Serving his country for 10 years, Prince Harry also served in the Household Cavalry Regiment during two tours of Afghanistan.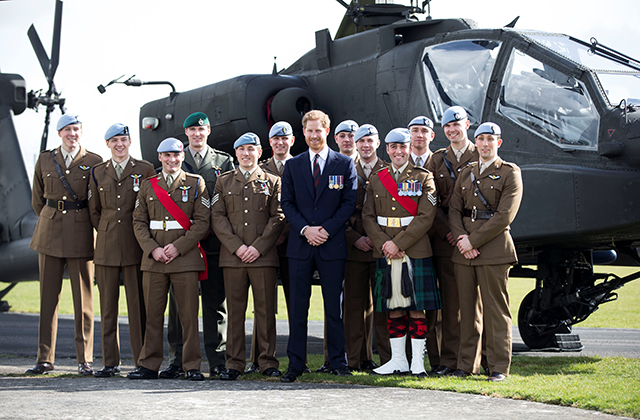 Last month, Kensington Palace released the wedding day schedule announcing that the duo will take a carriage ride through town after the wedding ceremony in order for them to be able to greet the public.
This was shortly followed by an announcement that saw the upcoming event dubbed the Wedding of the People when Prince Harry and Meghan Markle invited 2,640 members of the public to the grounds of Windsor Castle to watch the pair (and their guests) arrive.
Can it be May already?!
Also, see what Meghan Markle and Prince Harry were up to on their surprise visit to Northern Ireland.