This weekend, George Clooney was honoured with the AFI Life Achievement Award for his contribution to his craft over the course of his stellar career. He received a lengthy standing ovation upon receiving the award however that wasn't the highlight of the night — that crown belongs to his wife Amal who delivered an emotional speech that reduced the actor, as well as everybody else in the room, to tears.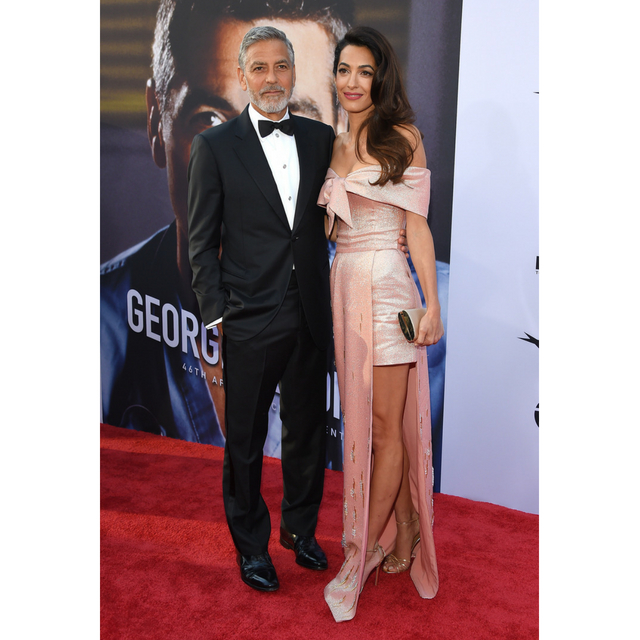 Marking the first time the human rights lawyer has spoken publicly about her husband, she spoke of how the actor is "a gentleman" and the impact he has had and continues to have on her life. She also joked that she had been preparing for "life as a spinster" ahead of meeting George five years ago and touched upon his well-known love of pranks in her funny and moving tribute.
Read the highlights below…
On his manners
"It's somehow easier for me to address a court on behalf of a detainee than to speak publicly as I am doing for the first time tonight about my husband. I do so out of immense pride of all he has achieved. Here are a few things you may not know about [George]. First, he is a gentleman. He is a gentleman in every sense of the word and in a way that seems so rare these days, perhaps even outdated. Everyone who knows him, even those who oppose him politically or who have quarreled with him professionally, will tell you, he has not forgotten his Kentucky manners. On every set I visit, I'm told by the crew that George sticks up for the most vulnerable."
On his generosity
"George is incredibly generous. He is generous with his time. He finds out about people who have suffered the same health issues as him and he writes to give them advice. He helps young people pursue their passion for film. He'll visit an elderly lady at our local nursing home as he thinks it will make her day. He has a big heart and he puts it into everything he does, whether it's making movies, hosting a fundraiser or as quite often happens these days pranking our latest guest by using a nappy and a pot of Nutella. But George is generous in traditional ways, too, by donating money to causes he believes in and spoiling loved ones. He must surely be the only person in the world to invite his 13 closest friends to dinner one night and give them a suitcase filled with one million dollars in cash. But it must be said, the 14th closest friends is still upset about it."
On their relationship
"Although George modestly attributes much of the success we are celebrating here to luck, I think it's incredibly talent and character that got him here. And these attributes also make him an amazing husband and father. I met George when I was 35 and starting to become quite resigned to the idea that I was going to be a spinster. Then we met and started hiding out in my London flat and very soon it felt like, no matter what happened, I would never want to be with anyone else. I couldn't sleep when we were apart and I'm told that I would display a particular grin and head-tilt when reading his text messages or the letters he would hide in my bag. Five years later, none of that has changed. He is the person who has my complete admiration and also the person whose smile makes me melt every time."
On their children
"My love, what I have found in you is the great love I always hoped existed. And seeing you with our children, Ella and Alexander, is the greatest joy of my life. You fill our home with laughter and happiness and that's even before the children have worked out that 'dada' is Batman, a talking fox and friends with Mary Poppins. I'm so proud of you my love. Congratulations on this great honour that you're receiving tonight. I'm proud of you, but I also know that when our children find out not only what you have done, but who you are, they will be so proud of you too."
WHERE ARE THE TISSUES?!
Now, find out what Prince Harry said to Clare Waight Keller about Meghan's dress after the royal wedding.