In a cruel world, butterflies tend to lead you to the sunny side of life. Similar to self-propelled flowers, butterflies are beautiful, graceful, enchanting and yet, a symbol of evolution. And this year's edition of Van Cleef & Arpels' Middle East Emergent Designer Prize focused on the biomimicry of butterflies.
Marking the 8th edition – in collaboration with Tashkeel – this year welcomed sculptural works from over 50 artists who depicted the theme of 'Biomimicry–Butterflies' through various mediums and outcomes. The 2021 Van Cleef & Arpels Emergent Designer Prize received submissions from designers living and working in the UAE, Bahrain, Oman, Saudi Arabia, Qatar and Kuwait, before choosing Neda Salmanpour as the winner for her structure, titled Kaleidoscope.
An impressive floor lamp that emulates the harmony and complexity of gathering butterflies, Kaleidoscope is a unique design piece that combines skillful craftsmanship with a wondrous complexity of nature's gems – elements that are also heavily embedded in the traditions of Van Cleef & Arpels.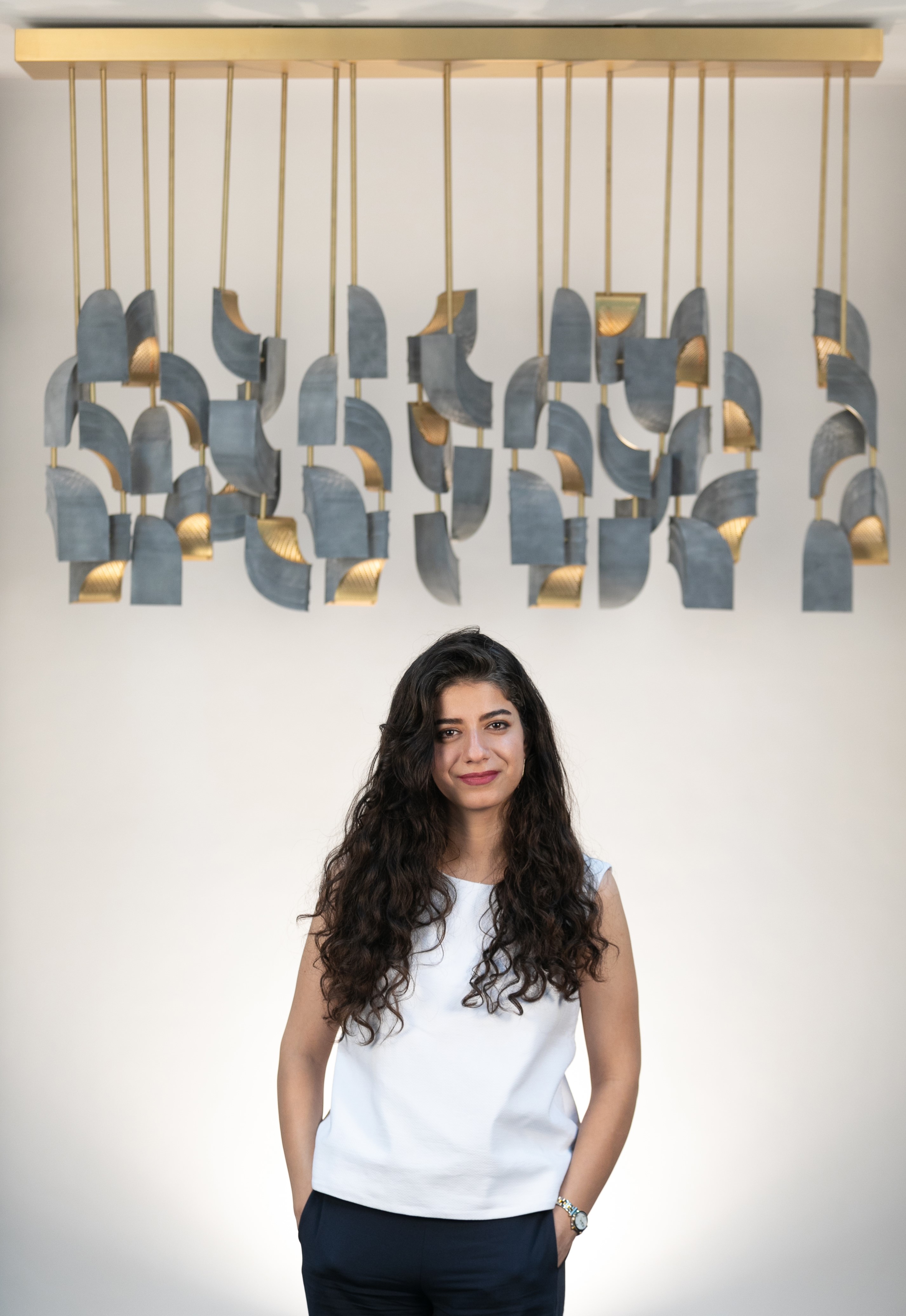 I came across a post you posted on Instagram, which intrigued me to ask you this question. The caption read: "Friends and family are always telling me how my account is not a true reflection of who I am in real life." So, who is Neda? And how does your personality shine through your work?
I'm extremely intrigued when it comes to design, or with things that I find beautiful. It's not like you work as a designer and when you go home, you're someone different. It's the way you see life. To have that filter when you see the world around you, appreciate beauty, and give them the value they deserve. For me, I'm especially intrigued with everything related to geometry and mathematics. It's something that I find very interesting and not intentionally, but it reflects in my work because I think mathematics and geometry are such concrete things and that you cannot go wrong with them. That's kind of how I see the world and it reflects in my work. And also, whenever I'm trying to create something, I'm trying to delve deep and really disintegrate every single thought process and not to fall back on thought processes that I've had before.
You mentioned the word respect. What are the key elements you want people to take away from your designs?
I should be completely separated from the piece. A piece is not a representation of me. I'm not creating in a way to fulfil me. I'm just giving a chance to this beautiful piece – such as this onyx stone and this carving technology and give myself a chance to work with these things. I just want to do my best to create something beautiful. When people see the piece, it makes them feel good.
Tell us about the butterflies inside the Kaleidoscope piece…
We took the frequency of the acceleration of the wings and how the butterflies fly up, and translated that into a graph, took the numerical and turned that into voltage. So that it looks like you have a jar of butterflies.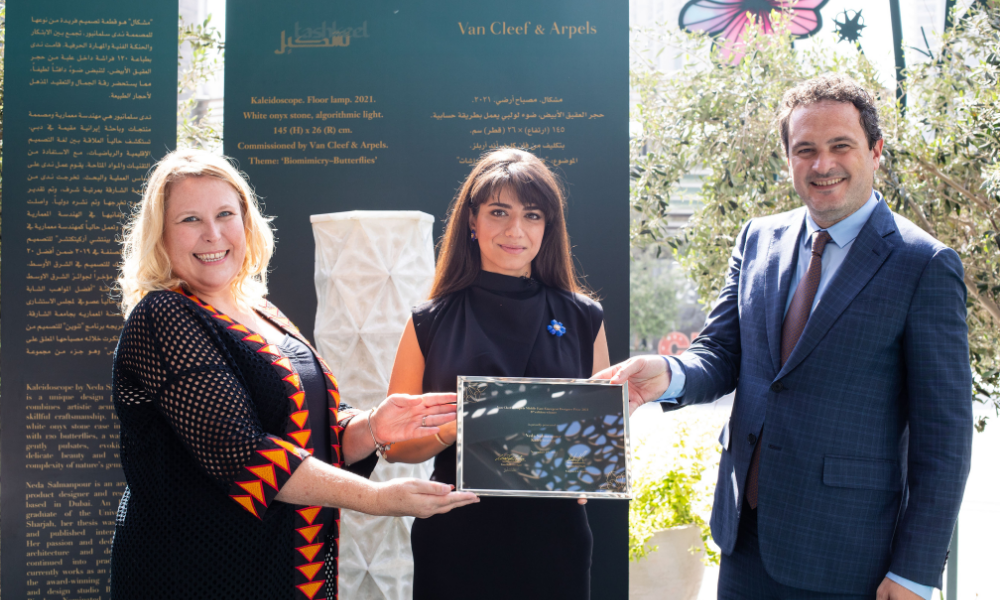 How long did it take you from conception to completion?
The design process was about two weeks which is quite fast, I know (laughs). But the production took about 10 weeks.
What was the most challenging part of this journey?
I think learning to work with a natural material, because it has its own characteristics, and it gives you a lot of surprises and just trying to be humble by it to work with it. And the precise geometry of building the piece as well.
What are some of the values from Tashkeel and Van Cleef & Arpels that resonate to you the most?
Before I started designing, I was trying to imagine Van Cleef & Arpels – and what do I imagine when I think of the brand. It's intricate, beautiful, whimsical, fantasy and it's that place that you go where you don't think about anything else and you're in front of this beautiful piece, and you're admiring it. I wanted to embody these qualities in the piece as well. Craftsmanship, respecting the material and that sense of magic.
As far as Tashkeel goes, they're so warm and nurturing. They're so supportive of young designers. I wanted the piece to have this warmth and originality, which is why the geometry as well, plays slightly on the regional and Islamic design pattern. And I thought bringing the butterfly with it together would be quite interesting.
We're curious to know how the whole idea came to life and what was it that you thought about first?
I just watched a lot of butterfly documentaries (laughs) and really tried to learn about them. I was trying to be unbiased, and I just watched a lot about their lives and thought to myself 'Oh, what is something that intrigues me?' because if it's something that intrigues me, then I can pull on that thread and start from there. When a butterfly flies, there's a cultural significance. It's very mesmerising and everyone knows that it's something different. So, let's see what I can drive from there which is also not a direct translation. How can I analyse this information and present it in a different way? When people see the piece, they almost get that feeling but can't directly tell it's a butterfly.
It was the motion, the translucency, the structure, and the wings of the butterfly that wanted me to make sure the piece had structural integrity, and it's a whole. Also, another aspect is when you have a swarm of butterflies together, it looks so chaotic and harmonious at the same time. I liked that sense of harmony and chaos and I wanted to create a piece that feels complex but is also very structured.
What does a butterfly symbolise to you?
A butterfly is to be admired. Admirable.
'Kaleidoscope', how would you describe it?
A mix of love and a dash of nervousness. I wanted the piece to be beautiful but also be intriguing.
Who has played a significant role in your career?
My family, first and foremost. They've always supported me. They're my backbone when it comes to everything. Also, my work family at Bingy & Bingy. Since the beginning, just to be mentored by my director and to be able to be given the chance to be a part of the team – as myself, and to even be experimenting with product design is something that I only started at the firm. So this whole process is a continuation of what they have given me.
The winning work will be showcased at Les Salons Van Cleef & Arpels Dubai Opera boutique.
In other cultural news, discover Art D'Egypte's incredible annual exhibition.