Perhaps one of the coolest events on Dubai's style calendar is Sole DXB and after a hiatus due to the covid outbreak, the festival officially made its return and brought a whole heap of achingly cool exhibitions, activities and personalities. Championing up-and-coming brands and trends from the region and beyond, Sole DXB's main purpose is community-focused, looking to build a direct bridge between our city and others. This exchange of ideas was showcased through talks, live music programmes, screenings and shoppable brands at this year's event.
While touring the scene at Dubai Design District, we stumbled upon Virgin Megastore's activation – offering a wide range of experiences and books including a selection of coveted coffee table books. In particular, Virgin Megastore at Sole DXB listed Ice Cold. A Hip-Hop Jewelry History by none other than Vikki Tobak, offering an exclusive insight into the new tome.
The new book offers a definitive photographic history of how hip-hop blinged out and redefined the world of jewelry, luxury, and style. With 40 years of iconic imagery and compelling stories telling the history of the subculture, you'll also come across mega stars (think Run-DMC and Tupac, Jay-Z and Migos to Cardi B) flash brilliant custom pieces to show status and personal style.
We had the chance to sit down with the culture journalist to discover the book culture of hip-hop, art, contemporary fashion and jewelry…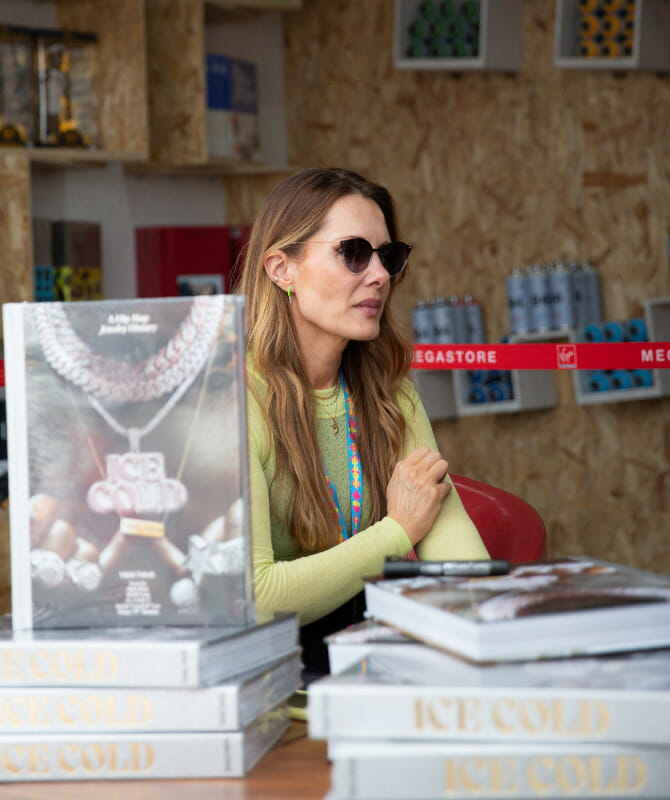 Thank you for taking the time to speak with us today. Is this your first time in Dubai?
No! I've been to this festival twice before and I came in 2018 with my first book, Contact High, which was about the history of photography in hip-hop. Then I came in 2019 and now, this is my third time here.
And now you're here for another book, Ice Cold. A Hip-Hop Jewelry History. Can you tell us a little bit about the book?
This book is a history about the jewelry in hip-hop and just the way it has adorned itself through jewelry. It traces from all the way back to the '70s to the current day and just how jewelry has been part of the culture for so long.
To you, what does 'ice' symbolise in hip-hop culture?
What we adorn ourselves with and what we put on our bodies, that's something that goes across all cultures. It's something from the days of kings and queens – showing status, wealth, and even transcending your circumstances and beautification. With hip-hop, it's a culture that kind of came from humble means, and from American music histories that have traditionally not had a lot of wealth but suddenly, it started becoming this great cultural force. And with that, the jewelry was just gold and very humble pieces, and there were very specific links and pendants. As it grew as an industry, they started using diamonds and platinum, and they started having label chains that started to show affiliation with what label you were with and who you were with. It kind of became a culture within the culture, for jewelry itself. There are even specific jewellers too.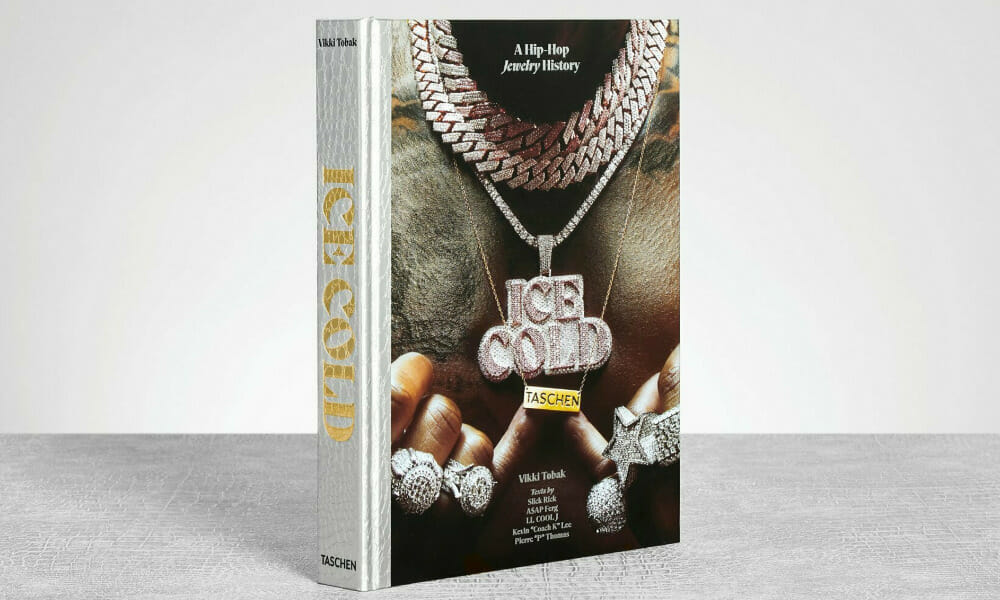 In your opinion, how different has hip-hop culture been back then versus now?
Before I became a journalist, I worked in the music business in the early '90s, it was for a small hip-hop label. And back then, and even before that in the 80s, it was really like a community thing. You were drawn to it – not because it was this global phenomenon, but because it primarily happened in New York and then little pockets across America – the stakes weren't as high as they are today. None of the brands wanted to be associated with hip-hop and the sneaker culture was still in its infancy. It was much more organic, and you had to physically be there to experience it. A lot of the music was just live, and it wasn't on record yet. I've watched it grow as all the labels started and it started to go mainstream. Everything has changed with it and now, to be sitting here in Dubai with a new book at Sole DXB, it's a beautiful thing. It really was not this at all.
Do you miss old hip-hop?
I do! But I find it really exciting what's happening now too. It's been amazing to watch it become a global phenomenon. I think it's exciting to watch a lot of women start collecting, especially watches as well. That comes with them learning from the mistakes of hip-hop's past of running their own business, owning their own image and brand, and having control of that. I do miss old hip-hop, but I'm really excited about how far it's come and what's happened. Of course, now, you're starting to see all this stuff that started coming around into the luxury space. It's been really interesting watching the big brands that traditionally didn't interact with hip-hop but would borrow its certain looks and styles now, and you look at how far it's come. Take Beyonce and Jay Z for Tiffany for example, or A$AP Ferg being an ambassador or Cardi B sitting front row at the shows – it's just a beautiful come-up story.
Was there anything surprising or challenging you stumbled upon while doing the research for your book?
There weren't a lot of surprises because I knew the stories already. But, the thing that did surprise me was how many people don't have their pieces anymore. Especially the old school artists because things get lost, left on tour buses, fall off stage when they're performing and grills get left in pockets. I was surprised at how many of those early iconic pieces that you see in photographs get lost.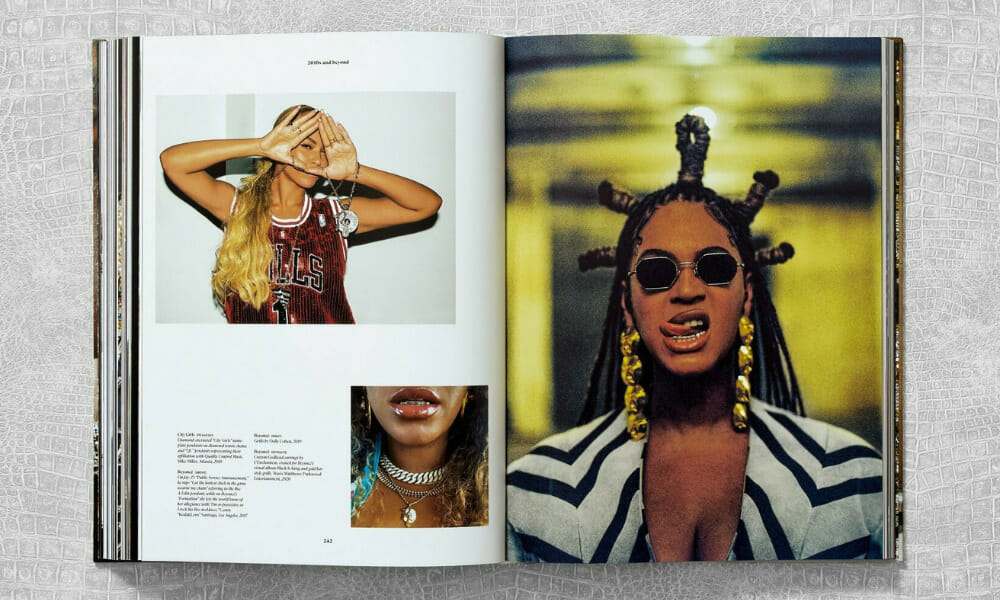 Ice Cold. A Hip-Hop Jewelry History by Taschen is now available at Virgin Megastore across the UAE and on VirginMegastore.ae.
ALSO READ: THE 2023 GOLDEN GLOBES NOMINATIONS ARE IN.