What were you doing when you were 20? You might be 20 right now as you read this —what are you up to these days? Ask Kylie Jenner and her answer would be that she's busy building a multi-million dollar business, Kylie Cosmetics, and is out-earning women decades older than her. You know, the usual.
The youngest of the Kardashian-Jenner clan, Kylie has just been named as the 27th richest self-made woman in America according to Forbes. Her estimated net worth is USD$900 million and is due in large part to her eponymous beauty empire, which is worth USD$800 million and has almost no employees or capital.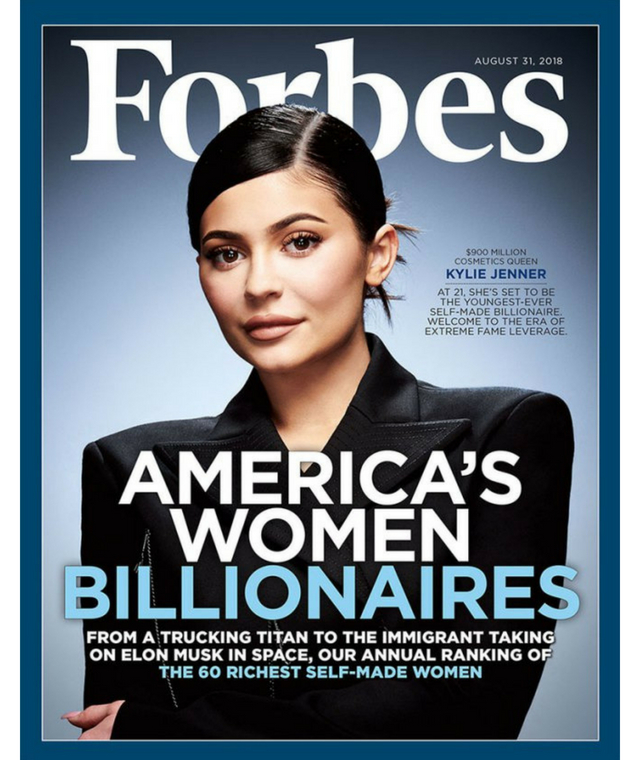 Jenner fronts the annual issue, which is no small feat in and of itself, and she is the youngest person to ever be featured on the list. Speaking to the magazine about the honour, Jenner said, "It's incredible to be recognised for something I'm so passionate about, and I'm really grateful for that. I've always loved makeup and worked really hard to bring the first lip kit to the market. Connecting with my fans and creating product that excites them has been an incredible process. I've learned so much along the way and I hope to inspire others to follow their dreams."
Her older sister, Kim Kardashian West, is also on the list, coming in at number 54. Huda Kattan also appeared on the list for the first time, landing the number 37th spot. They are joined by the likes of Oprah Winfrey (number six), Donna Karan (number 43), Beyoncé (number 53) and Taylor Swift (number 60).