Just when we thought that Gucci's fragrances couldn't get any better, the Italian brand has launched a new range of luxury scents.
Opening a new olfactory story, Gucci has introduced The Alchemist's Garden — a 15-piece collection that includes eaux de parfum, acque profumate, perfumed oils and scented candles, giving you and your homes the chance to be Gucci-fied.
With scents titled The Voice of the Snake and A Kiss from Violet, it's clear that the brand's Creative Director, Alessandro Michele, had something to do with the craftsmanship of the new fragrances.
Speaking of the idea behind the new fragrances, Alessandro Michele said: "The idea that some primary scents of perfumery, like the essences of the flowers, the green scent of some plants could be joined to atmospheres, linked to memories. And also link to the idea that a perfume in an alchemical way can through a scent bring you back to a different place, through a sense so strong and so important for every human being."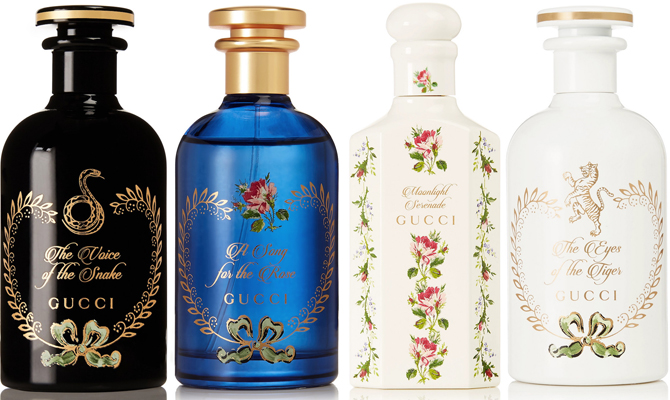 Each fragrance consists of rich ingredients that have been magnified for each individual scent. The list of captivating notes includes oud, amber, violet, iris, mimosa, rose and woods.
Spanish perfumer, Alberto Morillas (who contributed to the scents), said of his creations: "The oils and acque profumate create individual statements. Personalise your beloved scent with an oil or floral water to build a unique sillage. Each oil or floral water of the collection can be layered with each eau de parfum. Just play with the scent to find your favourite, as an alchemist would work to find the gold formula."
We'll take the whole range, please!
Now, find out more about Adam Levine's new beauty gig.