When Celine revealed back in August that Hedi Slimane's Haute Parfumerie collection of 11 fragrances would finally be coming to life, brand loyalists rejoiced at the French house's long-awaited return back to fragrance. Now, nine of the 11 creations have made their debut at the first-ever Celine Haute Parfumerie boutique dedicated to scents at 390 rue Saint-Honoré in Paris.
The grand, art-deco inspired store offers an intoxicatingly chic experience amidst works from the likes of Rochelle Goldberg and Camilla Reyman as well as impressive architecture and black marble columns that house floor-to-ceiling glass display cases for the coveted scents that dazzle like piece d'objets in their rich amber-gold glass bottles.
Like Hedi's wardrobe range, the perfumes are unisex making no distinction between masculine and feminine notes, each nostalgia-stoking — inspired by smoky Parisian nightclubs and French perfumery from the 1970s. Parade, Saint-Germain-des-Prés, Dans Paris, Cologne Française, La Peau Nue, Eau de Californie, Reptile, Black Tie, and Night Clubbing make up the nine new fragrances released, while the others-Rimbaud and Bois Dorman-will come out later in 2020. This drop marks the first scent launched for the LVMH Moët Hennessy Louis Vuitton-owned house since 2011.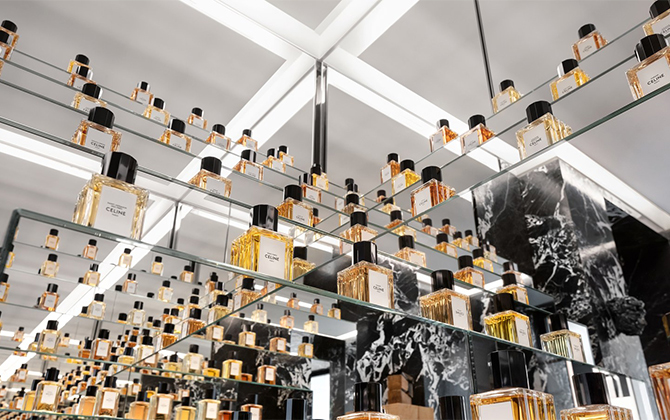 The Saint Honoré store also carries a selection of accessories, including perfume travel cases in leather, canvas, alligator, and silver; playing card sets; a sterling silver travel ashtray as well as lighter cases; a men's grooming kit, and more.
Now, discover the vintage Christian Dior jewellery to dress up your little black dress.
Text by Dina Kabbani