If there's one woman that knows all there is to know about skincare, it's Shiffa Beauty's, Dr Lamees Hamdan. Long before 'clean beauty' actually became a trend here in the region, the Emirati entrepreneur has been creating organic products since 2004 and her brand, Shiffa Beauty, is now a top-seller thanks to its products that actually work.
Buro 24/7 Middle East caught up with the beauty mogul to discuss the Middle Eastern woman, everything organic, tips for better skincare and an exciting new launch…
As a Middle Eastern woman, how do your products cater to women in the region?
Due to environmental conditions, women in the Middle East are more prone to having dehydrated skin. Moreover, women in the region wear makeup and are always exposed to air conditioning. At the same time, products that are not natural or do not contain clean fresh ingredients tend to make the skin greasy and block the pores. So, while people who live in colder climates can use lesser quality creams, women who live in the Middle East should invest in good quality creams because the result will reflect richly on their facial skin.
Shiffa Beauty came into the spotlight after you were awarded the Best Business Leader by Sheikh Mohammed Bin Rashid Awards for Young Business Leaders. As the Founder of the brand, did you see a shift in responsibility for ensuring that the brand always remained ahead in the industry?
It was definitely a big honour, I have always strived to be the best (you can call it the Dubai Syndrome) because you are surrounded by a whole city with this positive mentality to be the best.
How different was it creating natural products in 2004 versus where the industry is at now?
In this day and age, where the air we breathe and the food we eat is not as healthy or clean, we can at least have the choice of buying clean skincare products that don't add to this toxic overload. Our bodies are very good at handling toxins, but we are just investing in too many toxins that overwhelm the body's natural defences.
Today I believe there is a misuse in the word "natural" and "clean" beauty. I see so many brands using these descriptions, but the ingredient list is not natural, it's almost like saying "clean pollution".
The good news is that because everyone wants to be labelled clean, there are many more natural and organic ingredients to choose from, as opposed to when I was launching Shiffa.
Organic beauty or 'green beauty' is definitely gaining popularity around the world and here in the region. Why was it important for you to launch organic products?
At the time, I was pregnant and I was looking for natural products in the market to prevent stretch marks, but I couldn't find anything that was safe and natural and at the same time effective, so I created my own product which is the pregnancy body oil. I then gave it to some of my friends and family and received some amazing feedback… and that's where the story began.
Are there any skincare trends you notice here in the Middle East?
Yes, skincare now is about getting results, not so much about the packaging or scents.
What are your top three tips for better skincare?
First, cleanse twice at night and use a Shiffa muslin cloth. I cannot tell you what a difference this will make in the radiance of your skin in just one week! (you can thank me then). Second, take a powdered green drink every day — to get good skin you also need to feed it. Lastly, use a jade roller at least once a day as giving your skin a lymphatic massage helps depuff, decongest and bring in more nutrients and oxygen to your skin every day. All my clients who use Shiffa Jade roller are now hooked. It is also extremely relaxing to do.
What's next for Shiffa Beauty?
Our Emerald facial oil, with a real emerald inside. I was always interested in Indian Gemology and was inspired by it in the creation of my new gem facial oils.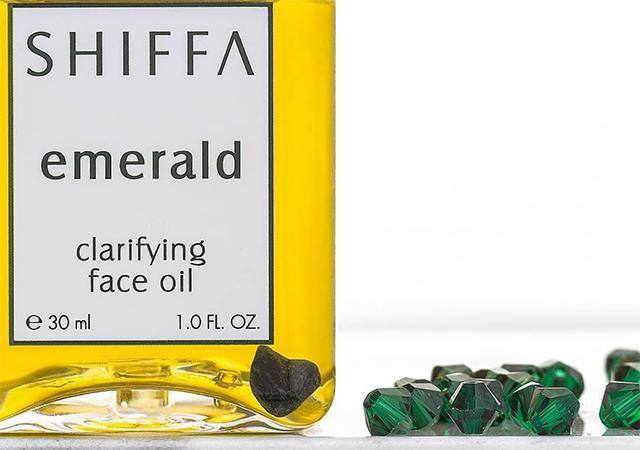 Shiffa Beauty's products are available at Sephora boutiques across the Middle East.
Now, find out which beauty artist is responsible for sponsoring the makeup at the 2018 Victoria's Secret Fashion Show.