As the son of a perfumer, Fabrice Pellegrin was all-but destined for a career in the world of fragrance. And thankfully so, given that he is the man responsible for some of our most favourite scents including several for Diptyque, two for Jo Malone and several for Salvatore Ferragamo as well as many more.
Now, his latest creation is for British perfumer Penhaligon's. Here, he speaks with Buro 24/7 Middle East contributor Farouk Chekoufi about the scents and the inspirations behind them…
How and where did you start your career?
The spirit of Grasse runs in my blood. My father was a perfumer; my grandmother a beloved jasmine picker and my grandfather a supplier of naturals for perfumery. My craft is a true family story. Naturals hold no secrets from me as I grew up surrounded by their precious scents. This is the reason why I like to share my passion for natural ingredients. I was trained very early with master perfumers to learn everything about composition. It is no surprise that my sense of smell is particularly developed as I never stopped training it from my earliest age.
Can you tell us about your love story with Penhaligon's Hidden London?


I was honoured I was chosen for the noble mission of creating 'Your Penhaligon's semi-bespoke fragrances' at Harrods before I worked on the Hidden London collection. I felt very proud as it was the first time I had worked for the prestigious brand.
The spirit of Grasse runs in my blood. My father was a perfumer; my grandmother a beloved jasmine picker and my grandfather a supplier of naturals for perfumery. My craft is a true family story.
We would like to know about the inspirations and constructions of the three fragrances: where did you draw your inspiration from for each perfume?


The initial concept from Penhaligon's was truly exciting: the Hidden London collection was based on the ultimate and purest expression of three olfactive families — chypre, amber and wood — which capture the very essence of three of the most elegant and refined areas of London: Kensington, Belgravia and Marylebone.
Strong and powerful, Kensington Amber reveals a warm and exotic note of cinnamon. The white vanilla recalls for a nostalgic comfort of the magnificence of the Victorian era. Its deep signature is inspired by the elegant and charming historic villa-lined streets of Kensington and its public squares.
Belgravia Chypre is a traditional chypre structure twisted with the fruity and juicy facet of raspberry and a fizzy pink pepper inflexion enhanced by a delicate note of rose. Inspired by the opulent architecture of the cream Stucco-fronted villas and embassies of Belgravia neighbourhood, its luxurious sillage includes patchouli, oak moss and bergamot.
Marylebone Wood pays tribute to the woody family. The woody overdose is made of the three most emblematic woods of perfumery; vetiver, sandalwood and patchouli. Inspired by the West London area, the delightful fragrance has a dry smoky character infused with a racy trail which perfectly embodies the rich historical significance of the place including Sherlock Holmes' home and the Wallace Collection.
What makes Penhaligon's Hidden London so unique?
Penhaligon's Hidden London immerses you into the unique atmosphere of renowned places in the mythic city. Embracing its royal heritage and reputation only Penhaligon's could embody such an inspiring journey through London. Hidden London invites you on a tour around its streets, to discover what remains hidden until we truly look. There is no better way to travel than with the power of scent. Whether through the generally uplifting effect it has on one's soul, whether because of childhood associations with Nanna, the library or the soft skin of a cherished lover, fragrance is a journey.
How long did it take you to create this collection and what are you most happy about with these creations?
As I create for such a prestigious brand like Penhaligon's I cherish the opportunity to sublimate the most exclusive ingredients. I like to explore the richness of their captivating facets and truly forget about targeting specific consumers including their gender. I only focus on the beauty of the materials and the emotions aroused from the refined and sophisticated composition. Beauty, harmony and quality are my guidelines, my personal ethics.
What is Penhaligon's style?
Penhaligon's embodies the typical and authentic British luxury anchored in timeless traditions and heritage sourcing only the finest rare ingredients. Its universe has always been passing on the famed image of distinguished British royalty.
Are Penhaligon's' store atmospheres still essential to the luxury experience when selling fragrances?
To me stores remain essential to live the luxury experience. Especially at Penhaligon's where you deeply feel its unique noble heritage rooted in the most authentic British tradition.
What is your vision of success of Penhaligon's?
The timeless elegance and refinement of the House of Penhaligon's symbolises the utmost British sophisticated luxury in the most respectful tradition of a rich perfumed history. Its unforgettable signatures deeply impart my vision of high luxury perfumery.
What particularly touches you about Penhaligon's?
Knowing that Penhaligon's only sources the finest rare ingredients really touches me. My first source of inspiration comes from nature. I like to craft my fragrances starting with natural ingredients that will be highlighted with the most beautiful facets. I am truly inspired by the way the house of Penhaligon's crafts raw materials to offers such sophisticated olfactive signatures.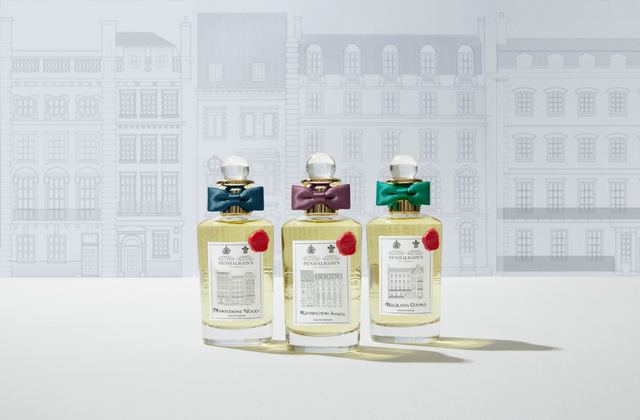 Your ultimate ingredient?
They are two; patchouli and Ambrox. I love them for their complexity, richness, intense seduction power and the irresistible trail they produce.
Which perfume do you wear?
I am not faithful to one single fragrance. I am used to wearing a lot of different fragrance. I love to discover them on my own skin.
Your first olfactive memory?
It's a very real memory, straight from my childhood, when I would go rose-picking in the rose fields with my grandmother. They were unforgettable moments. There were lots of Italian pickers who all came to Grasse from the same village. They would meet up there and talk about everything. The atmosphere was very warm and friendly.
How many ingredients did you actually put into the formula for each perfume?
I was inspired of straight-forward formulas made of a few exquisite ingredients to best embody the unique character of each place. Each fragrance is crafted with a beautiful signature base, such as Amber, Wood and Chypre. I combined them with natural ingredients and deep notes to complete the compositions and create refined blends.
Kensington Amber exudes notes of vanilla, warmed up by the exotic cinnamon, enhancing the powerful amber as base note.
Elegant, the strong woody character of Marylebone Wood carries notes of sandalwood, dry and smoky, vetiver and sensual wood.
Belgravia Chypre delivers notes of bergamot, oak moss and patchouli. The pink pepper, raspberry and rose reveal the opulent chypre note.
What is the best part of your job?
Working with natural ingredients, close to the pickers and having the chance and the opportunity to sublime them in beautiful creations. Bring together those different activities make sense to my passion in all its forms! I love to listen to the stories about the magical origins of naturals and bring them to life in my daily work.
What's the most outlandish detail you included in the fragrances?
As I was diving into the rich historical yet hidden treasures of the city I paid much attention to only choose the utmost ingredients that would best represent the past heritage as a signature scent. I've tried to include hints of the British royalty!
Amber seems to be everywhere today, why is this and can you describe Amber in five words?
Indeed, it is a rare ingredient, and is extremely expensive. That is why I am also a real fan of Firmenich's molecules for their enchantment power, such as Ambrox. Ambrox is a deep and sensual ambery note. With so many facets, woody, animalic, musky; it is a fragrance of its own. Amber is mysterious, opulent, elegant, warm and multifaceted and perfectly transports you into the historical British atmosphere.
As I create for such a prestigious brand like Penhaligon's I cherish the opportunity to sublimate the most exclusive ingredients. I like to explore the richness of their captivating facets and truly forget about targeting specific consumers including their gender.
Why and how does a fragrances appeal to you?
I create perfumes to awaken senses and provoke emotions. Genuine pieces of art, everyone's experience is a personal and instinctive path. As soon as one feels an emotion, I get closer to my objective. The best appeal is to feel good while wearing a fragrance, just enjoy it. It should not be intellectual. Just follow your own taste and allow yourself to be seduced spontaneously. And don't be afraid to ask others what scent they wear if you smell a good perfume on someone passing by.
What are your favourite places to visit?
I would say the South of France and then South America. Provence evokes light to me, sun and delightful smells. Particularly the aromatic fragrances of the garden in Spring. When I was a child I lived both in Argentina and Brazil, I discovered a light and a sun with very different scents.
Where do you go to take a deep breath?
The best place for me to take a deep breath and where I feel resourced is in Grasse, the city closely linked to the story of my family. I grew up in the fields of roses and the perfume making factories. My training as a perfumer also took place in Grasse.
Now, read Farouk's interview with Christine Nagel of Twilly d'Hermés.