I
f there's one thing that's certainly trending in the beauty industry today, it's products that are made with all-natural and organic ingredients. Whether in the form of makeup, skincare or fragrances, there certainly has been a high demand for natural products that are as beneficial as they are beautiful.
Founder of Neom Organics, Nicola Elliott, jumped into the business of wellness after exiting the magazine world as the former editor at Glamour. After realising a decline in her health and wellbeing, Nicole channelled her energy into creating a range of products that would help people feel good.
Fast forward to twelve years later and Nicola has her eyes on new projects including the launch of her first perfume, called Energy Burst Eau de Parfum which is now available in the Middle East. Nicole jet-setted to the UAE to talk to Buro 24/7 Middle East about the debut release, overall wellbeing and the science behind how scent can affect our moods without us realising…
Thank you for joining us today! Congratulations on the launch of your new Energy Burst fragrance here in the UAE. Can you tell us a little bit about the perfume?
Thank you so much for having me! We exist to inspire people to lead natural and healthy lives, that's our mission. We absolutely see ourselves as a wellbeing brand but not a traditional fragrance brand and because we are all about wellbeing, the four pillars that we exist to help with are better sleep, less stress, more energy and helping with mood. Ultimately I suppose, when I started the Neom journey, those were the four key areas I thought everyone seemed to be suffering from and if you could get those four in check, that's your wellbeing sorted.
So everything that we do product development wise with our existing products sits in one of those categories. When we're starting to talk about the perfume (and there will be more!), it was which one do we start with.
There's a real need for a perfume that provides that real boost at several points during the day and that's probably what I need more than anything else. I thought, 'What if I had this perfume that gave me that real boxing-gloves-on feeling?' and that was why I created it.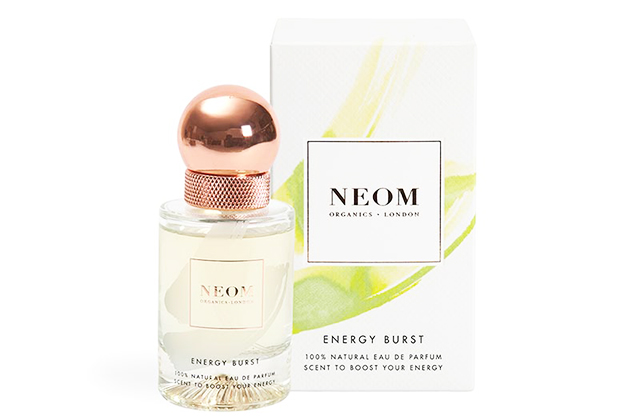 The perfume and all of your products overall are organic and all-natural as well. Where did your love for wellbeing stem from?
A few different places actually. I kind of hit a wellbeing wall when I was about 28 and would have horrible anxiety and panic attacks. I realised that I needed to start prioritising my own wellbeing and I had to see it as a necessity and not a luxury. So I worked through a revolution in my own world where I was not exercising, not caring to thinking that I have to create my own toolkit and these are the things that will help me feel my best. Central oils were one of those things in my toolkit that proved invaluable to me and that's when I started blending the fragrances. I quickly became aware of reducing my chemical count and how we use far too many chemicals on our body every single day. That became part of living a healthier lifestyle, but also, it wasn't about taking away the chemicals, it was about the oils you can use and are medicinal in a way that helped your mind and body.
You were in the magazine industry as well and then you left to be trained as a nutritionist and in aromatherapy…
Yes, I retrained in aromatherapy, nutrition and my whole wellbeing world opened up to me. I taught myself everything and I just went on to thinking that 'I cannot live like this anymore' to 'What's the best way to fix it?'
Since launching your brand in 2005, have you seen more of a demand for natural products?
Absolutely! Which is amazing. I think it's just down to education. It was a no-brainer to me when I launched the brand and people have used the word 'trend' today and I knew it wasn't going to be a 'trend' that comes and goes because this is a lifestyle. It was just something that we became aware of and it was obvious to me that we were going to get to this point. It's still obvious to me that in another 10-20 years, we'll be way ahead of where we are because it's just obvious and it's the right thing to do.
Ultimately, if you can't inspire people and it just becomes another job, then we're right back where we were. there's a way to make this the way of life where everyone wants to join and I think that's what we've managed to crack.
Can you talk us through the science behind scent and how it affects our moods without us even realising?
You know, the truthful answer is that no one really knows. No one really knows exactly how the plant oils work. So we know that it works on the hypothalamus in the brain and we know that it evokes memory in the brain but a lot of the science behind the individual essential oils, right now, is still unknown. What's really interesting about it is when we try and recreate it in a chemical format, we can't get the same effects and it doesn't work in the same way. So what we do is we constantly test the plant oils, which have obviously been used since the 11thcentury, but we blend them in a very specific way and we test them constantly against thousands of people to see whether the sleep products that we use help them sleep better. But essentially, the oils will travel to your nerve receptors and it links in with the emotion part of the brain.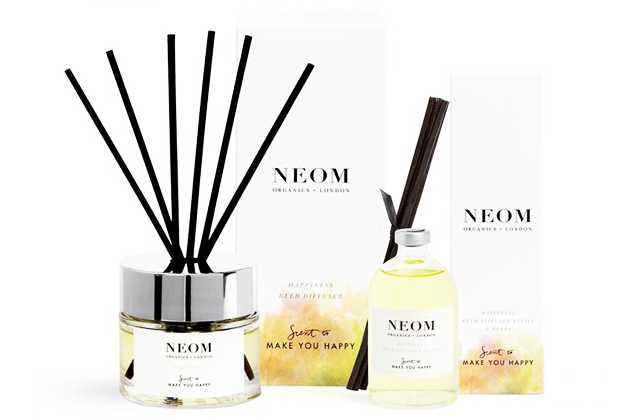 Being here in the Middle East following the launch of the fragrance, what has been the reaction to your products here?
You guys have been the best journalists I've spoken to. You're educated and interested and I think because the trends move quite fast here, things genuinely are interesting to you because I suppose, it's new. But then, you seem to kind of have caught up with wellbeing quite quickly so it's been really, really nice. I think the biggest challenge for us is going to be explaining that the fragrance is to be used as a wellbeing treatment, not a supplement for a beautiful oud that you might like to wear. That's a perfume, which still has a place in people's lives, and maybe we will do something like that in the falls of time.
What is your tip to living a more balanced and healthier lifestyle?
Get aware of what your own wellbeing needs are. Everyone has a weakness — mine is stress and next person is sleep or whatever it is — so find out what it is and create your own toolkits. Your toolkit may be different than mine but essentially they're made up of the same elements which are about taking time for yourself, about looking after yourself from the food you're eating to exercise, about having a healthy mind, taking time to detox your own mind, and connecting with people in the right way.
Also, get your chemical count down, it's time girls! It's not getting any better. There are more great brands out there that can offer you everything you want and open a whole world of opportunities without employing more and more chemicals. Small steps, big difference.
Do you have any more plans for Neom Organics here in the Middle East?
Huge amounts of new product developments are coming this year. Really for us, our focus is to make sure we get wellbeing on the map here. You guys are obviously up, listening and ready to learn and we need people to find out what their well-being needs are and come back.
Neom Organics' Energy Burst Eau de Parfum is now available at Bloomingdale's Dubai. In other beauty news, discover more details about Louis Vuitton's new fragrance, which is set to be released in March.