It's been over a decade since Mathilde Laurent joined the house of Cartier and she is known as the woman who created some of the maison's most luxurious olfactory offerings including Les Heures voyageuses, Cartier L'Envol and La Panthere. Now, the house's longtime nose has returned to the laboratory for a brand new fragrance.
Called Cartier Carat, the maison's new scent is unlike any other and Laurent, who is currently in the Middle East for the launch, explains why to Buro 24/7 Middle East…
How long have you been a perfumer and what drew you to the job?
It's a long story or a lucky story I would say! I didn't want to be a perfumer since I was a child in fact. I didn't even think of choosing a job. I was raised in a rather creative family with people designing. My father was an architect and in my family, studies and being aware of what you want to do was something rather free. I was very free in what I could do and I had no pressure, even for school. In the end, everyone in my family had gone to art schools, and when I had to choose, I decided to go to an art school. I had been aware of the fact that creating perfume was a job. Somebody told me "Why don't you become a perfumer? You're always smelling, always talking about smells and talking about perfumes, so why don't you become a perfumer?" and at that time, I wanted to be a photographer. I wanted to go to the art school for photography and when this person told me that, I was just wondering, why? So, it was just an idea and when I had to decide after chemistry, mathematics and everything, I hesitated a lot between photography and perfumery. Finally, I chose perfumery because it was more mysterious, I would say. I had done a lot of photography during my studies and it was more new, more unreachable in fact, to do perfumery. This is why I decided to go into perfumery.
Can you recall your earliest memory of scent?
Not really. I have plenty of olfactory memories. The olfactory memory is the most powerful and the most durable. In fact, your olfactory memories, you will keep them very fresh until you die. Visual memories or sound memories fade with time but olfactory memories stay, and they are very strong. When you recall them, it is very emotional and so I have many of them. It's also a kind of tool, that you're able to do this perfumery job. It is because you've taken many memories from your childhood and your youth, and it is how you are able to become a perfumer or not. In perfumery, you have to always work with your memories, your perceptions and all of the perceptions from your life. The person that told me to be a perfumer had seen me always smelling everything and they understood that I was made for that, even if I didn't know it. This is what I understood much later when I entered the school and when I began to try creating things, recalling all these emotions and memories. Also, to learn about ingredients, you need to have many memories because it's about how you remember the roles of everything.
Speaking of using your own memories as a tool to perfumery, tell us a little about your design process for Cartier Carat…
It's always the same in fact! (Laughs). It's a very long process that begins before. The work has to be made years or months before you want to create something. You have to always be working, gathering things so that on the day, everything is already there. For each perfume, it's the same. We all work together, with the team at Cartier Parfums, and we decide on which icon are we going to work on next, and once we have decided the icon, then I start to think about it and what does it express to me. I didn't want to work on the diamond because it was really cold, sharp and I didn't see what I could do for it at the first moment, as a smell or as a perfume.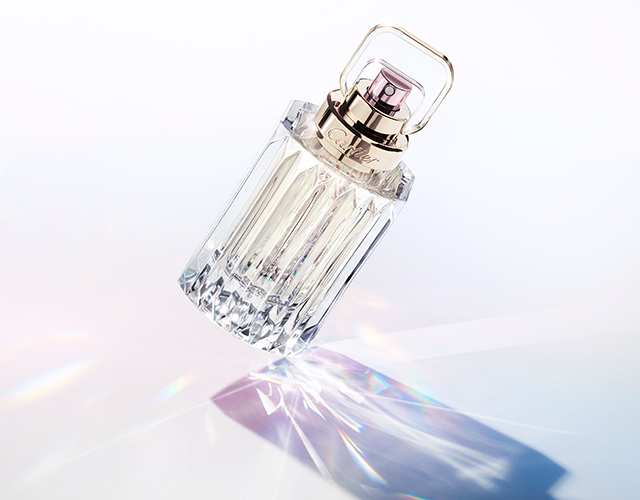 Tell us a little about the new Cartier Carat fragrance – what makes it special?
I think what makes it special is that for the first time, I tried to put something very light in the bottle and to put something light in a bottle is very difficult. For the first time, I tried to express emotional things. The feelings that can show you the light of the sun when it appears and it's very immaterial I would say. It's not a fragrance that has been created outside of the brand. It's a creation that really tells the elegance and the creation of the house. This is what you get when you have an in-house perfumer. You can really offer an olfactory style and it is something really important, for a woman, to have a real style and olfactory style.
And so what kind of feelings is the fragrance designed to evoke?
I really wanted to give joy and to give hope. When it's very cloudy and dark, it gets kind of sad, and at one moment, a ray of light appears and immediately, you'll feel better. You'll feel more hopeful and more joyful. This is what I tried to put in the bottle. This feeling of a sign of relief knowing it's better.
The fragrance is really light! What are some of the standout notes used in the creation?
You know what, I never tell what the ingredients are! (Laughs). The ingredients are always a kind of lie. Very often there are only hints of these ingredients and I don't want to lie. I either say all of the ingredients or none of them. I don't like to tell the ingredients because when you go to a museum and you see an incredible painting, what would you like people to tell you about this work of art? Would you expect them to explain why the work of art is incredible or would you expect them to tell you to see the blue, the red, the green and the black colours? It's nonsense and in fact, you should never describe a work of art by its ingredients. This is why at the beginning when I arrived at Cartier, I found it so difficult to describe a perfume with the ingredients because when you do the list of ingredients, it tells you nothing. It's so empty of emotion and will. When I create perfumes, I have a will and I have a goal to put hope, joy and happiness into the bottle. In the end, it all looks like a recipe and it's not a perfume. A perfume is a work of art.
When I create perfumes, I have a will and I have a goal to put hope, joy and happiness into the bottle. In the end, it all looks like a recipe and it's not a perfume. A perfume is a work of art.
So how do you believe that art and luxury fragrances go hand in hand?
You really have to describe the intentions with your creation. Just like Picasso, why are his artworks so ugly but so wonderful at the same time? This is what is interesting in art. Perfumery should always be explained and shown, for the sake of art of the perfumery and not described.
How does the shape of the bottle reflect the scent, as well as the codes of Cartier as a brand?
So it has been created, designed and developed and produced in Cartier. Every job around perfume is internal at Cartier. This is something that is exceptional. It's very rare. So this bottle has been designed with my friends at the accessories department. They could smell the fragrance before everybody. Since we are the designers, we can share ideas and the fragrance together and I explained to them the idea of the fraction of light and everything. We also said that we didn't want to make a diamond bottle because it will be so silly and we really wanted to add something very different and to show the light in another way, other than by just designing a diamond. This is why we showed the idea of baguette cutting and also the bracelet of Gloria Swanson, designed by Cartier, and many different inspirations. The only idea was that we wanted the bottle to reflect all the colours of the rainbow. This is how we managed to create the reflection in the bottle.
In your mind, is the bottle as important as the scent for a fragrance?
I would say that it is important. But in Cartier, we really make perfume. Even if we love objects or love creation, we never forget that the fragrance plays the first role. We are not like other brands which really must have a strong bottle with pink nods and many other things, because the fragrance will then have nothing to say. You will notice that other brands will speak of the bottle, the filmmaker of the new advertising campaign and everything, but they will never speak of the fragrance. So in Cartier, we love to do things with sense and implication and commitment. This is why we never forget that the fragrance is the most important. This is also why I shared the fragrance with the designers because the designers really work according to the fragrance. The bottle is just after the fragrance and never before.
How would you describe this fragrance in a sentence?
Can we have a call in one week? (Laughs)! I would probably say that it is an olfactory translation of light.
Now, take a look at Cartier's luxury offerings on Net-a-Porter and Mr Porter.