Chopard's exclusive range of Parfums just added a new fragrance to its portfolio: the Rose de Caroline. The exceptional fragrance is both unique and precious as it honours Co-President of the maison, Caroline Scheufele. The new scent, curated by Spanish perfumer Alberto Morillas, captures the intensity of an extraordinary rose (Scheufele's favourite flower) as it comes complete with its rare Bulgarian Rose essential oil, whilst enhanced by a unique selection of natural ingredients.
Here, we speak to the brand's Artistic Director and Co-President about the new fragrance, what makes a Chopard Parfum so unique and why perfume is a good vehicle for storytelling.
What are your earliest memories related to this perfume? Either the first fragrance you fell in love with or your first olfactive memory?
My first perfume memories are related to my childhood. I think everyone happened to smell a perfume and suddenly see distant memories resurface. The scent of the roses in the garden of my childhood is one of those. Real sensory sparks are triggered when I smell it.
What inspired you to create this luxury fragrance?
There is a beautiful legend that has always fascinated me: the essential oil of rose was discovered when the Persian princess Nour-Djihan married the Mongolian emperor Dhihanguyr. During the lovers' boat ride on the rose water-filled canals surrounding the palace, Nour-Djihan saw a fine-oiled coating floating on the water's surface — the essential oil of rose. Looking at the roses in my garden, this story made me dream. I have always wanted to wear a fragrance with a story to tell at the same time voluptuous and ultra-feminine. I wanted to create this perfume for me and for all women that love to wear a sophisticated, unique and precious scent.
Can you tell us about the construction of the fragrance, inspiration and moodboard ?
I can define myself as a woman who loves life and the beauty of nature. My garden is rich of old roses and flowers that I cultivate with passion. I adore the sweetness of the rose, its delicate shape and its powdery feel. I love its strong character, its magnetic intensity, its seductive powers.
For me, Master Perfumer Alberto Morillas has created a rose fragrance that is simultaneously smooth, intense and persistent, with a heady red colour and a powerful, generous trail. A rare and unique composition that brings together the gentle touch of the Rose Centifolia and the carnal scent of the superior-quality Bulgarian Rose. A Rose with depth, character and intensity — intriguing and voluptuous.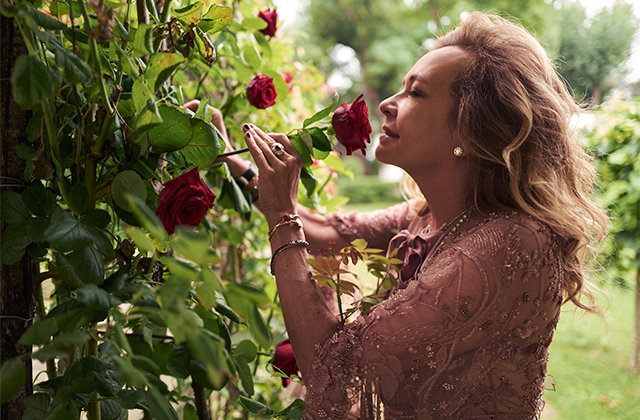 What was the creative and concept process for Rose de Caroline?
This unique Eau de parfum is a homage to this magnificent flower. I am particularly proud of this creation, crafted from the most beautiful and cherished ingredients that nature can offer, issued from sustainable sources around the world.
Our partner in Bulgaria owns the most impressive distillation facility of the country as well as a wide integrated plantation of roses and a remarkable network of farmers with long-term engagement. The roses adorning the Bulgarian Rose Essential Oil of Rose de Caroline are organically grown in exceptional terroir at the foot of the Balkan Old Mountain. In the same way our sourcing of rose from Grasse is an exemplary supply chain.
If you could describe the fragrance in five words, what would they be?
Sensual, sophisticated, natural, addictive and precious.
Who is the Rose de Caroline woman ?
Rose de Caroline is a real "jewel", a fragrance that reveals the sensitivity and joie de vivre of a woman of character. A perfume with an exceptional trail that announces the arrival of a woman with a strong presence and great character, wearing jewellery with striking personality.
What is the ultimate ingredient for Rose de Caroline?
As I said before, the Rose de Caroline creation is like a beautiful rose garden offering carnal Bulgarian Rose and refined Centifolia Rose. The fragrance captures the intensity of an extraordinary rose with its rare Bulgarian Rose essential oil while enhanced by a unique selection of natural ingredients. Rosa Damascena is mainly cultivated in the famous valley of the roses in Bulgaria. The flowers are harvested by hand early in the morning or during the sunset in order to preserve the olfactive components in the petals. Rosa centifolia (literally hundred leaved or petaled rose), also called 'rose de mai', is harvested in Morocco and Grasse.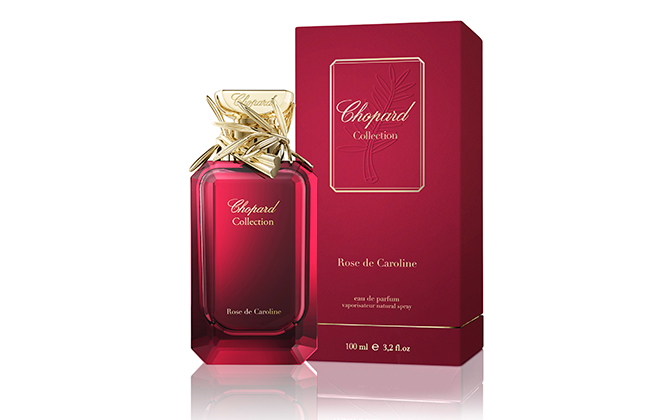 What do you love most about this fragrance?
The fact that it is a tribute to the majestic and authentic flower I favor. I also love the use of unique natural ingredients that enhanced its power.
Why is perfume a good vehicle for storytelling?
Whenever the perfumer's creativity stems from emotions and truly inspirational universes and ideas, perfumes can tell true stories, with a very personal signature, both olfactorily and conceptually. For me, rather than "story-telling", in the creation of perfumes what really matters is "telling stories" that arise from emotions.
What makes Chopard Parfums so unique today?
Chopard Parfums is unique because they are constantly looking for the most pristine natural ingredients directly sourced with our partner Firmenich Naturals Together program. This coupled with the collaborations with some of the greatest master perfumers of our times. We truly believe in that Luxury Naturals Perfumery, which is our trademark.
Chopard has progressively moved into the fragrance sector, can you tell us a bit about that?
Chopard creations are first and foremost stories of skilled hands and craftsmanship, of exceptional raw materials, of savoir-faire, of passion and creativity, of love and true respect for the nature. This alliance of ethics and aesthetics is the most precious heritage that makes us so exceptional and unique.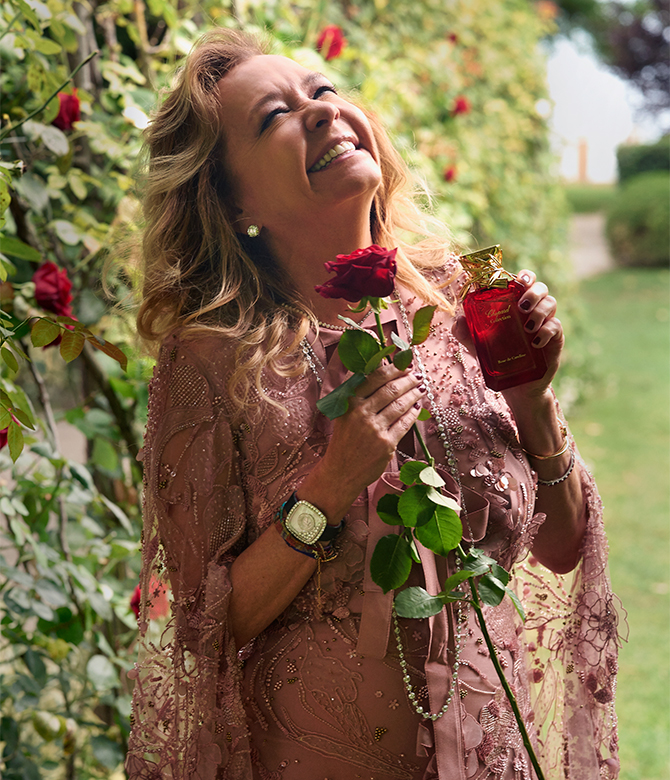 Likewise, as a true Maison de Parfums, we wanted Chopard Parfums to place natural, positive and ethical luxury perfume at the heart of the fragrances' collections, putting the greatest value into our fragrances and pursuing a Luxury Naturals Perfumery, with a "do good, feel good" mind-set.
What is the real definition of luxury for Chopard Parfums ?
Natural and sustainable. Chopard wants to create luxurious, sophisticated fragrances, where you can immediately smell what the core of the fragrance is. I think true luxury should be transparent and sustainable, and we should be proud about the products that we sell.
What is the link between Rose de Caroline and the Cannes Film Festival?
I have always dreamt about having the perfect fragrance to complete the most sophisticated and glamorous red carpet "looks". A fragrance that could enhance the beauty of our High Jewelry pieces worn by the most beautiful and famous stars in the world. I have asked Master perfumer Alberto Morillas to create the most luxurious fragrance. I have also designed a special bottle dedicated to the Cannes Film Festival with a unique cap inspired by the Palme d'Or.
Now, take a look at when Chopard released an exclusive range of Arabian-inspired perfumes in Dubai.