She may be 50 years old but she still looks like 'Jenny from the Block'. The superstar took to the Super Bowl stage in the early hours of today to perform at the Halftime Show alongside Shakira, and making history as not one, but two Latinas to perform, you know they were going to bring it. And they surely did.
A swarm of fans gathered on the pitch to watch two worldwide icons execute one of the biggest performances of their careers and of course, they looked *SO* good whilst doing so.
Luckily for us, we've got the full breakdown on how to recreate Jennifer Lopez's jaw-dropping beauty look and honestly speaking, we didn't even see a drop of sweat or a smudged makeup look while she was performing.
It was all courtesy of J.Lo's  go-to makeup guru, Scott Barnes, who was responsible for glamming up the artist prior to taking centre stage using Marc Jacobs Beauty products.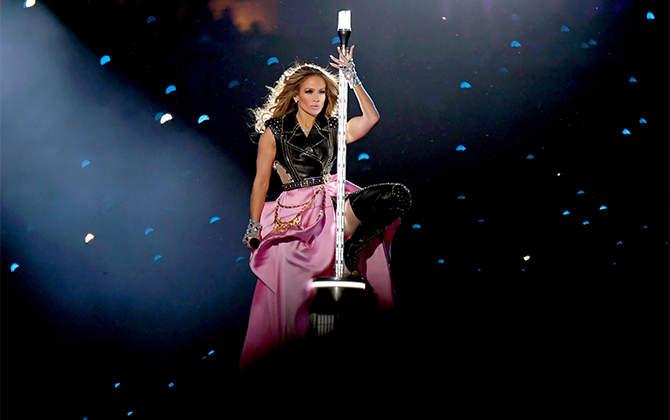 Firstly, in order for Lopez's beauty look to be seen from the end zone, Scott used the Marc Jacobs Beauty Highliner Gel Eye Crayon in Blacquer along her lash line and extended the line out to elongate the eye.
Then, using the Scott Barnes Snatural Eyeshadow Palette in the shades "Foxy" and "Femme" to create a crease, the makeup artist deepened the crease with the shades "Boudoir" and "Brickhouse" and smoked out the lower lash line.
Using the same palette, the shade "Sin" was used to deepen the outer corner of the eyes, crease, and lower lash line, all using his 62 Brush. The eyes were then complete with the shade "Twilight Sand" from his highlighter palette on the lid and inner corner of the eye, finishing off with the Scott Barnes Pumped Up Mascara and Bianca — Falsetto Lashes.
And you know the Hustlers star had to get on stage with her signature glow. For this, Marc Jacobs Beauty O!Mega Bronzer Coconut Perfect Tan in Tantalize was used to on her forehead, cheekbones and jawline to deepen the contour, and he created a contour on the nose by mixing Marc Jacobs Beauty O!Mega Bronzer Perfect Tan in Tantric with the Scott Barnes Sculpting and Contour Palette in the shade "Sliced."
To finish J.Lo's signature glow, Scott applied his Scott Barnes Original Body Bling to her chest and arms.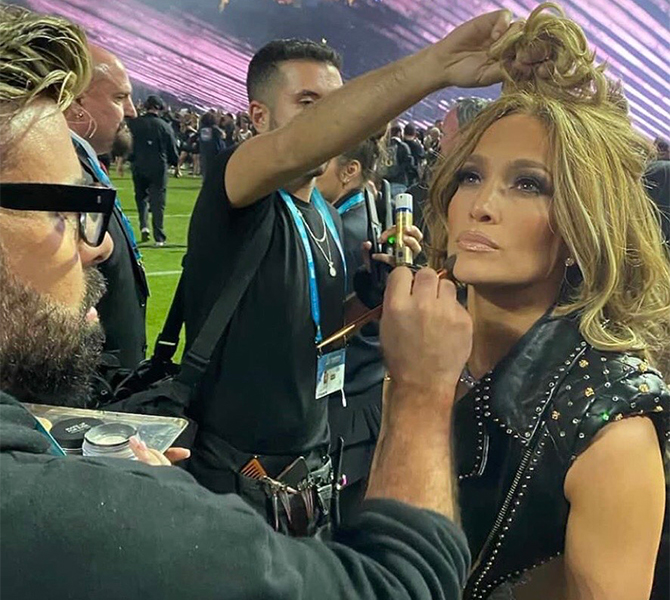 Is it just us or does this beauty look seem somewhat doable? Why not try it out for yourself and head to your nearest Sephora store and stock up on the aforementioned products? We know we are.
Now, take a look at the new makeup and skincare product launches you might've missed in January.