Our bi-weekly trips to the nail salon have become somewhat of a dream to women around the world since we're all living in lockdown. Plus, with nail studios and salons temporarily shut down until further notice, it's safe to say that we should probably learn how to give ourselves a proper manicure — or at least, follow the right steps to strip away the gel, acrylic and polish.
Whilst you may need to buy some tools to get your nails back to naked and healthy, the results will give you a moment of satisfaction and time to repair and heal before booking your next appointment.
The tools you need to start removing your gel or acrylic manicure at home includes nail clippers, a double-sided file, a nail buffer, acetone, metal cuticle pusher and a bowl.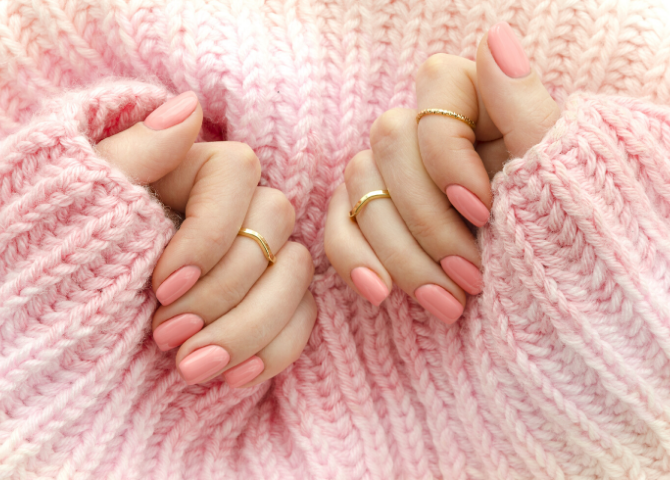 Follow these five simple steps to remove your gel or acrylic polish:
1. If you opted for extensions prior to living in lockdown, you'll need to cut down the extension and file your actual nail to thin it out as much as you can. Tip: Just try to get rid of the shiny topcoat.
2. At this point, you'll need patience. Soak your nails in an acetone bath (yep, fill up your bowl with 100% acetone), and this will cause the dip powder to loosen and flake off easily. This will take approximately 10-20 minutes. Tip: Soaking your nails in acetone will likely dry out your nails so make sure to rub oil around your cuticles.
3. The fun part – once your nails are done soaking, the powder is set to flake off easily but if not, use your metal pusher to lightly scrape off any of the remaining polish.
4. Your naked nails are starting to show so now, it's time for gentle buffing and shaping. Use your nail buffer to smoothen the texture of your nail to create a smooth finish and start shaping your nail. Tip: If your nails seem weak, shape your nail on the shorten side to prevent further damage to your nail.
5. Last but not least, our favourite part – add cuticle oils and plenty of lotion to keep your nails and hands hydrated. A self-hand massage doesn't hurt either.
Now, discover Selena Gomez's debut collection for  Rare Beauty.