Debuted in 2020, Hermès Beauty is not just about makeup; it's an enigmatic language of beauty itself. Since its launch, the Hermès Beauty line has been shrouded in mystery, keeping beauty enthusiasts guessing the next offering the Maison. Now, this unfolding cosmetic tale is introducing a new chapter – 'Le Regard' Hermès. 'Le Regard,' translating to 'The Look,' focuses on accentuating the eyes. With 'Le Regard,' Hermès Beauty achieves a new level of color exploration, offering two lines of makeup products that are not only vibrant but also technically robust. Marking the completion of the Maison's color cosmetic vision, it's a celebration of color in the world of beauty.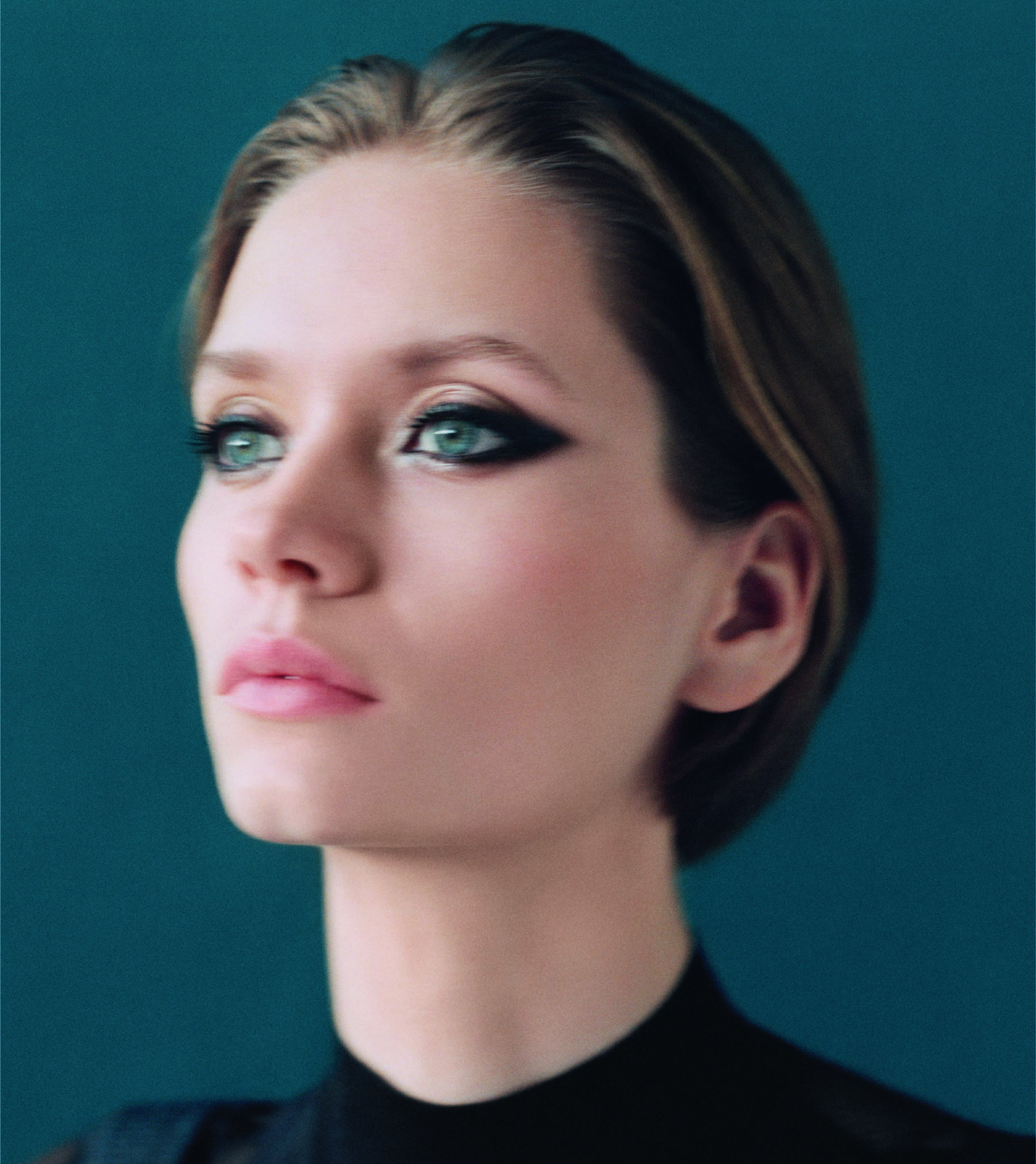 The birth of this beauty line is the result of intertwining the creative genius of Pierre-Alexis Dumas, Artistic Director of Hermès; Gregoris Pyrpylis, Creative Director for Hermès Beauty; and Pierre Hardy, the Creative Director for Hermès shoes, jewelry, and designer of objects for Hermès Beauty. The Hermès 'Le Regard' collection reflects their combined technical know-how, expertise in shades textures, and commitment to ethical principles.
Speaking of the latest collection, Gregoris Pyrpylis said, "The inspiration for this collection comes from a perception of nature paired with the house's expertise."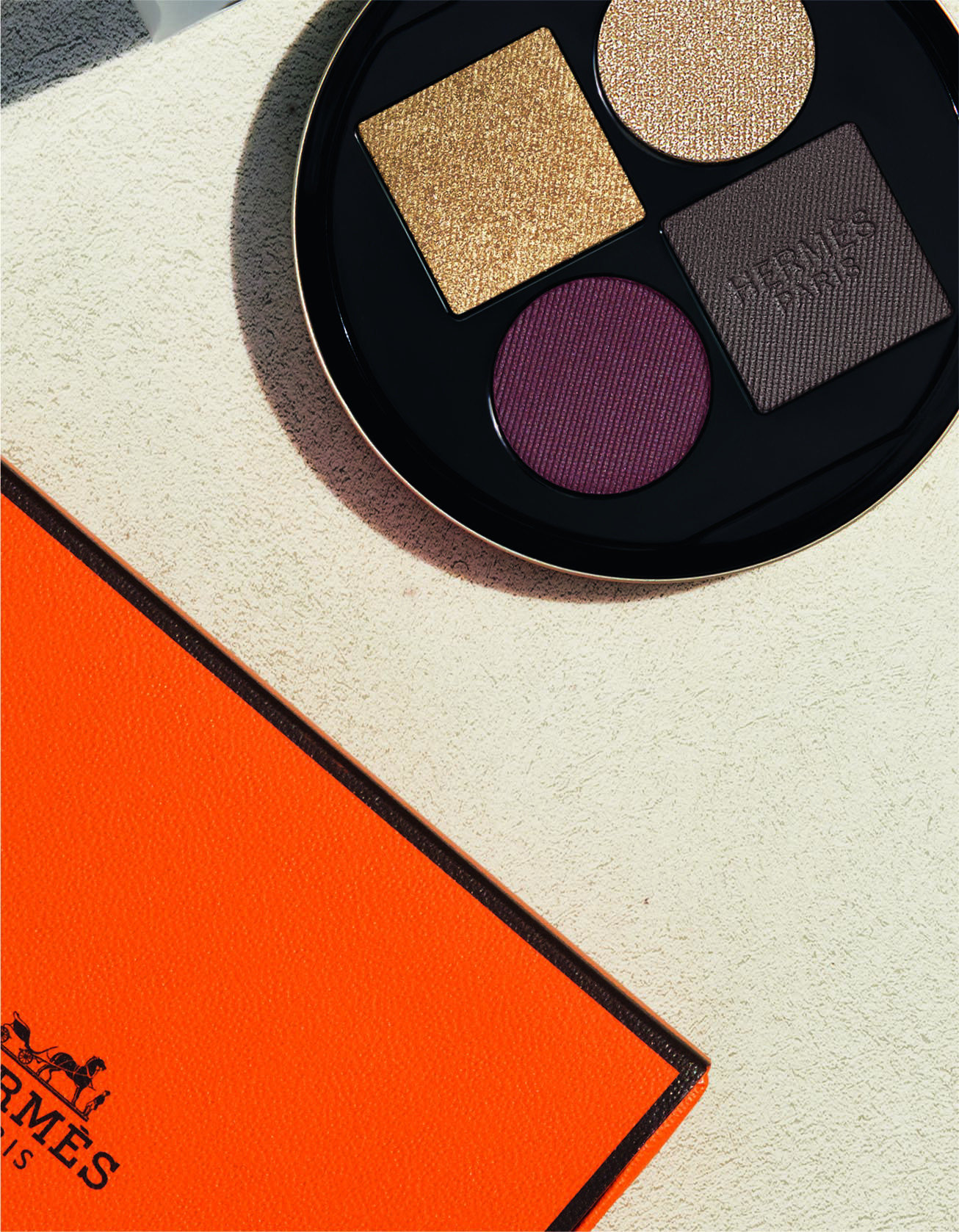 The Le Regard Hermès line comprises a range of eyeshadow palettes, mascaras, and a selection of finely designed brushes. Six palettes, each housing four silk powder eyeshadows in harmonious pigmented shades ranging from natural to intense, draw inspiration from the house's iconic colors. When opened, these compacts boast a geometric composition with two round and two square eyeshadows, echoing the Bauhaus style. A full-size mirror is also fitted inside each palette to facilitate precise application.
These 'Ombres d'Hermès' palettes are refillable treasures accommodated in elegant round cases designed by Pierre Hardy. The palettes come in a canvas drawstring pouch, accompanied by a lacquered wood applicator brush, all elegantly presented in a signature Hermès orange box.
"The shape and colour of the objects are what makes them visible and emotive for us. What makes them appeal to us. It is also what distinguishes and identifies them for the role they play in our simple, everyday gestures," commented Pierre Hardy.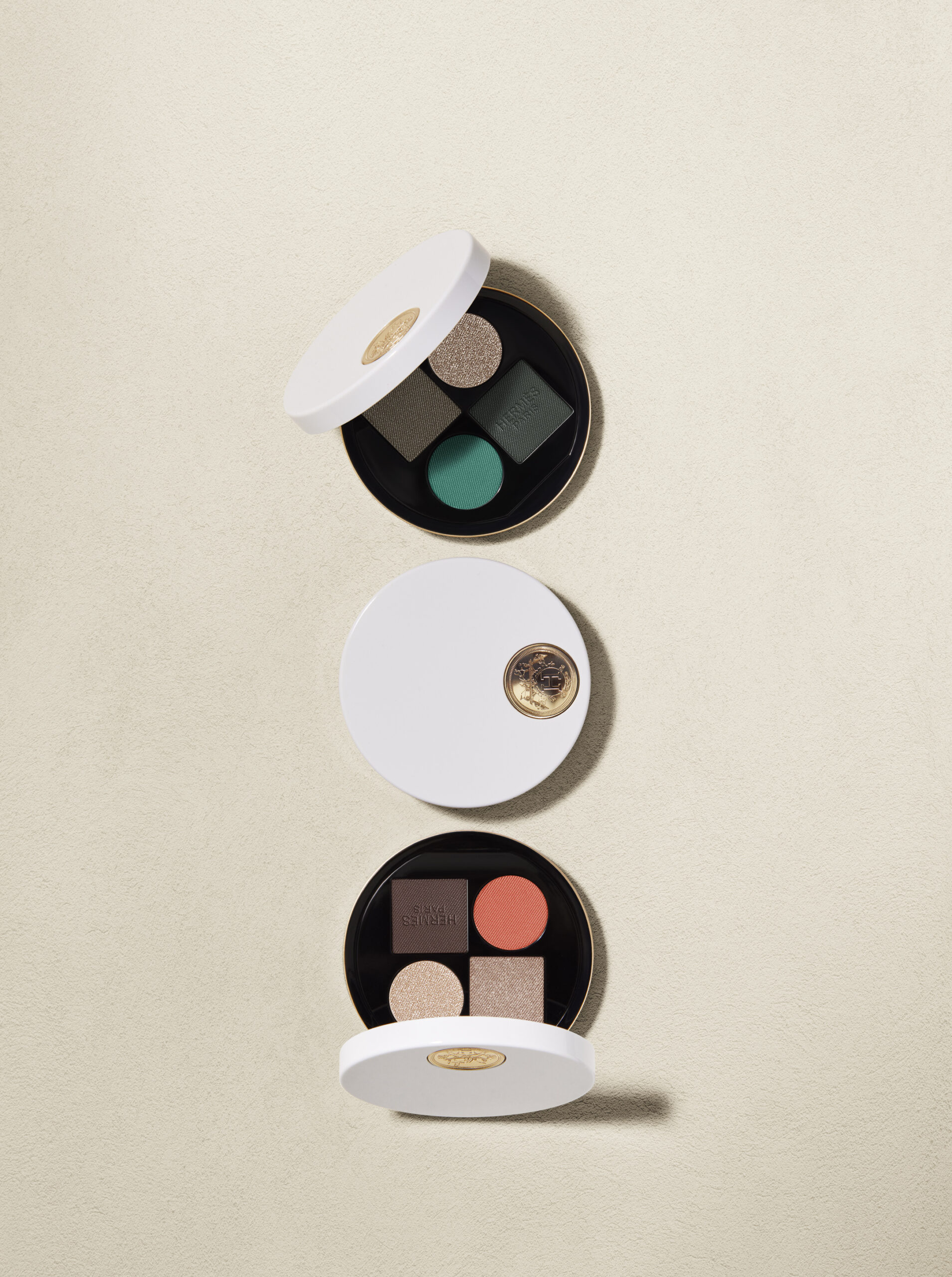 The eyeshadows themselves are a testament to Hermès' commitment to sustainability, with formulas made up of at least 72% and up to 98% natural-origin ingredients. Offering three finishes – matte, satin, and shimmering – the eyeshadows take inspiration from Hermès' enchanting world of silk. The matte finish evokes the delicate touch of silk chiffon, the satin finish suggests the smoothness of silk twill, and the shimmering finish mirrors the opulence of silk lamé. These textures are effortless to apply, comfortable to wear, and provide a buildable intensity that enables endless possibilities.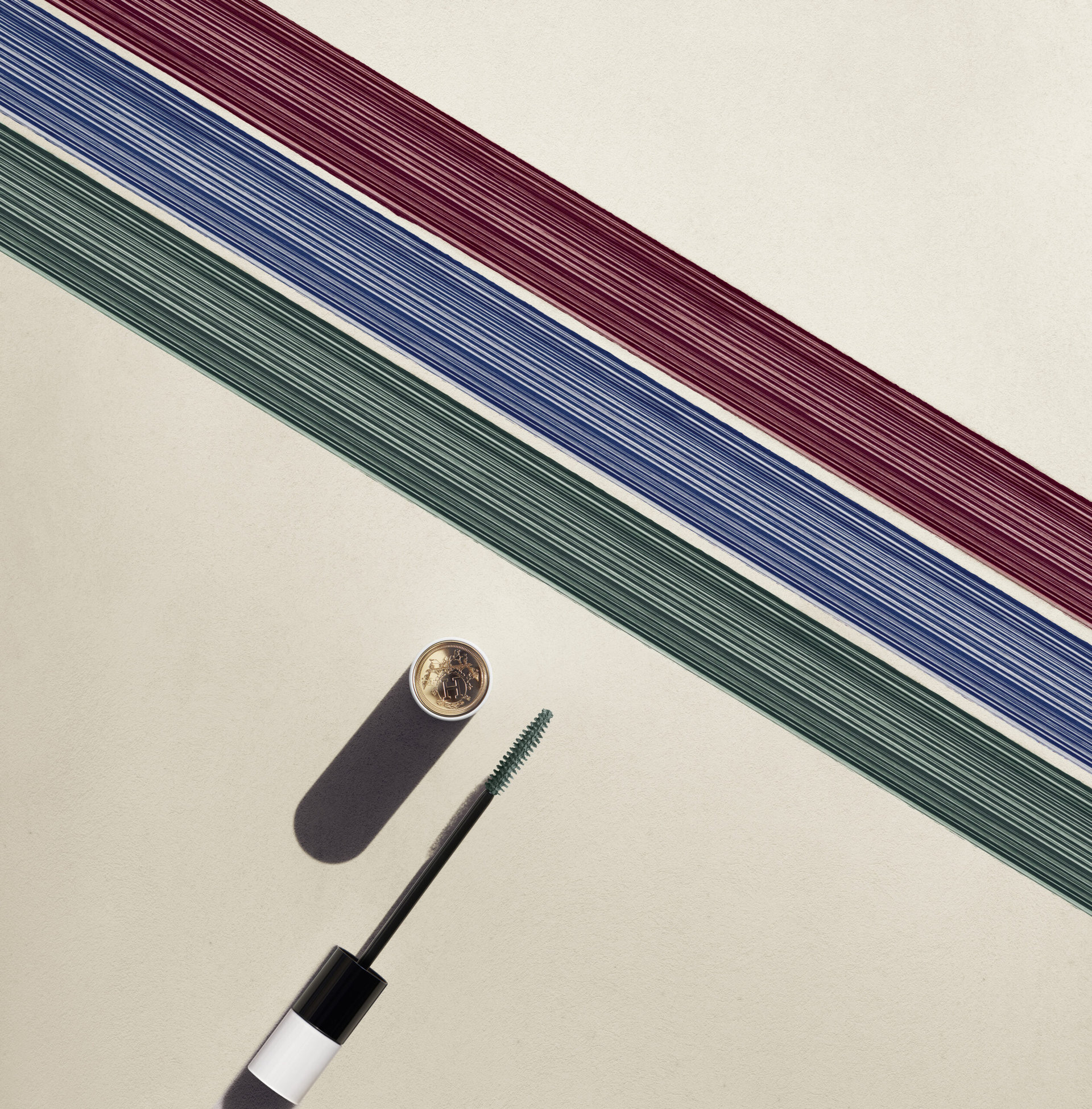 In addition to the eyeshadows, the Hermès 'Le Regard' collection also includes a range of mascaras. The ultra-fine technical wand, crafted from plant fibers derived from the castor bean, is designed with perfection in mind. Reservoirs on the sides ensure just the right amount of product is applied to each lash, providing lash-by-lash volume that is easy to layer for your desired effect. The formula is gentle on the eyes, suitable for even the most sensitive, and composed of 97% natural-origin ingredients, including millet seed, moringa butter, shea butter, and white mulberry bark extract. The mascara is available in a range of six shades, including black, brown, burgundy, blue, green, and violet. The mascara boasts a white-lacquered metal cap engraved with the house's distinctive ex-libris, and its base is finished in gold-toned brushed metal.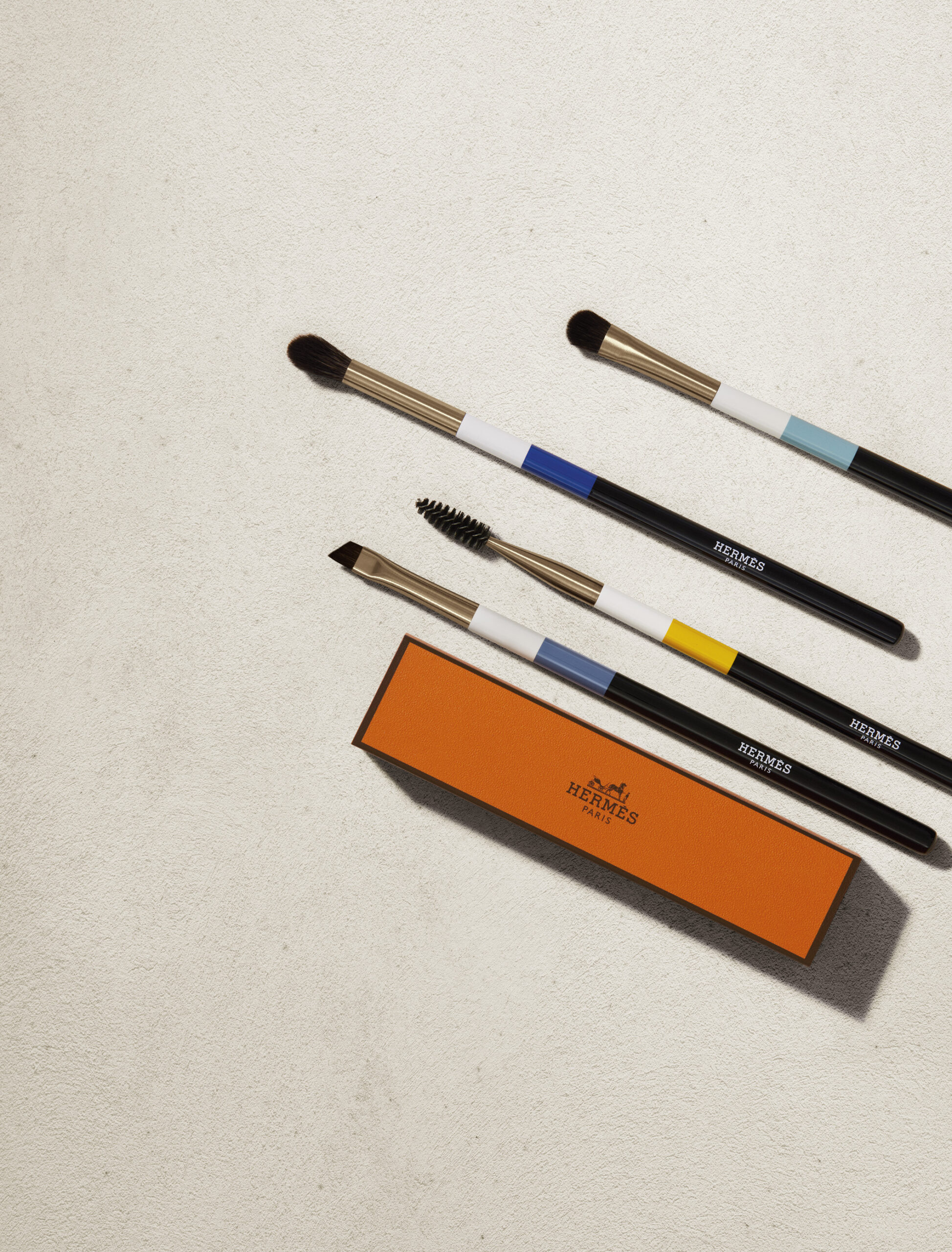 To ensure smooth product application, the collection offers four brushes made of lacquered wood designed by Pierre Hardy. These artisanally crafted tools – 'La brosse,' 'L'ombreur,' 'L'estompeur,' and 'Le traceur' – are dedicated to preparing and enhancing the eyes, helping you achieve the most precise and breathtaking results. The 'Courbe-cils,' an essential companion for elevated eyes, optimizes and fixes the natural curl of the lashes.
ALSO READ: HOMECOMING ELEGANCE: ASHI STUDIO'S '8PM' COLLECTION IS UNVEILED IN A SPECTACULAR FASHION SHOW IN RIYADH.