HUBLOT CLASSIC FUSION BLACK MAGIC IN COLLABORATION WITH WITH CALLIGRAPHY ARTIST WISSAM SHAWKAT.
In the heart of Hublot's Classic Fusion collection, a series of special edition timepieces unfolds, showcasing vibrant Arabic calligraphy against a backdrop of disruptive colors, bright orange, blue, green, and red. This artistic interplay casts a bold reflection against the sleek black ceramic bezel, infusing each timepiece with a powerful aesthetic. Driven by the HUB1110 self-winding movement and boasting a 42-hour power reserve, these watches not only keep time but also embody a fusion of passion between the renowned watch brand, Arabian culture, and the eloquence of calligraphy. The carefully crafted calligraphy spells out "Al Zaman" and "Al Waqt," both eloquent expressions for time in Arabic, symbolizing a harmonious union of tradition and modernity.
For those with a penchant for opulence, the Classic Fusion Black Magic Diamonds Dubai Watch Week 38mm edition takes the experience to new heights. This masterpiece features a polished black anodized aluminum bezel adorned with 36 black brilliant-cut diamonds. Wissam Shawkat's calligraphy transforms this timepiece into a genuine work of art, with the sparkling diamonds accentuating each curve and stroke. Witness the flawless synergy between horology and artistic expression in this captivating creation.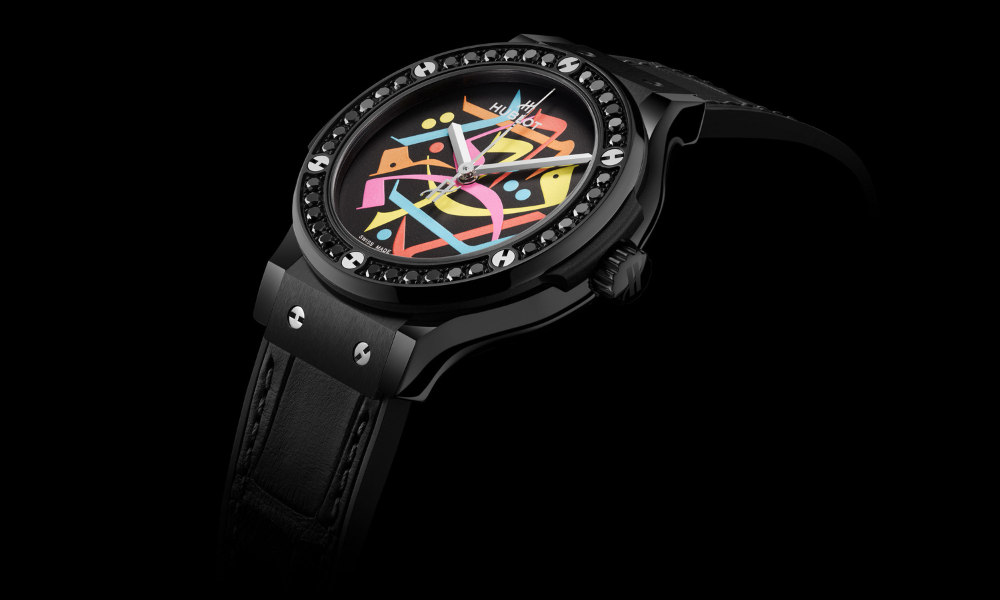 THE L.U.C STRIKE ONE FROM CHOPARD.
Chopard unveils the L.U.C Strike One model, showcasing the brand's profound expertise in chiming watches, this extraordinary timepiece melodiously chimes the passage of each hour on a Chopard-patented monobloc sapphire. The result is not just a mere indication of time but an exquisite fusion of incomparable acoustics and emotional resonance. The 40 mm-diameter marvel, crafted in ethical 18-carat white gold, houses the exceptional L.U.C 96.32-L movement – a testament to precision, chronometer-certified accuracy, and adorned with the prestigious Poinçon de Genève quality hallmark.
The allure of the L.U.C Strike One extends beyond its technical prowess to its aesthetics. A solid gold grey-green dial, meticulously hand-guillochéd with a mesmerizing honeycomb motif, beckons admiration. The timepiece's slender 9.86 mm profile, crowned with a crown-integrated pusher, combines with its crystal-clear sound to impart a dimension of elegantly resonant passage to the inexorable flow of time. In the world of horology, Chopard's L.U.C Strike One stands as a harmonious blend of craftsmanship, innovation, and the artistry of timekeeping.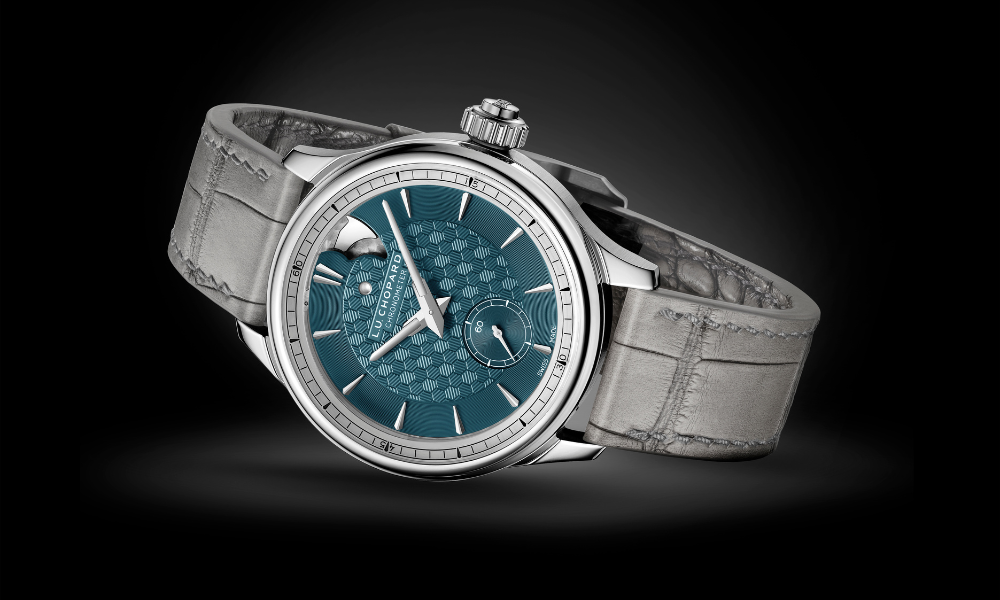 THE HM11 ARCHITECT BY MB&F.
Meet MB&F's newest invention, the Horological Machine Nº11 Architect, a creation that boldly challenges norms and ventures beyond the confines of traditional timepieces. Far from being a mere watch, it stands as an avant-garde testament to innovation, seamlessly melding the realms of horology and lived experiences. A fusion of titanium and sapphire crystal forms the case, showcasing the brand's mastery in molding these demanding materials. This blend of resilience and transparency is a testament to the brand's expertise. The incorporation of state-of-the-art technologies, including a transparent crown and a custom dampening system, not only pushes the boundaries of conventional watchmaking but also introduces a distinctly contemporary visual appeal.
Drawing inspiration from the avant-garde and human-centric architectural trends of the 1960s, the HM11 Architect is a harmonious blend of aesthetics and utility. At its core, a central flying tourbillon takes on the semblance of a clerestory window or the intricate cellular division of a zygote, becoming the focal point within a structural masterpiece housing four distinct chambers. The rotational dynamism of the watch not only adds a tactile dimension but also ensures an efficient and prolonged energy supply, affording an impressive 96 hours of autonomy after a mere 10 rotations. In this timepiece, functionality meets artistry, paying homage to the experimental spirit that defined an era.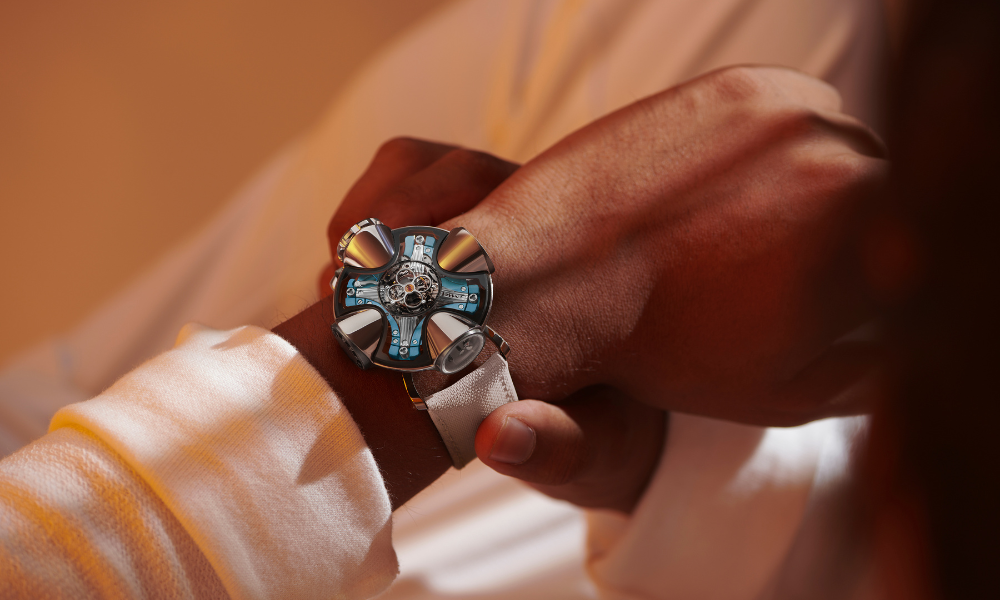 THE ICONIC 'TAMBOUR' FROM LOUIS VUITTON.
Exuding an effortless sophistication, the iconic Tambour watch from the Maison undergoes a fresh transformation, marking 21 years of existence. It now showcases meticulous hand-detailing and boasts a proprietary automatic movement crafted by La Fabrique du Temps Louis Vuitton.
Adorned with striking contrasting details, the gender-neutral Tambour watch flaunts a slender case designed to complement wrists of all sizes. The integrated bracelet seamlessly merges strength and grace, employing slim, curved links that snugly and comfortably intertwine with the case.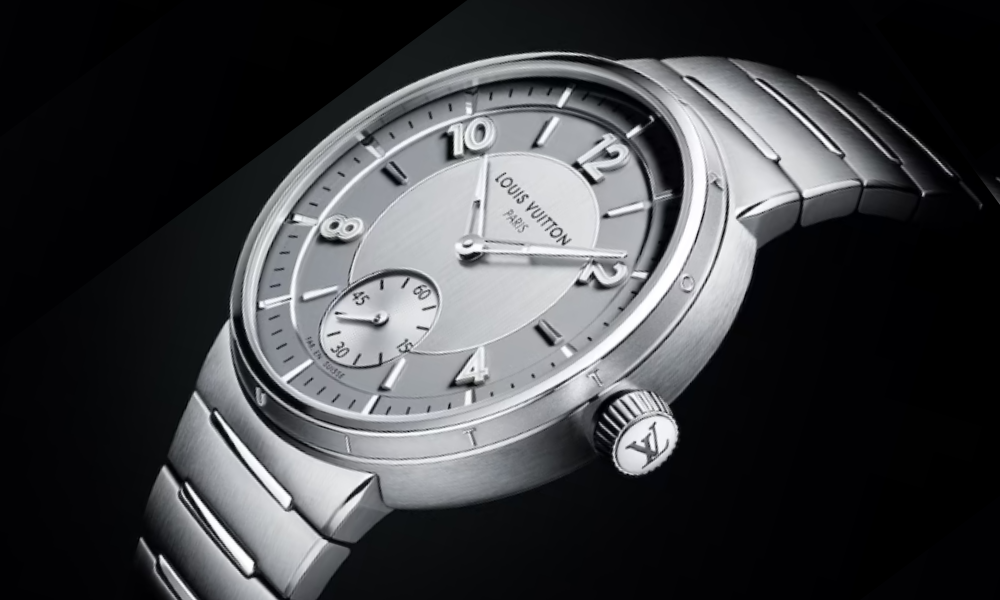 BREITLING'S CHRONOMAT AUTOMATIC GMT 40.
In an exciting collaboration with its enduring retail partner, Ahmed Seddiqi & Sons, Breitling Middle East introduces a pair of exclusive Special Edition watches tailored specifically for the discerning UAE market. The spotlight is on Breitling's Chronomat Automatic GMT 40, now unveiled in two distinctive special designs that boldly feature Indian numerals gracing the dial with pride.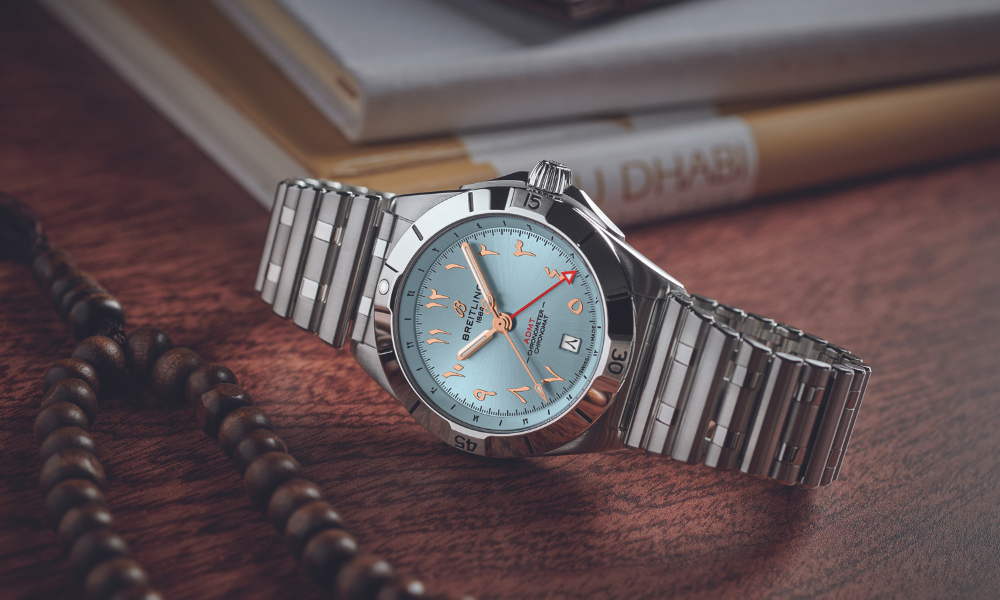 NEO BRIDGES ASTON MARTIN EDITION BY GIRARD-PERREGAUX.
Elevating their official collaboration, Aston Martin and Girard-Perregaux unite in crafting an extraordinary timepiece that redefines 'the bridge,' an age-old mechanical hallmark in watchmaking. Introducing the Neo Bridges Aston Martin Edition, a captivating addition to the renowned Bridges collection, this watch unveils typically concealed functional components, bringing them to the forefront of attention. Drawing inspiration from Aston Martin's cutting-edge sportscars, the design team takes cues from the iconic DB12, the world's first Super Tourer. Mirroring the car's sculpted contours and sleek lines, the new timepiece emerges as a testament to the symbiotic fusion of automotive and horological innovation.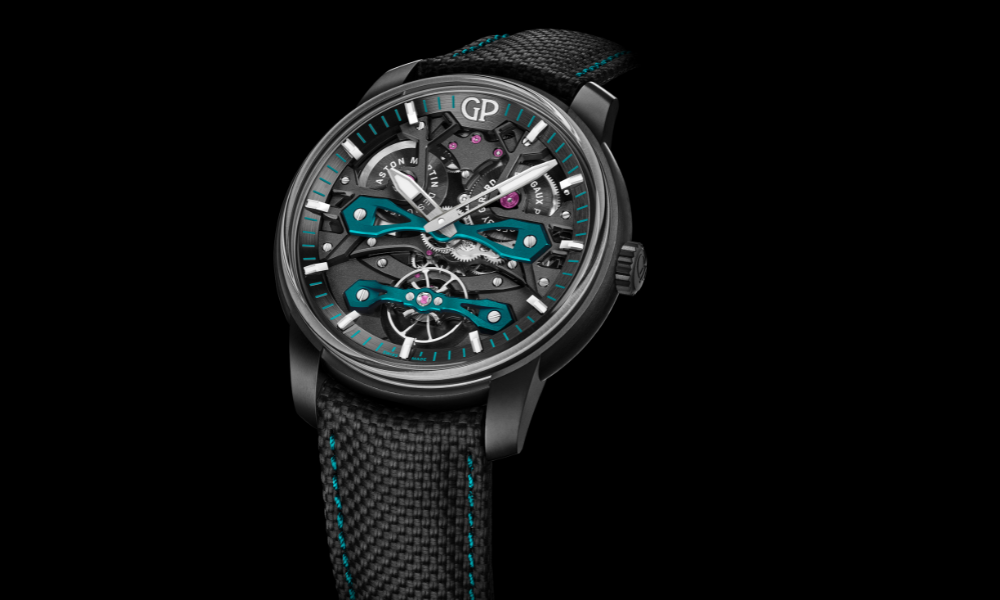 THE FREAK ONE FROM ULYSSE NARDIN.
In 2001, the unveiling of the Freak not only reshaped perceptions of Ulysse Nardin timepieces but also ushered in a revolutionary era in Swiss fine watchmaking. Embracing the spirit of innovation, Ulysse Nardin introduces the Freak ONE OPS exclusively for Dubai Watch Week, adding a captivating twist to the iconic Freak ONE. This new masterpiece boasts a 44mm diameter, encased in black DLC titanium, while a dynamic khaki green palette defines the special sunray-patterned barrel cover and seamlessly integrates with the watch's matching rubber strap. It's a testament to the brand's commitment to pushing boundaries and infusing each creation with a touch of unexpected brilliance.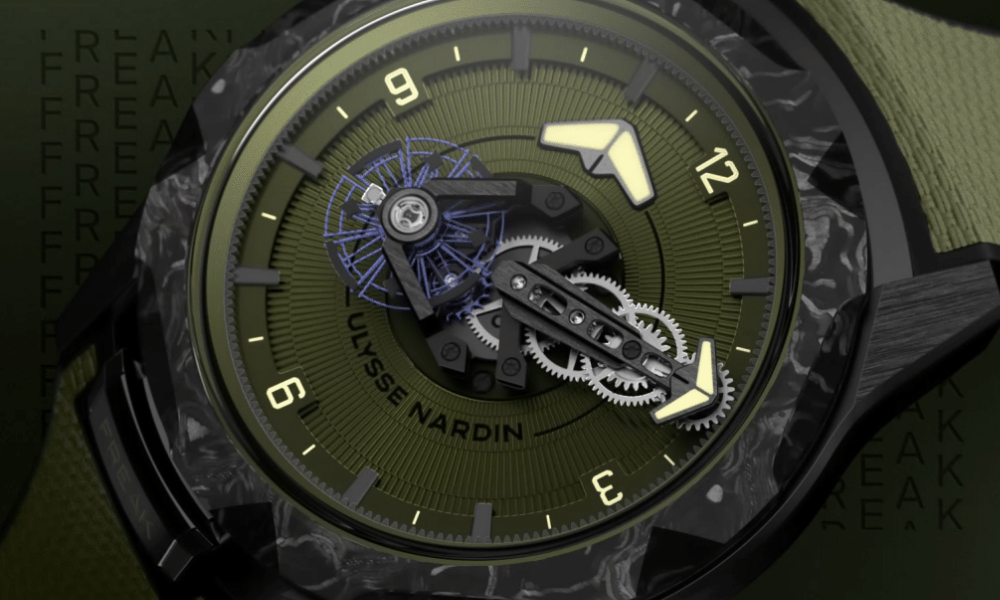 RESERVOIR'S COLLABORATION WITH ABDULLA LUTFI.
Embarking on a unique artistic journey, RESERVOIR watch proudly presents its newest collaboration with the acclaimed Emirati artist Abdulla Lutfi. This exclusive timepiece effortlessly fuses contemporary artistry with the timeless precision of Swiss-made horology. Available in limited quantities, this extraordinary creation can be exclusively found at the Ahmed Seddiqi & Sons boutiques throughout the Middle East, marking a harmonious union between the worlds of avant-garde design and traditional watchmaking excellence.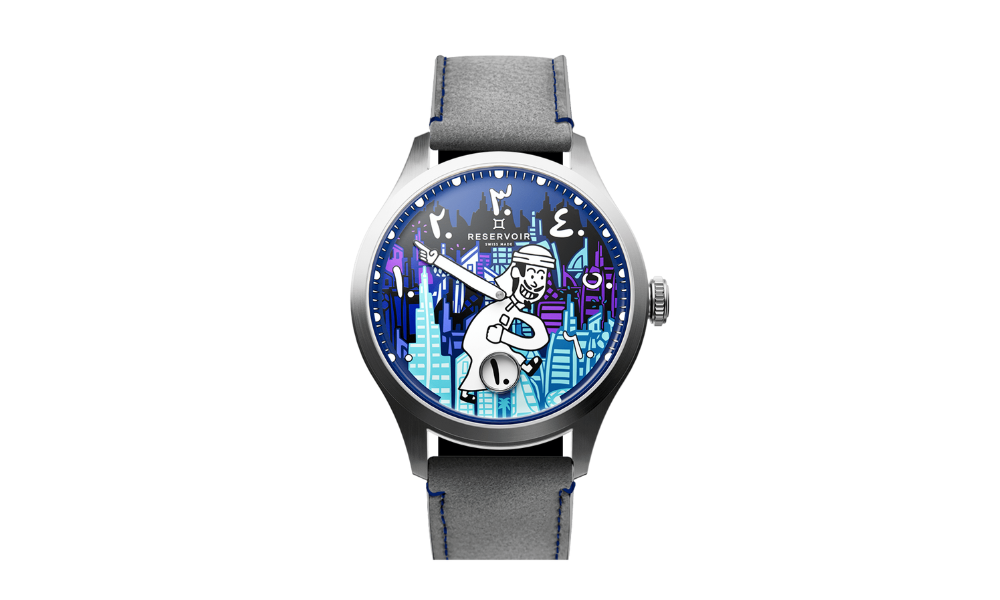 MING'S 29.01 DUBAI EDITION.
We've made a couple of design and functional tweaks to differentiate this new edition of the 29.01 from its sibling: firstly, the debut of a rose gold finish for our second generation Schwarz-Etienne for MING ASE222 microrotor automatic, and adjustments to the city ring.
By collector request, additional cities have been added to the dial with numbers and city names now in Arabic. Furthermore, we have added a third ring to provide differentiation for the cities that accommodate daylight savings time, in addition to an offset marker to indicate time in these zones when DST is active.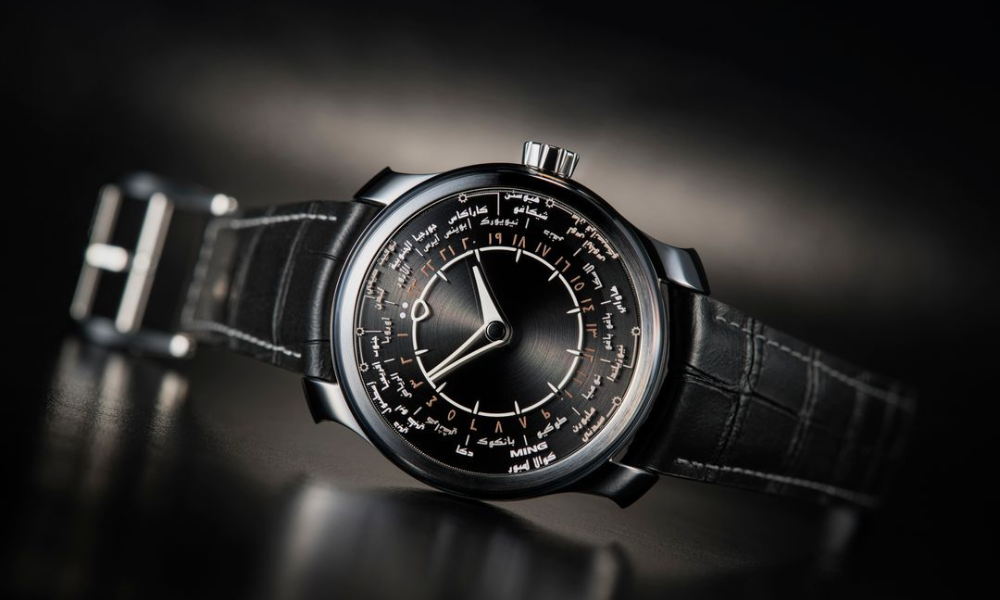 H. MOSER & CIE.'S STREAMLINER SMALL SECONDS.
Moser & Cie. unveils the latest iteration of its Streamliner collection with the introduction of the Streamliner Small Seconds Blue Enamel (Ref. 6500-1200). Redefining proportions, this timepiece now graces the wrist in a more compact cushion-shaped case, measuring 39mm. Drawing inspiration from the sleek design and graceful curves of the inaugural high-speed trains of the 1920s and 1930s, the watch aptly takes on the name "Streamliner." Beyond the refined case size, this newly released reference houses a revamped calibre, featuring smaller dimensions – the automatic calibre HMC 500, marking a meticulous blend of heritage and innovation.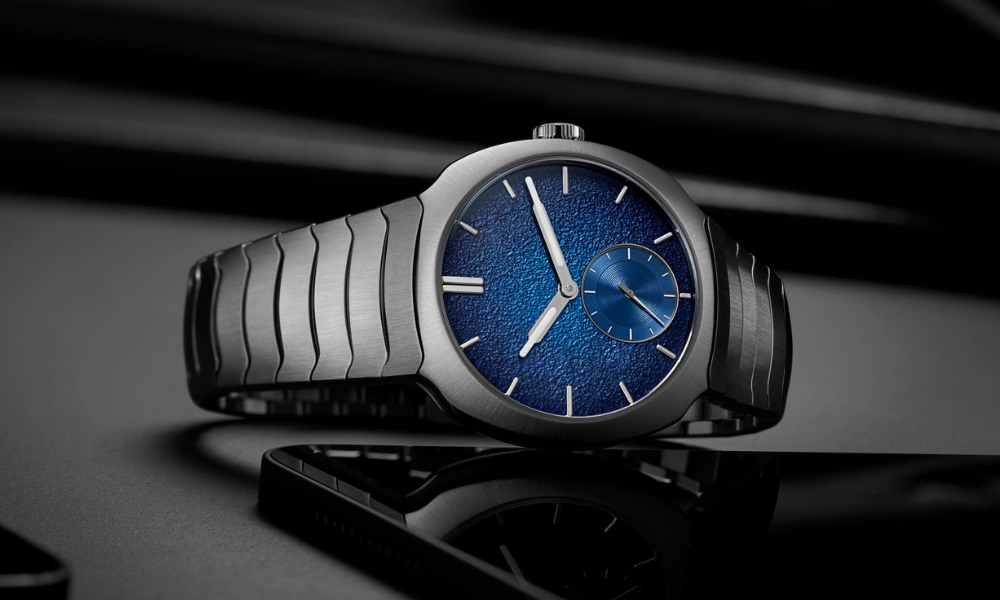 ALSO READ: 10 OF THE COOLEST BAGS OF THE SEASON THAT LIVE IN OUR HEADS RENT-FREE.