Recently, Neymar made headlines (yet again) when he donned the blue jersey of Saudi Arabia's Al Hilal club. Departing from Paris Saint-Germain after six seasons–with a lucrative (reportedly) $300 million contract in the bag–the Brazilian football star's deal with the Saudi Arabian club became a topic of heated online conversations. That was until the discussion shifted to Neymar's tattoos – all 46 of them.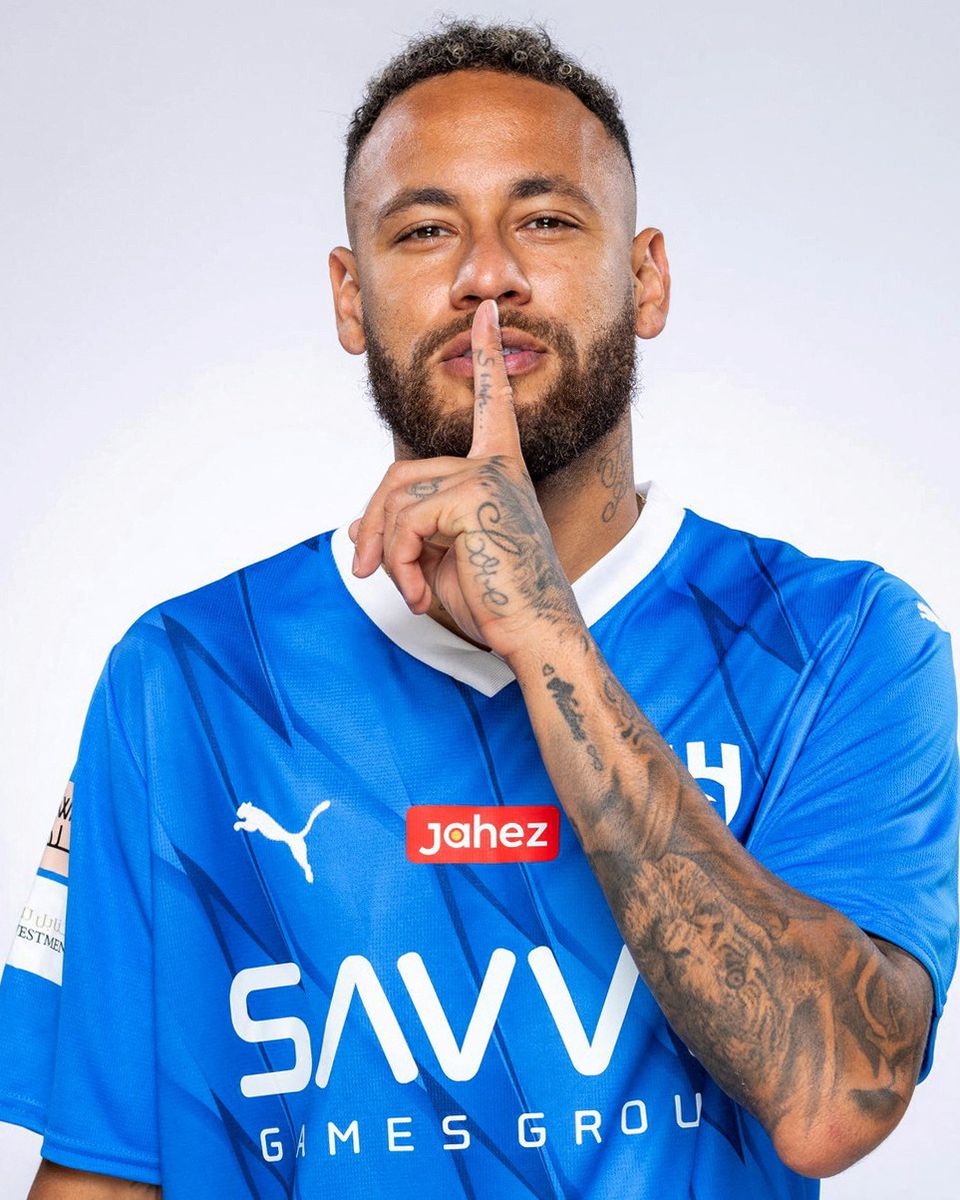 With his mesmerizing footwork and match-winning goals, Neymar is no stranger to the spotlight. While his skilled legs have long been a subject of great interest among fans and critics alike, his inked body that narrates a story just as compelling. The intricate tapestry of tattoos embossed on his body is not merely art but essentially the Brazilian athlete's biography capturing his journey from a little boy kicking a ball on the streets of São Paulo to an international icon. Etched onto his skin forever, each of Neymar's tattoos is a meaningful tribute to momentous occasions and memories.
Here, Buro dives into the complex world of Neymar's tattoos, decoding the most significant art on the footballer's body.
Symbols of Strength.
Woven with an elaborate web of tattoos, the Brazilian soccer star's left arm is essentially a tattoo sleeve. One tattoo, however–that of a lion's face–placed on the back of his palm stands out from the rest. Symbolizing strength, courage, and leadership, the magnificent lion head embodies Neymar's indomitable spirit. Alongside the king of the jungle, on the outer side of his left arm boasts a fierce tiger's head. Another majestic creature–the eagle–takes up space on Neymar's chest.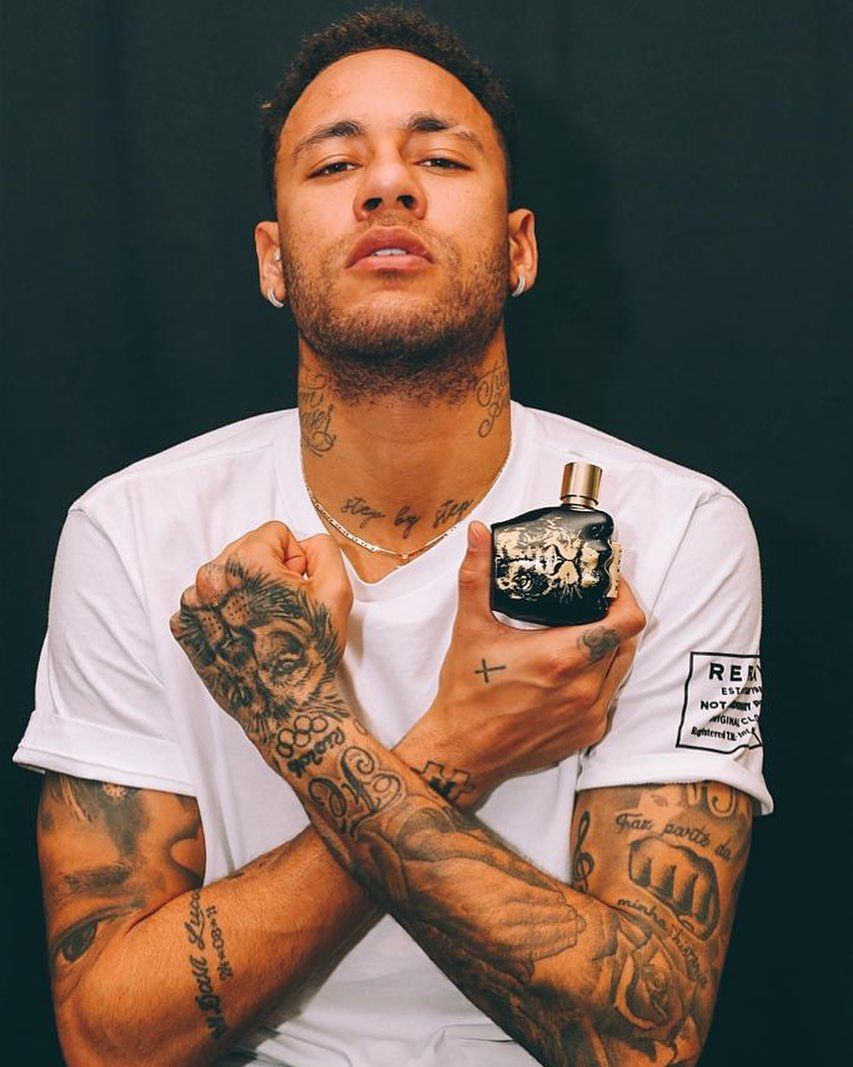 An Ode to Family.
Sitting adjacent to the menacing lion's head is the word 'Love,' inscribed as a tribute to the footballer's parents. Speaking of family, not just one but several of Neymar's tattoos are dedicated to those close to his heart. In fact, his very first tattoos were dedicated to his mother and sister as he embossed their names – 'Rafaella' and 'Nadine' – on his wrists.
That's not all; the Brazilian athlete also has his mother's and sister's portrait inked on his right bicep, while his son's portrait finds itself on his right forearm along with his son's name, 'Davi Lucca,' and his birthdate. Further, a prayer dedicated to his father is carved onto his chest, while the word 'Family' is scrawled in a bold font on his left bicep.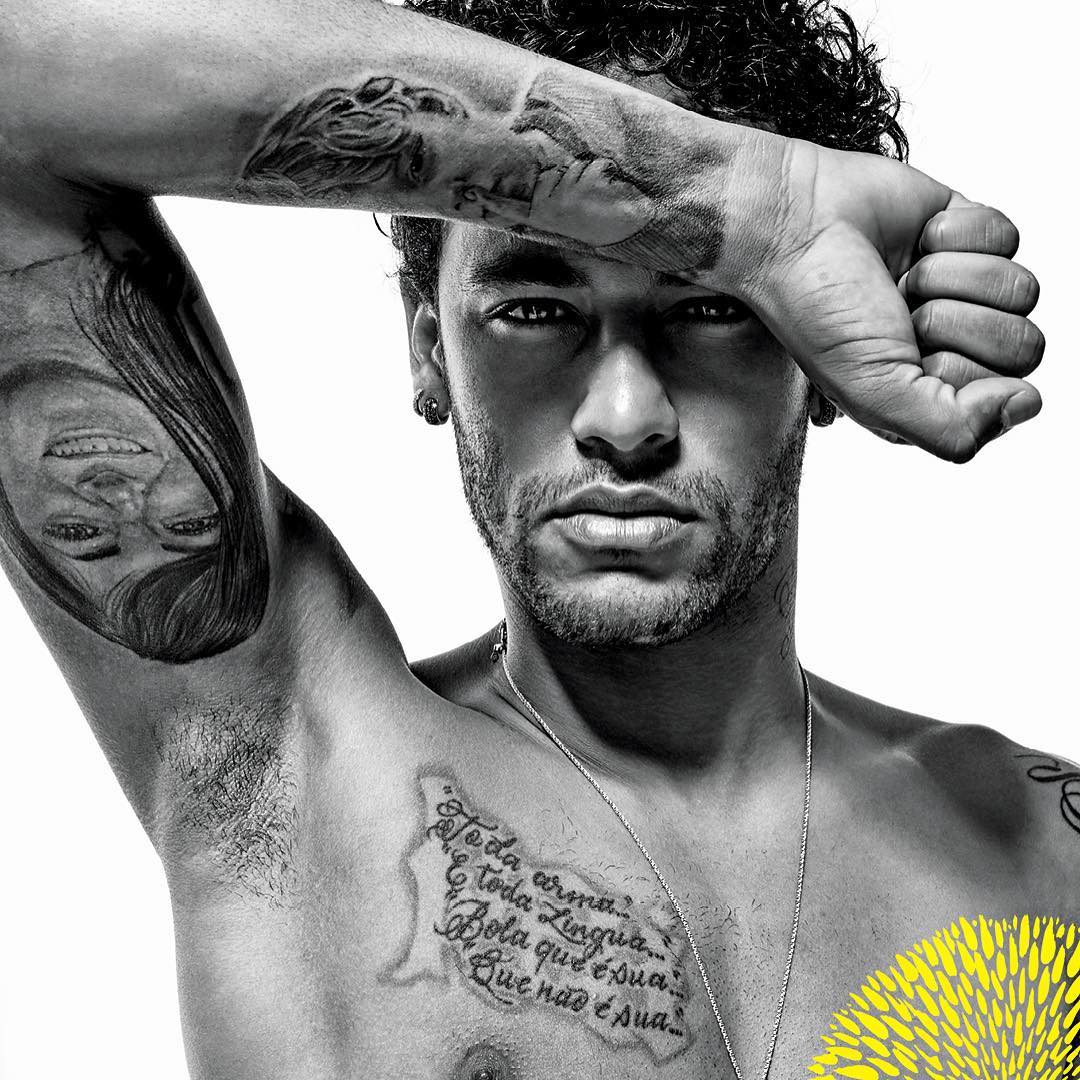 Words of Motivation.
Even the most capable sportsmen need words of motivation, and in Neymar's case, they find themselves embossed onto his body. Three flying birds and the phrase "Tudo Passa" are drawn on the left side of the footballer's neck, serving as a reminder that nothing–whether good or bad–lasts forever. The other side of his neck is adorned with a feather and the words "Dream Chaser" inked in a cursive font.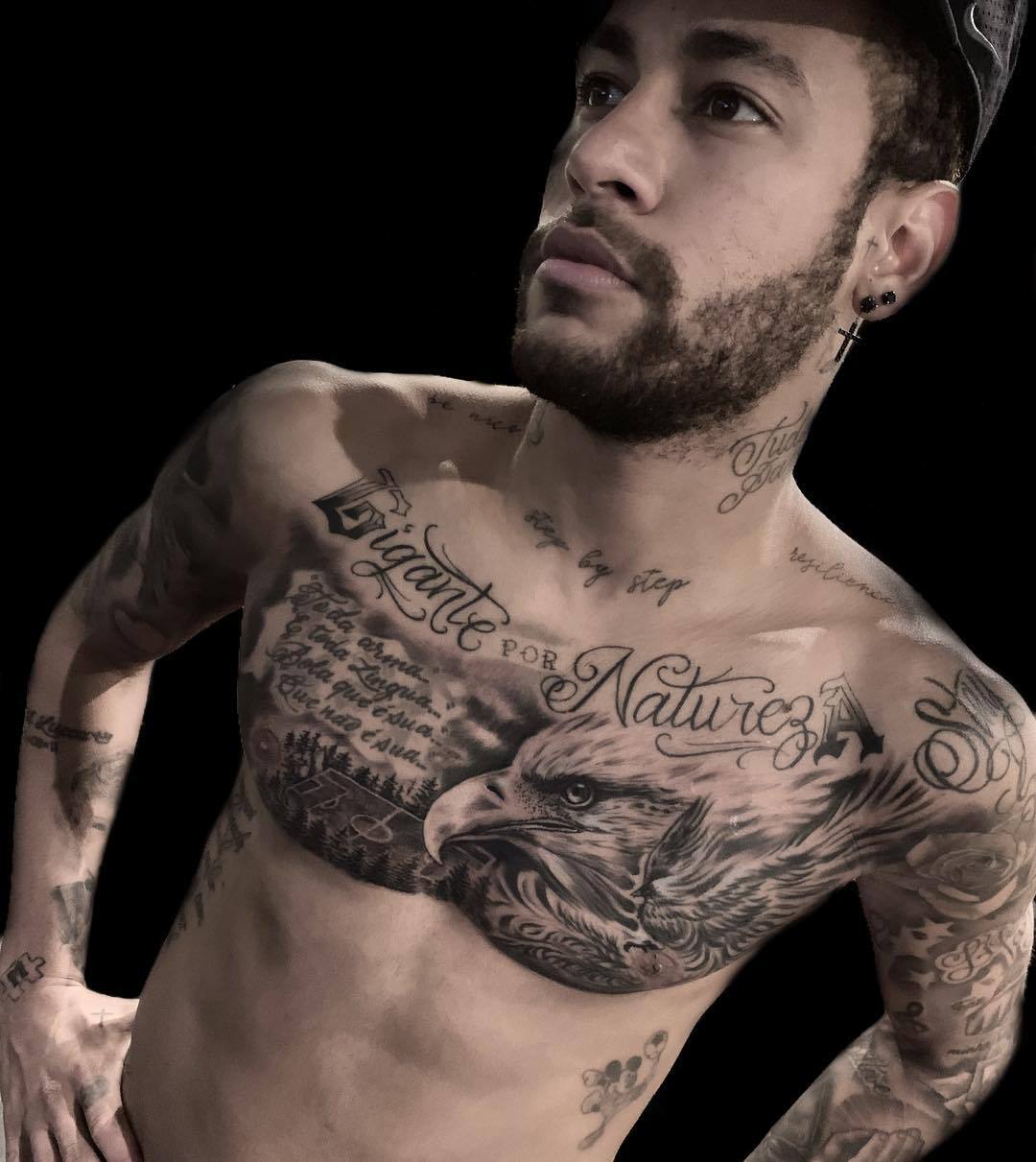 His ankles are stamped with the words "Ousadia" (courage) and "Alegria" (joy), while his right leg flaunts encouraging words like "Work Hard," "Passion," "Faith," and "Focus." The phrases "Stray Strong" on his left bicep and "Step by Step" on his throat, and the word "resilience" on his left shoulder blade are reminders to keep moving forward even in the face of adversities. "Gigante por Natureza," which translates to "Giant from Nature," is inked in bold lettering across his chest.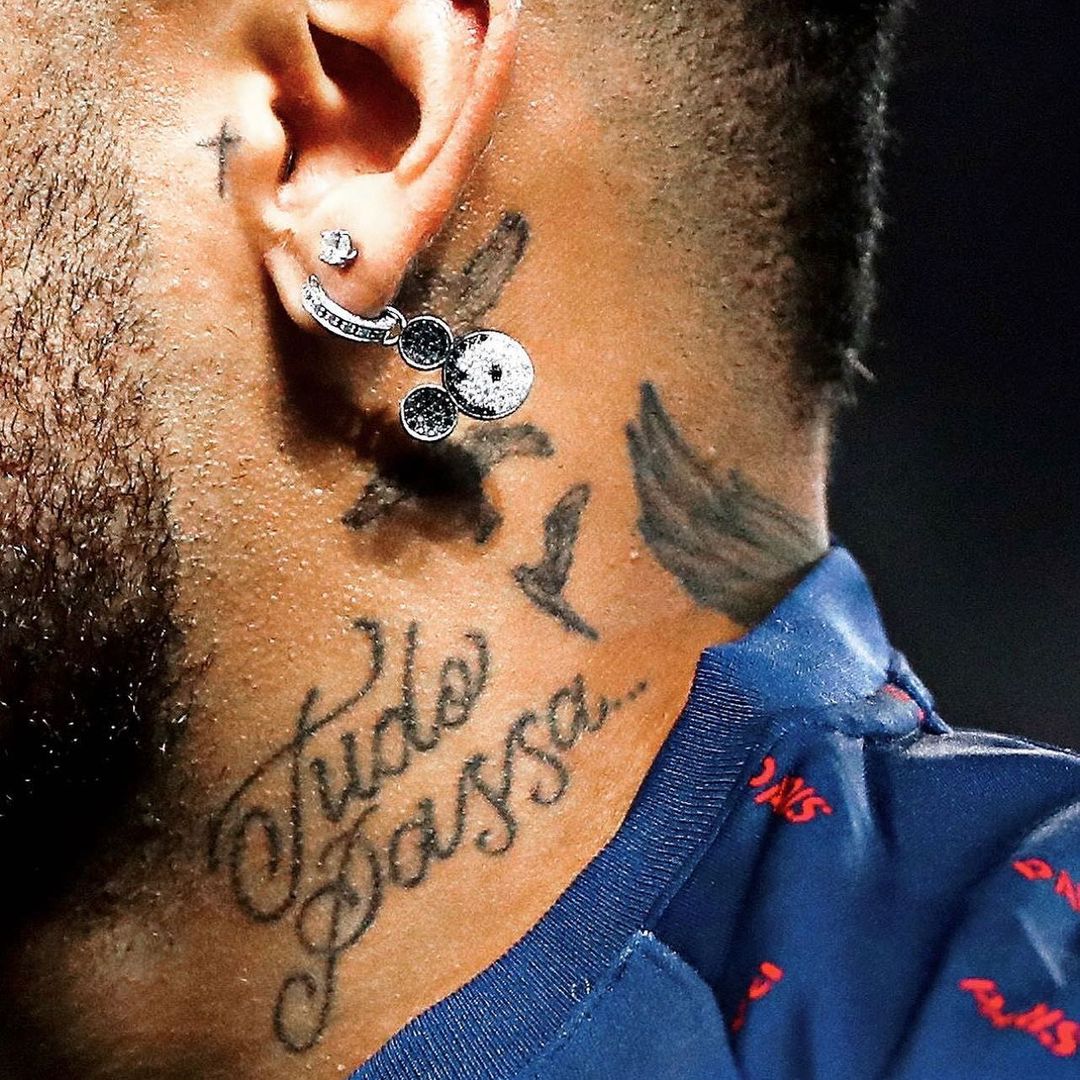 In God we trust.
Amongst Neymar's tattoos, one can find several references to his religious beliefs. The word "Blessed," along with a cross and angel wings, is sketched on the back of his neck, while meticulously drawn praying hands adorn his left forearm. His upper left arm features a large cross with the words "Todos Corren" scribbled below it. The words "Dios es Fiel," meaning "God is Faithful," are inked on the inner side of his left wrist.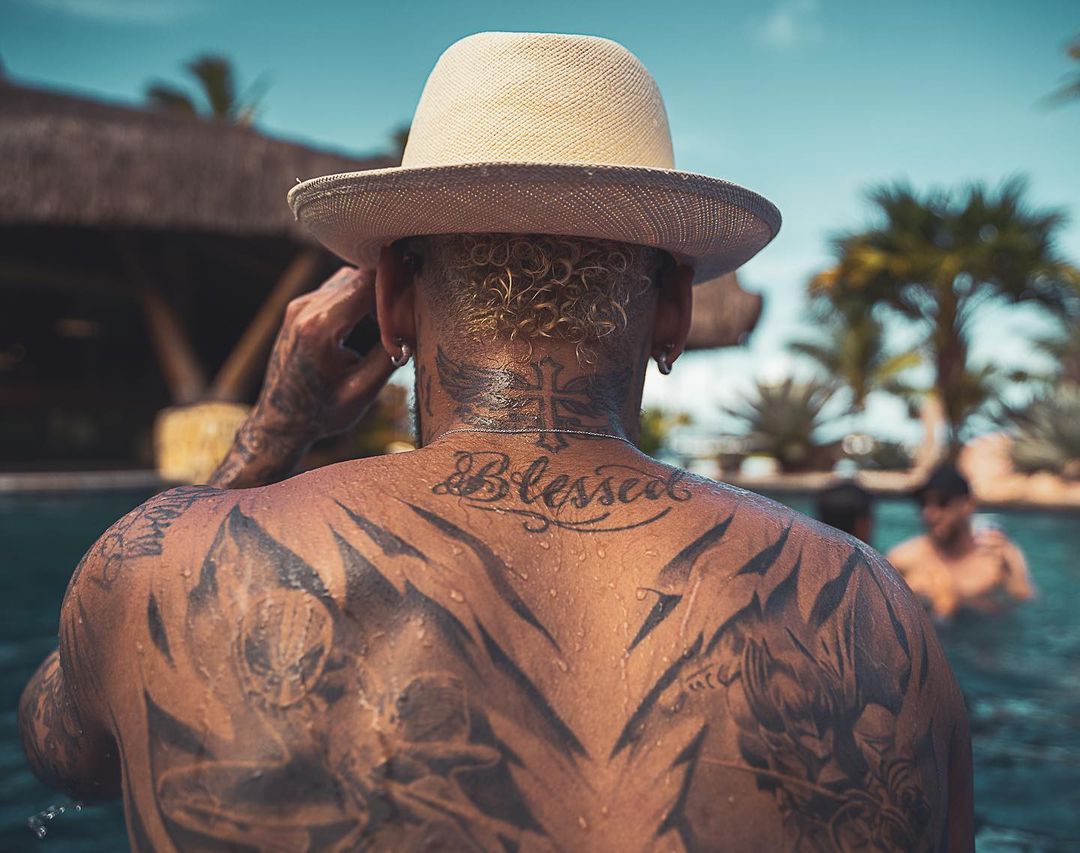 Love for football.
Naturally, Neymar's tattoos reflect his passion for football. His left calf showcases a neatly drawn sketch of a young boy holding a football, staring at the favelas in Brazil. Reflecting on his roots, this tattoo inspires the mega-athlete to seek new accomplishments. Another tattoo on his calf shows a football with a crown and a silhouette of himself. In a tribute to one of the milestones of his career, the Champions League cup, along with the date that Barcelona won the finals, is etched on his calf. Further, his torso features a tattoo of Mickey Mouse playing football.
ALSO READ: SOMEWHERE BETWEEN LOCAL ART AND CULTURE, SAMSUNG JOINS FORCES WITH NOURIE FLAYHAN FOR AN ARTSY COLLAB.