The Dubai Shopping Festival is currently in full swing and the jam-packed schedule of shopping galore and entertainment extravaganza wouldn't be complete without the seasonal event, Etisalat Market Outside the Box (MOTB).
Now in its 8th year, the city's highly anticipated bazaar returns in a big way for the Dubai Shopping Festival along with al fresco markets, fabulous deals and celebrations that come with it.
Running from December 17 to January 2, Etisalat MOTB is just one of the many DSF specials offering you and your loved ones an entirely new series of fun. Located at Burj Park by EMAAR, Downtown Dubai, there's no better way to enjoy Dubai's exceptional winter weather whilst discovering stalls stocked to the brim with unique products to snap up.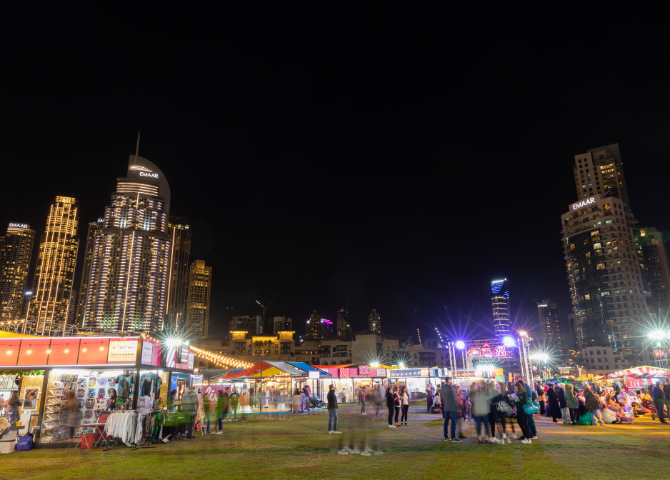 For this year's edition, there are around 80 brands participating, each set to showcase a specially curated range of products from fashion, jewellery, home, decoration, sports and nutrition — boasting local artisans, emerging and established brands.

Whilst each retailer will showcase an exclusive item for Etisalat Market OTB, there will be a focus on fashion vendors — you can expect to see urban streetwear stalls, ethical and sustainable fashion brands and unique fashion concept stores for you and your little ones, too.

The focus on fashion falls in line with the exploration of this year's first theme, NEWTRO: an emerging trend from South Korea and Japan. Recognised for blending elements of the '90s with contemporary culture, you'll have a chance to experience that K-Pop culture.

Every weekend, the festival will include a different theme, so following NEWTRO, there will be a focus on all things festive before ending the festival with 2021 celebrations on the third weekend.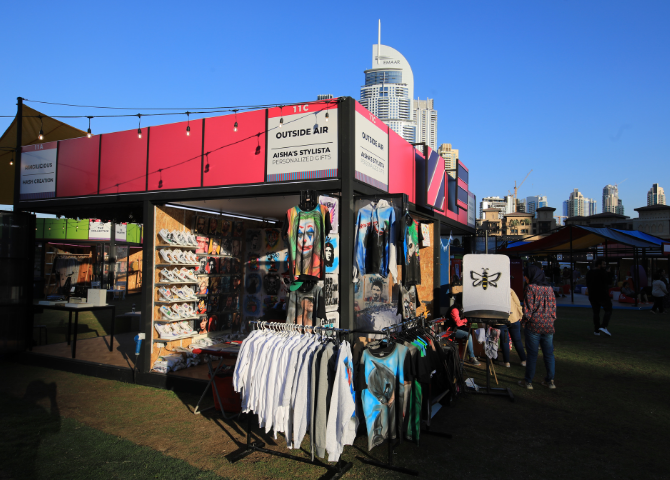 All the while, you'll be able to get your hands on the latest fragrances, skincare and makeup products as Etisalat MOTB have just added a brand new category dedicated to all things beauty.

You can also enjoy an authentic shopping experience whilst indulging in some delicious treats from homegrown food stops. You might come across a packed line-up of exciting entertainment too — whether it's live shows, incredible workshops or performances, there's just plenty to do and see.

Making it a fun day out for you, your family and friends, you can take part in specific game nights (taking place every weekend), movie nights (every Sunday and Tuesday), comedy hour (every Wednesday), and a chance for you to show off your talents at MOTB's Got Talent and crowd karaoke (every day).

Make note that there will also be deals, giveaways, festive promotions and opportunities to win big every time you visit Etisalat MOTB — all the more reason to head down there.




This year's diverse selection of homegrown vendors and emerging labels include Gunay Hafiz, Savanna Creations, Halo Jewelry, Axinia, Khaled Zoghra, Le Pom Pom, Baya Ceramics, Reham Shaheen, M'Oishi and plenty more.

To broaden the offerings at Etisalat MOTB, the festival has introduced a plethora of concept stores that targets the GENZ/Millennials and Emiratis such as The Studio by Cultural Couture, Level up by Elevate, the Fab Concept Store, Volk Luxury and Wagyu.

We know where we'll be shopping this weekend…

The Etisalat Market Outside the Box is free to attend and will run until January 2, 2021. Timings are Sun-Wed 4pm-10pm, Thu 4pm-12am, Fri-Sat 12pm-12am.

The Dubai Shopping Festival will run until January 30, 2021. For more information, please visit mydsf.ae.