As we enter a New Year, one of the most common resolutions usually involves getting fit or losing weight and whilst it's a popular genre every year, those goals tend to fizzle out within weeks. However, we believe that fitness is much more than just a New Year's resolution and we're here to tell you how to not lose that willpower in a fun and engaging way.
We've hit the halfway mark of the Expo 2020 Dubai and there's no better time than now to visit the interactive pavilions and truly see what's on offer at the site. It serves as a fitness playground on its own and you can achieve your fitness goals without that dreadful feeling of waking up early and hitting the gym.
The Apple Watch Series 7 couldn't be a more perfect companion to do so. The arm candy tech piece proves that it's so easy to be active, simply by doing everyday things such as visiting Expo and getting lost in all of the pavilions – by the end of it, you've perhaps smashed your activity goals for the day without realising that you've walked for hours and burned so many calories, all whilst having fun.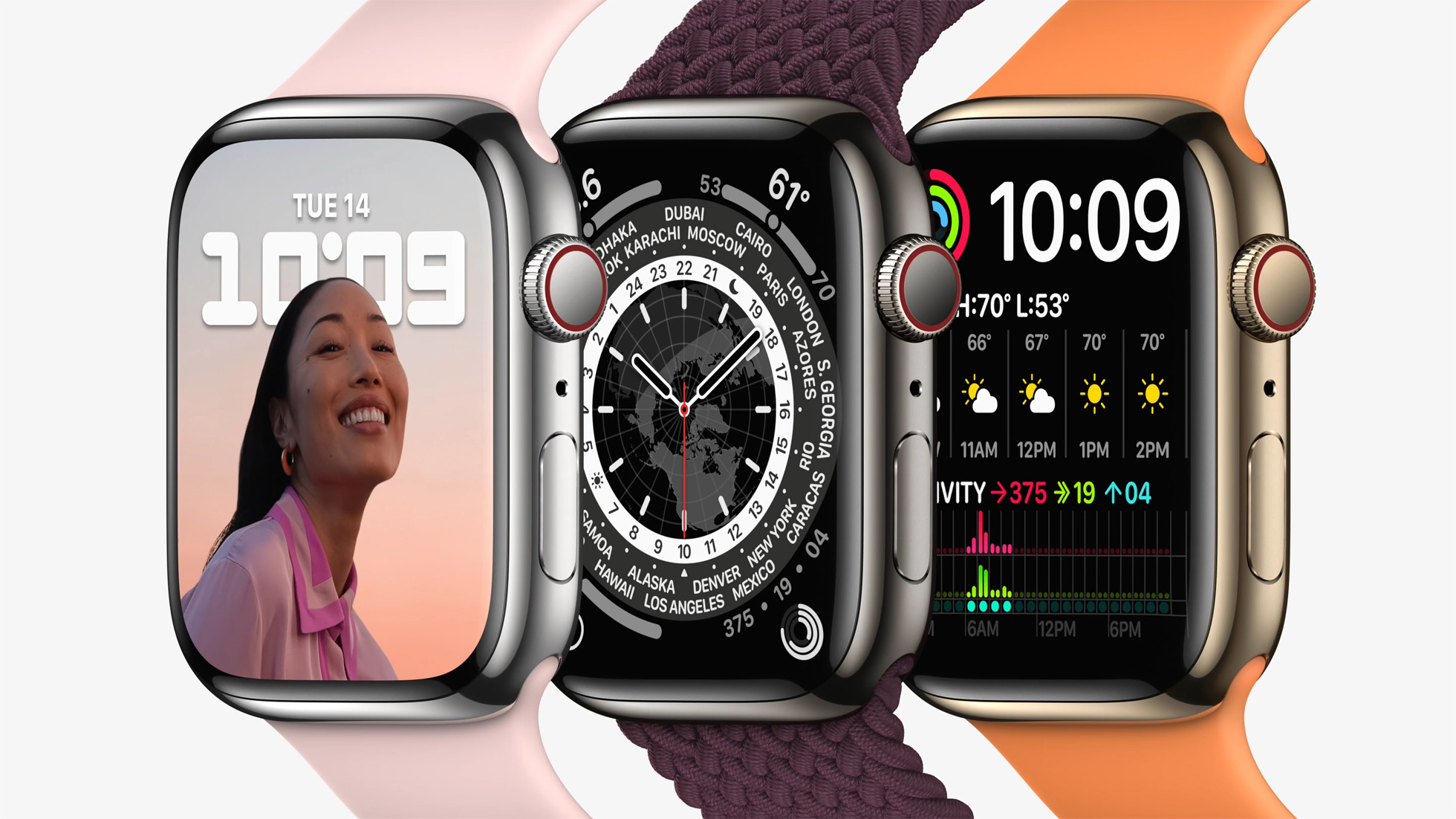 Featuring a larger, more generous display and enhanced durability, the Apple Watch Series 7 will help you #CloseYourRings. Using advanced technology, it tracks how often you stand, how much you move, and how many minutes of exercise you do through the three rings that summarise your progress.
To show you how you can achieve your fitness goals at Expo 2020, we've teamed up with fitness enthusiasts and creatives who have shared their experiences with closing their rings at the site.
Yasmin Baker, Emirati aerialist, fitness influencer, and Senior Analyst at Expo, is lucky enough to be on-site most days. Speaking of her Expo journey, Baker said: "I think walking is the best form of movement at Expo. I have never walked so continuously in Dubai, and have never consistently clocked in so many hours. Aside from that, there are many other options for keeping fit like bicycles, dance classes, group fitness and so on!"
Using her Apple Watch, Baker truly makes the most of everything the site has to offer (she's even managed to hit 170 pavilions). "The best feeling is to be able to close my rings on the Apple Watch every day. What's even better is doing it without even noticing that I did which is why Expo is the perfect place to 'just walk'. I literally just hit the outdoor walk activity on my watch and keep moving on and on for about 8–15km within a 10-hour span! You hit two birds with one stone, staying fit, and doing so effortlessly because the site is so engaging."
I invite everyone to try it and see how many steps you walked, calories you burnt, simply by visiting the Expo with your Apple Watch – Yasmin Baker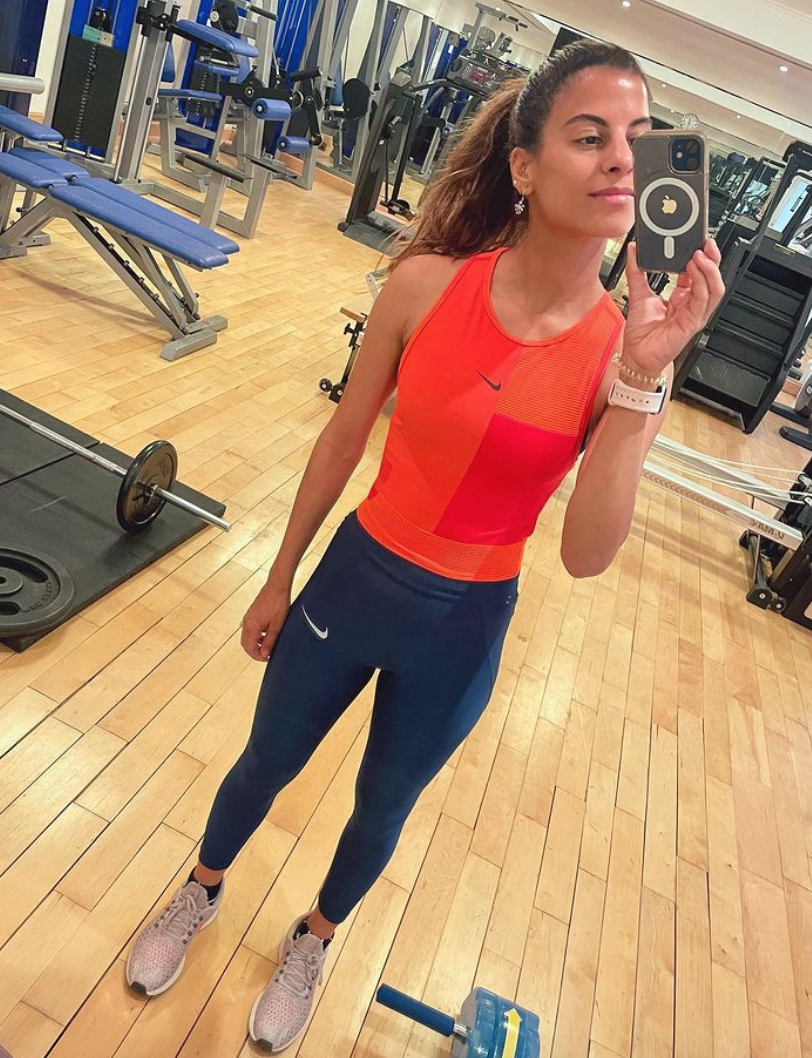 With plenty to do at Expo, we know there are a plethora of stunning things to see – starting with architecture at its finest. A hub for photographers alike, Geny Villareal Baluyot (most recognised for beautiful black and white imagery) visited the Expo 2020 site. Here's what she discovered through her lens…
How often do you visit Expo?
I visit Expo 2020 almost every weekend and my goal is to see all the pavilions to learn more about smarter and sustainable living and other groundbreaking innovations. My favourite pavilions are Japan, KSA, Germany, Morocco, Republic of Korea, United Arab Emirates and United Kingdom.
Do you feel that there is an opportunity for people to work out and stay fit "without going to the gym" such as going to Expo? Please elaborate.
Yes. Walking is a good form of exercise that is often ignored. At Expo, walking from one district to another is a good opportunity to burn excess calories with zero equipment. Just make sure you hydrate enough and that you protect your skin from the sun.
What makes the Apple Watch your best fitness companion?
I've been using the Apple Watch to track my health and fitness for almost 4 years now. I love that it monitors my movement throughout the day, sends me reminders to hit my daily move, exercise and stand goals. It also tracks my heart rate and all my progress and data are available on my Health app on my iPhone. Now I am burning 150 calories more than I did last month based on my past activities.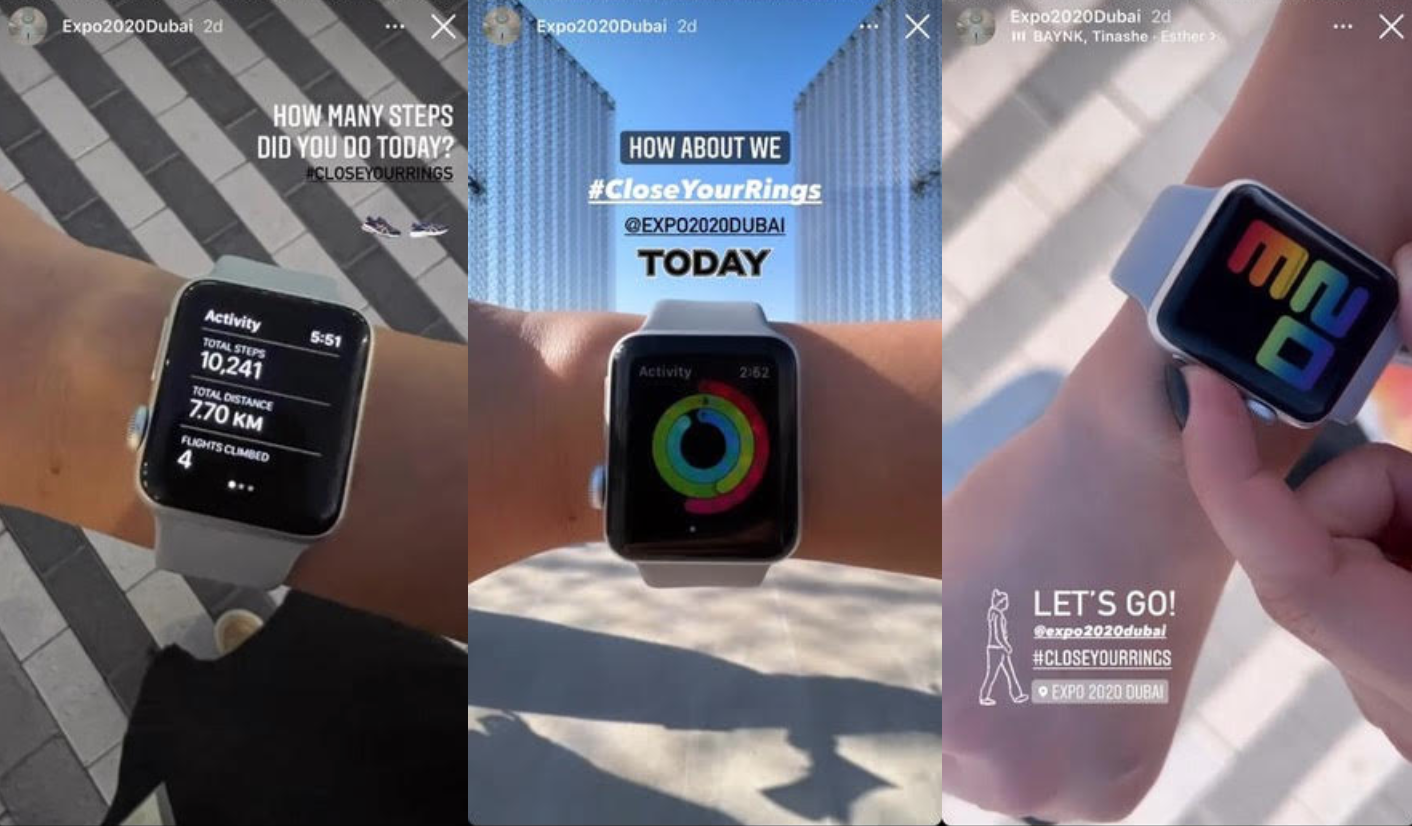 Last but certainly not least, we caught up with photographer and EyeEm Awards finalist, Debbie Fortes, who explained that whether or not you have access to the gym, you can still complete your workout. "At Expo 2020, you can still close your rings and at the same time, have fun and learn more about what each and every country has to offer by walking and doing cardio."
What makes the Apple Watch your best fitness companion?
Apple Watch is the best fitness companion because of its specific features which remind the user to close their rings if they haven't. It reminds me to stand up and gives out motivational messages whenever I close my rings. I can track my personal records in the gym and my trends as well which is really inspiring for active people like me!
Did you download the Expo 2020 app and follow a certain route? What are the best pavilions you visited?
I have downloaded the Expo 2020 app and it helps me pre-book a pavilion. Although, I plan my routes every visit. In my opinion, Japan is the best pavilion I have visited by far as it is really immersive, educational and moving.