Tiffany & Co. have become a pioneer in the jewellery sphere and the luxury label is currently at the forefront of sourcing of diamonds. In fact, sustainability has always been an integral part of Tiffany & Co.'s core values — ushering a new era of diamond traceability (meaning they source the majority of their diamonds through known mines and sources).
For over a decade, the American luxury jeweller have had a formal sustainability program and in 2019, introduced a new Diamond Source initiative which shares the provenance-region or countries of origin-of all newly sourced, individually registered diamonds to customers.
The brand has even committed to 100% geographic transparency for every newly sourced, individually registered diamond, and will not source any diamonds with unknown provenance.
"Sustainability lies at the heart of the Tiffany & Co. brand — it's both our legacy and our future. Tiffany's promise to the world is to protect its beauty, nurture its people and conduct our business with care," explains Alessandro Bogliolo, Chief Executive Officer, Tiffany & Co.
The people of Tiffany & Co. are the ones that help its diamonds shine brighter and more vibrant. Courtesy of the skilful artisans, they ensure the superlative diamond quality and craftsmanship — guaranteeing that each diamond is crafted according to these three factors: proportion, symmetry and polish.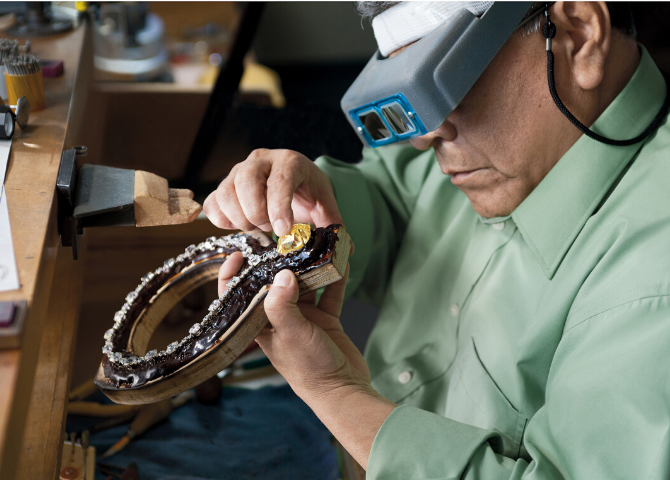 "A transparent journey of responsible sourcing reflects the many positive and far reaching benefits along every step of the diamond supply chain, Tiffany & Co. has long been committed to diamond traceability and going above and beyond industry norms to promote the protection of the environment and human rights," explains Anisa Kamadoli Costa, Chief Sustainability Officer, Tiffany & Co.
Here, discover Tiffany's Diamond Source Initiative in depth…
Now, take a look at Tiffany & Co.'s latest homeware collection to spice up your homes.