Indulge in the exquisite world of Gucci's High Watchmaking, as the renowned fashion house unveils a stunning array of novelties across its five signature collections. From mesmerizing tourbillons to moonphase movements and a groundbreaking perpetual calendar, these timepieces are a true testament to Gucci's rich legacy and unparalleled savoir-faire. Each masterpiece seamlessly blends the brand's iconic codes with avant-garde artistry and the most precious stones, showcasing the perfect fusion of traditional expertise and contemporary excellence.
Grip.
In 2019, Grip burst onto the scene with its trailblazing spirit and inimitable style, fusing 1970s skateboarding culture with sleek, edgy design. Now, in the realm of Gucci High Watchmaking, the Grip has taken a further step into the realm of eccentricity with its jumping hour mechanism, presenting time in an unconventional yet captivating manner – the Gucci way. The jumping hour mechanism, which originated in the 1920s with precision as its core principle, stores energy for 59 minutes before launching a timely leap to the next hour at the 60th minute mark. Now, in 2023, the Grip has been elevated to new heights with its complete embellishment in vintage-like hard stones, available in either brick red jasper or chrysoprase. The stones are set in 18kt pink gold, and are perfectly matched with corresponding brick red or mint green display discs, and luxurious alligator straps to complete the look. With a retro aesthetic fused with playful undertones, the Grip is the epitome of Gucci's refined and precious timepieces, featuring a unique "grip" that is both elegant and bold.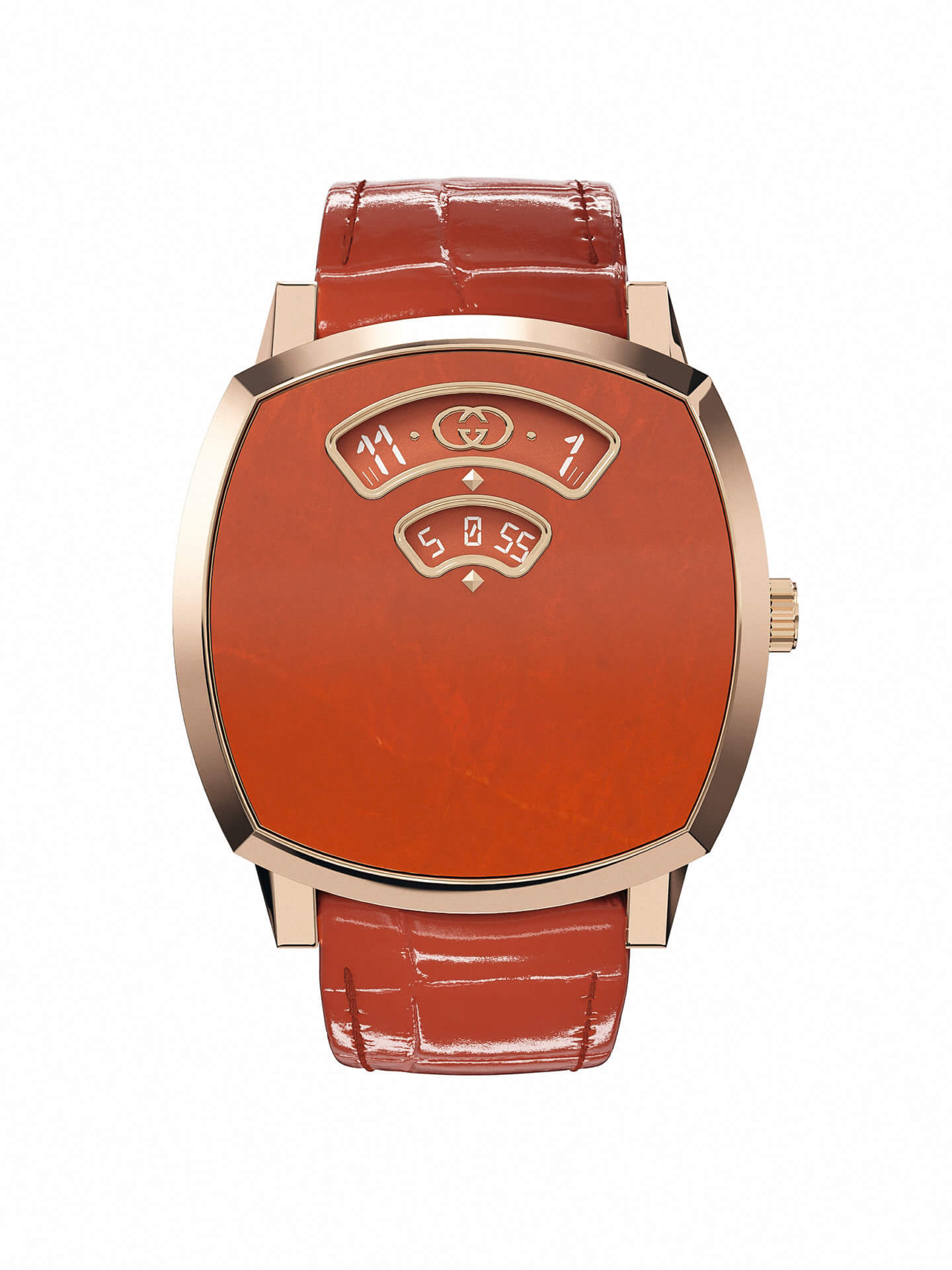 Gucci 25H.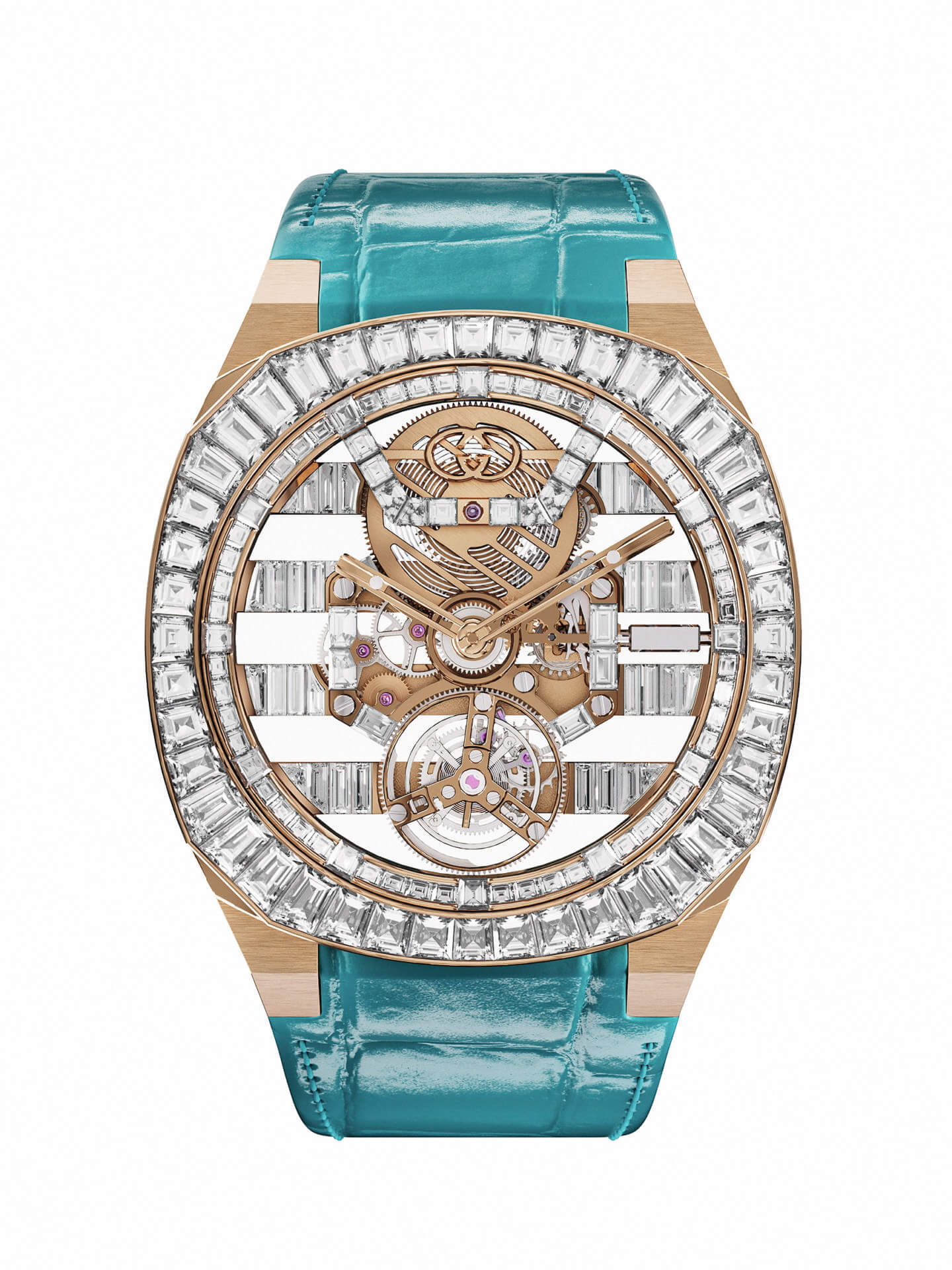 The GUCCI 25H collection, renowned for its iconic and sleek design, continues to make strides in the world of haute horology. Behold the stunning and intricate openwork of the GUCCI 25H Skeleton Tourbillon, adorned with exquisite baguette diamonds, including 60 on the dial's floating bridges and 44 on the bezel. At 6 o'clock, a mesmerizing flying tourbillon completes a full rotation every minute and momentarily aligns with the bridge during its journey, showcasing the technical brilliance of this timepiece. Personalization is also a hallmark of this masterpiece, as the winding stem can be engraved with up to eight letters on each of its four sides. The watch's size of 40mm is perfectly suited to showcase its grandeur, and it is available in either 18kt pink or white gold, accompanied by matching gold skeleton hands. The piece is stylishly paired with either a deep cobalt or black alligator strap, depending on your preference. This watch is truly a work of art, merging form and function in a breath taking way.
G-Timeless Moonlight.
In 2023, Gucci invites its clients to embark on a celestial journey with the made-to-order G-Timeless Moonlight watch, where individuality and cosmic elegance merge in perfect harmony. The moonphase calibre GGV838.MP showcases a unique representation of a client's birthplace, time, and date on the watch dial. The client's personal astral map is depicted through six gemstones, each reflecting zodiac signs and the position of birthday planets, carefully paired with six sparkling diamonds. The rotating rehaut, activated by the crown at 2 o'clock, brings the planets and gemstones to life, spinning randomly to reveal a unique arrangement with each glance. Further personalization is made possible with up to five etched letters or characters on the internal ring and a custom oscillating weight displaying the client's constellation. The alligator strap adds the final touch of bespoke luxury to this exceptional timepiece. A deep blue aventurine glass dial, layered over a delicate mother-of-pearl disc, conveys the enchantment and enigma of our universe.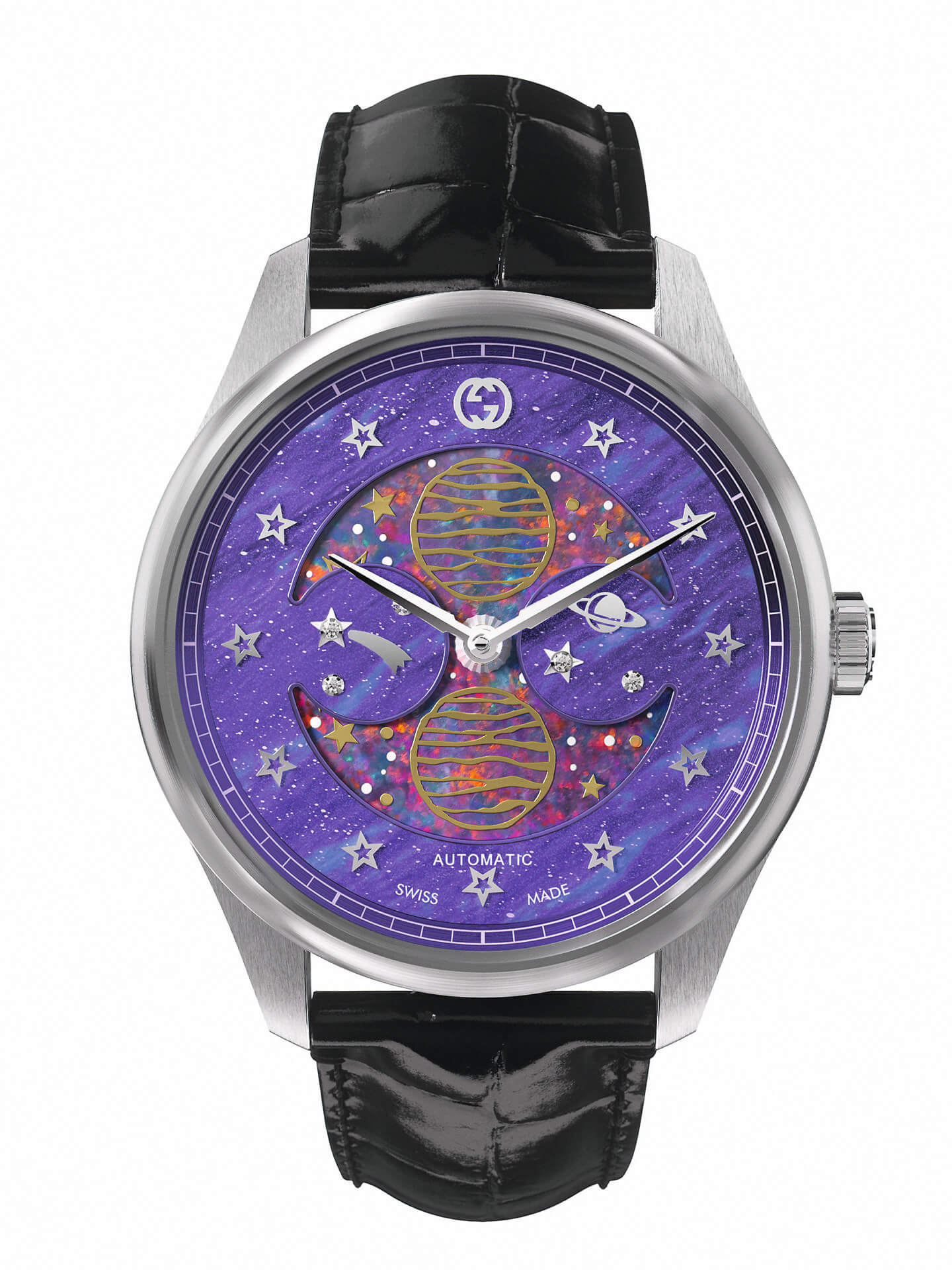 G-Timeless Dancing Bees.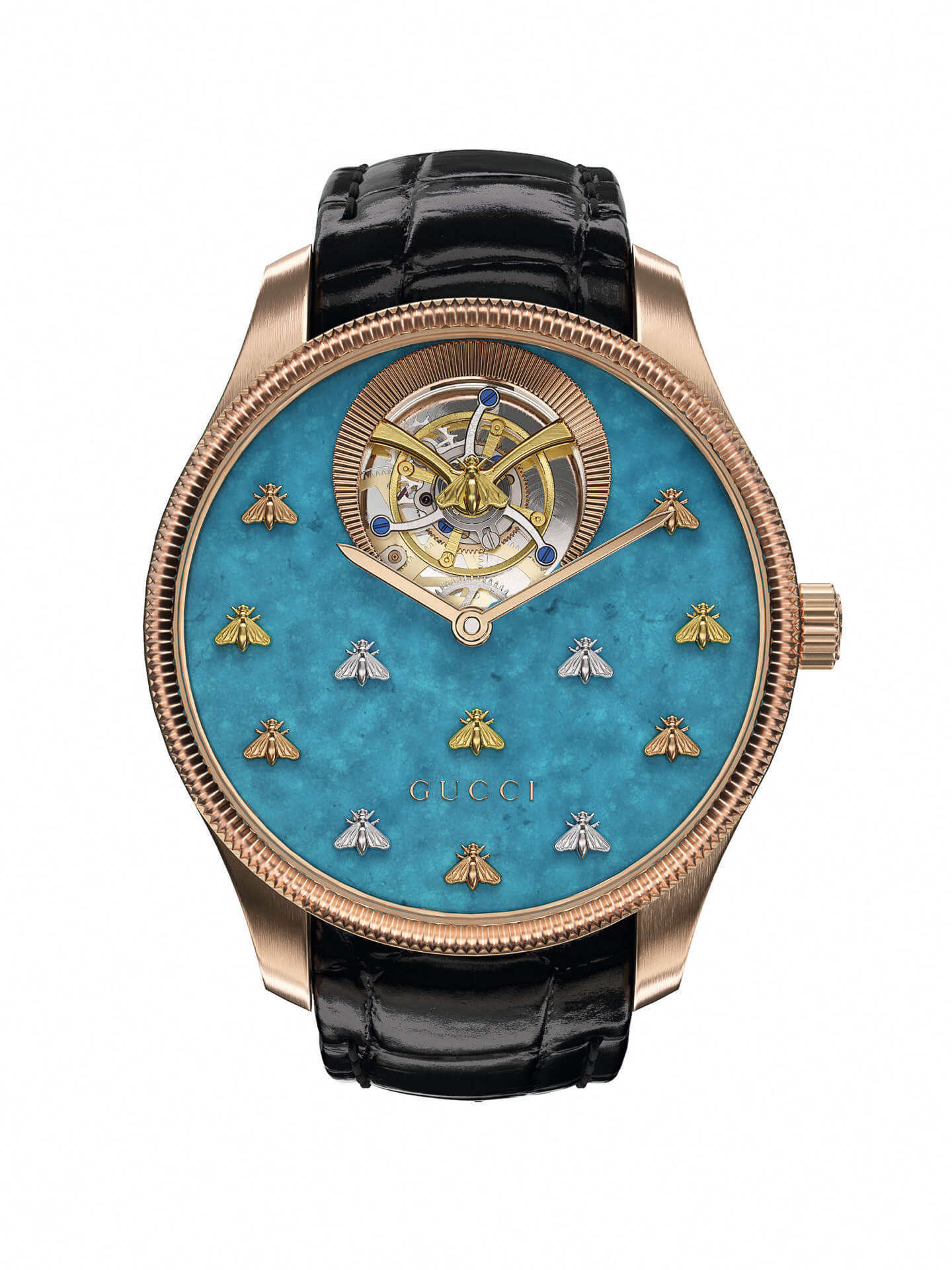 The G-Timeless Dancing Bees collection celebrates the honeyed buzz of life itself, with 12 gilded bees perpetually buzzing and shimmering on the dial, their wings aglow with each subtle motion of the wrist. In 2023, the collection expands to include two new exceptional stone dials that pay homage to the singular beauty of Mother Earth – one an intense turquoise reminiscent of the vast, oceanic vistas seen from space, captured in a series of iconic photographs during lunar voyages, while the second celebrates verdant landscapes with a vibrant pistachio green opal dial, adorned with Gucci's masterful stone marquetry. The delicate stones are polished to a mere 0.45mm thickness before being cut into small rectangles and expertly placed on a mother-of-pearl plate just 0.15mm thick, a process as precise and intricate as the star-studded tourbillon resting in a crescent of diamonds at 12 o'clock.
The G-Timeless Planetarium.
The G-Timeless Planetarium welcomes four mesmerizing designs, placing the spotlight on the extraordinary Dancing Hours Flying Tourbillon, GGC.1976.DS. This remarkable timepiece pays homage to the Orion Nebula NGC 1976, a dazzling cosmic spectacle that illuminates the night sky. Captivating at the heart of the dial, the tourbillon takes center stage, adorned with a glittering star embellished with diamonds. With a simple press of the crown, the start-and-stop function initiates a stunning display of 12 precious stones, each twirling on its axis in a mere 9 seconds while orbiting in a clockwise motion around the dial every 90 seconds.