It seems fitting that a storm would hit this London Fashion Week. Whilst editors, street stylers and buyers bemoaned the weather (umbrella? Useless. Makeup? Gone in 60 seconds. Outfit plans? Totally scrapped), heavy winds served as a preface to the catwalk collections; a cocktail of defiant energy, sharp contrasts and unapologetic rebellion.
1 | MATTY BOVAN'S FUTURAMA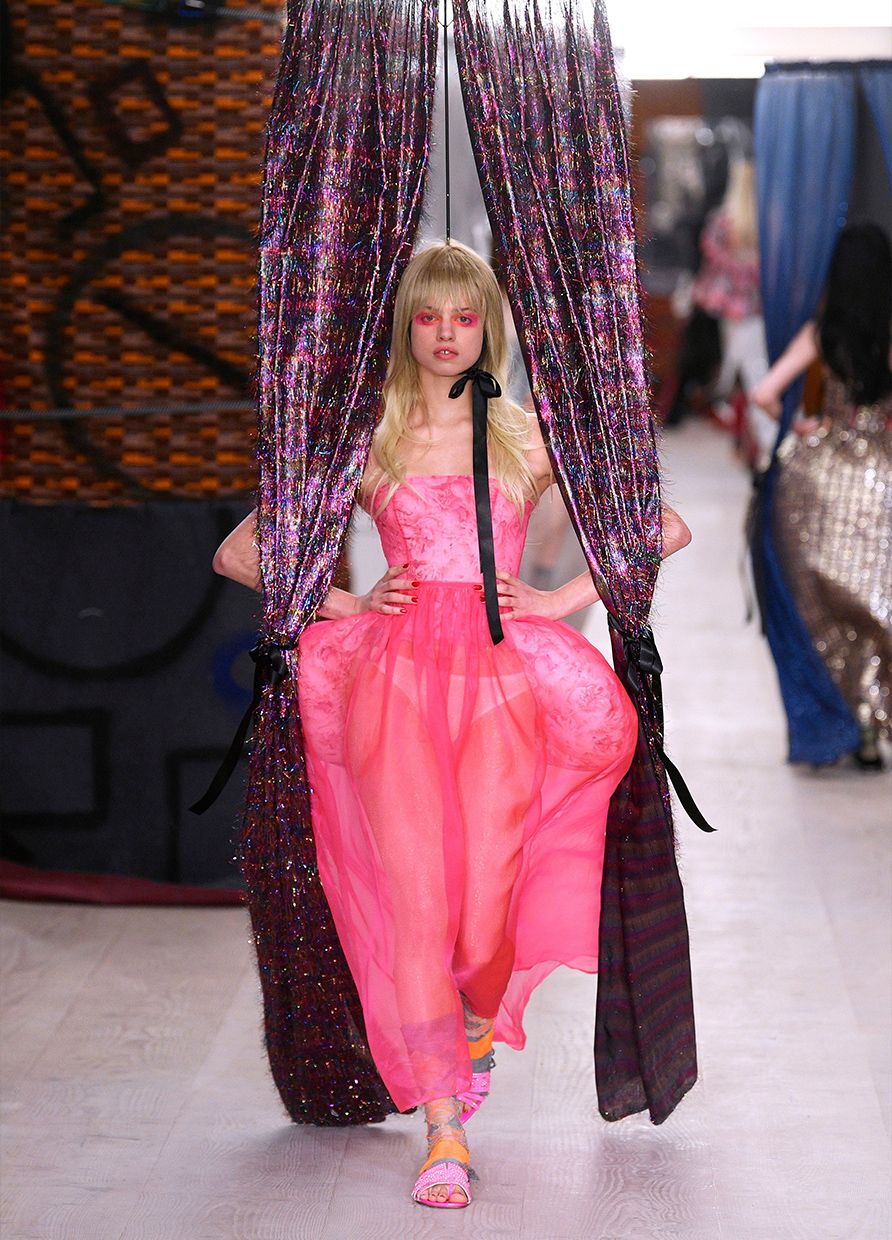 Matty Bovan's shows are always a delightful pick 'n' mix of fantasy and reality, straddling good and bad taste. For autumn/winter 2020, the London Fashion Week wunderkind presented a literal out-of-body experience. Featuring a wild display of headdresses (made by Stephen Jones) which acted as curtains and clothes that are more aptly described as fashion sculptures. According to show notes: "The Englishness of his previous collections has been dialled down in favour of recontextualising clothes while staring outside of yourself." A distorted babydoll dress accessorised with a towering changing room structure? A thousand times yes.
2 | RICHARD QUINN'S FASHION FANTASY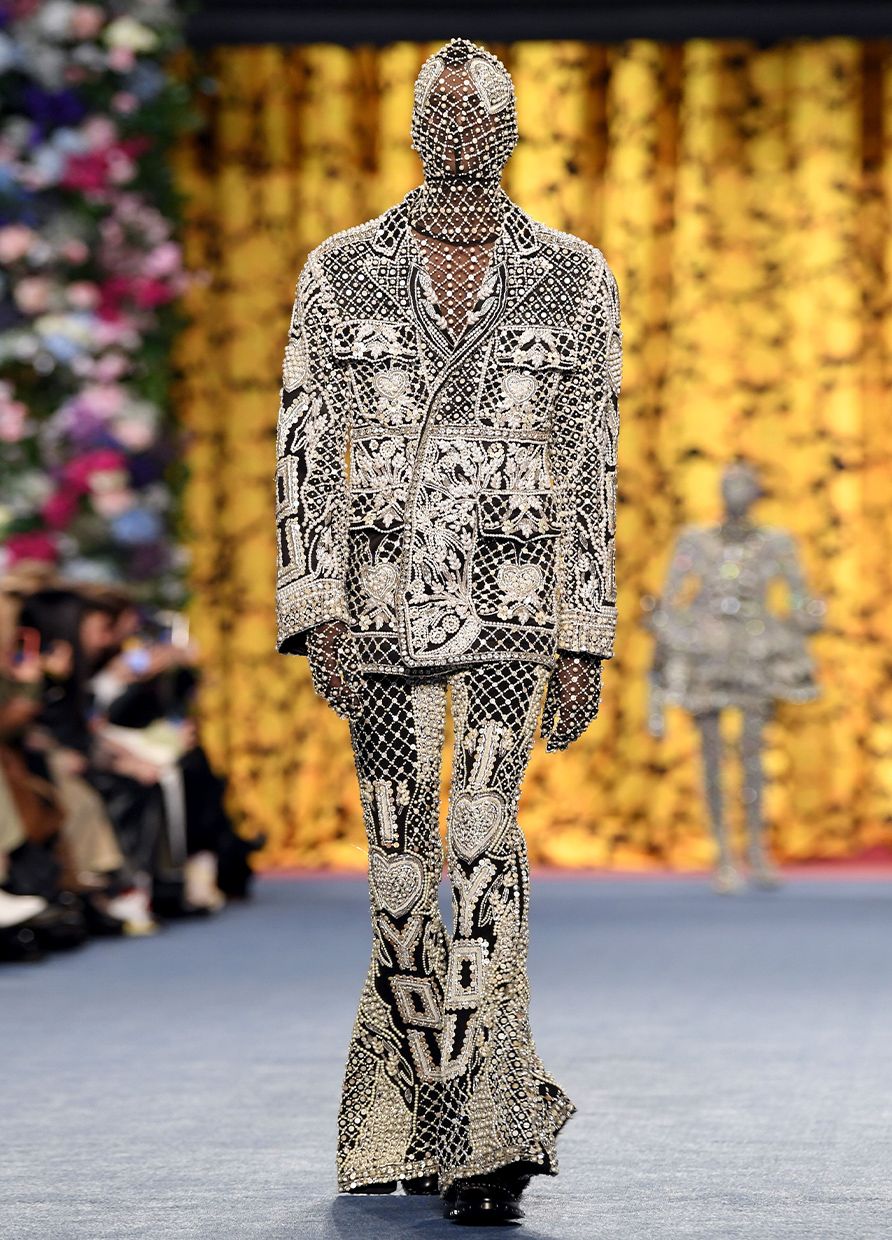 Richard Quinn's show was fashion spectacle at its finest. From the performance (Welsh singer-songwriter Hannah Grace) to the next-level interiors (blush pink carpet, grand chandelier, piano and an explosion of hydrangeas lining the walls). And that's before we start talking about the clothes. (Described as an ode to "London working class couture.") True to his trademark, there was a riot of grin-and-wear it gowns and print, though one of our favourite looks was actually a bejewelled jacket with the words "GOD SAVE THE QUINN" emblazoned on the back.
3 | 16 ARLINGTON'S LEATHER LOVE-IN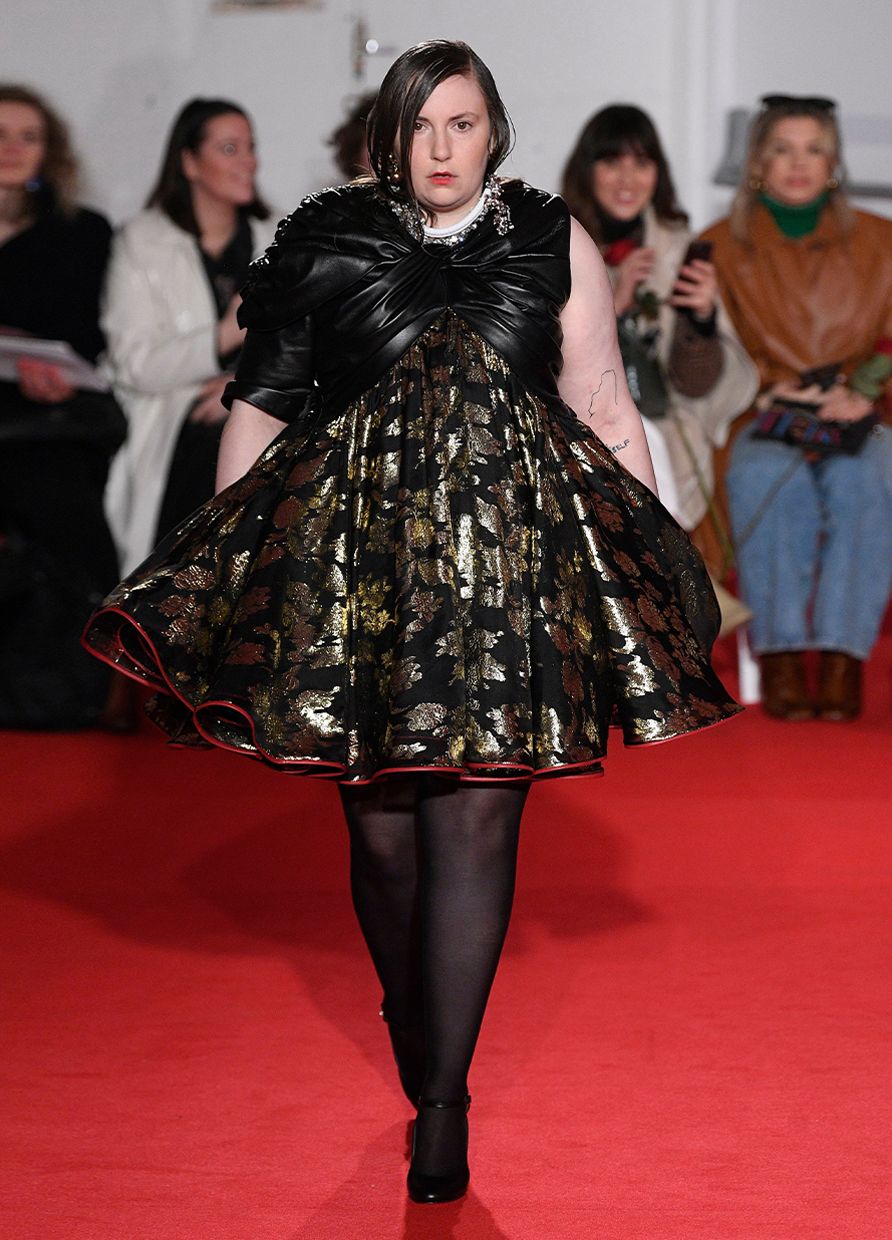 Just a couple of years on the London Fashion Week calendar and 16Arlington is fast becoming one of the hottest labels to watch; known for its mixture of high-drama decadence, sinister sensuality and ladylike-dressing. As seen in past collections, ruffles, un-done drapery, voluminous shapes, long evening gowns and feather detailing featured heavily. But there was also a tougher, more grown-up edge this season, with models – including actor-writer-director Lena Dunham making her LFW debut – swathed in a stream of buttery-soft leather looks.
4 | HALPERN'S ODE TO SEVENTIES SUPREME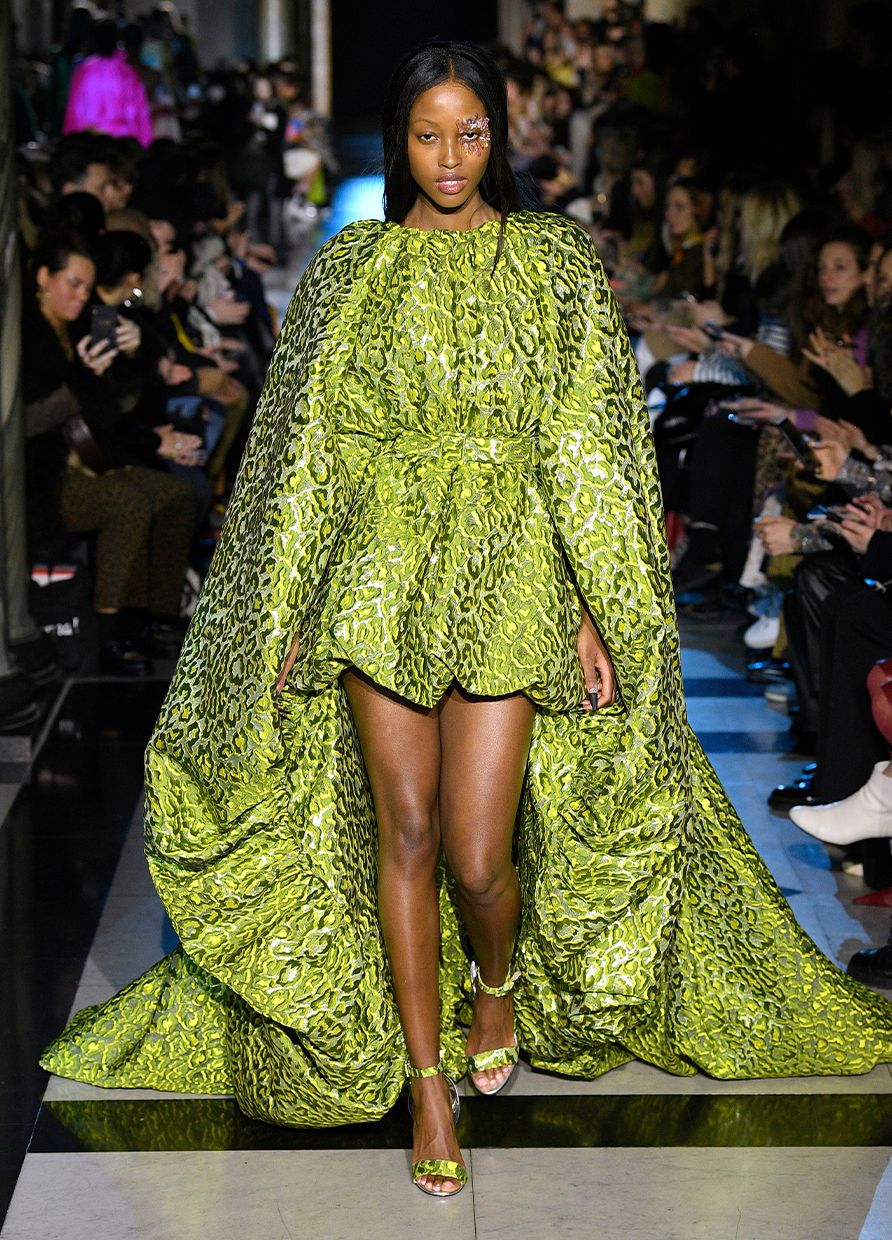 Studio 54-worthy silhouettes, high-octane bustiers, jumpsuits dripping in crystals, sequin-embellished mini dresses. It's hard not to fall truly, madly, deeply in love with Michael Halpern's disco glamour. For the king of bling's latest collection, held at London's Old Bailey ("where all walks of society are equal under the law") he sought to celebrate the contrast between the "bourgeoisie and the rebel." There was a distinct dress up feel this season; whether that be shocking pink crêpe satin dress or a purposely OTT rainbow coloured jacquard cape. Juxtaposed next to a more relaxed all-denim look (a preview to Halpern's newly announced collaboration with Los Angeles-based label J Brand).
5 | ROLAND MOURET'S POWER DRESSING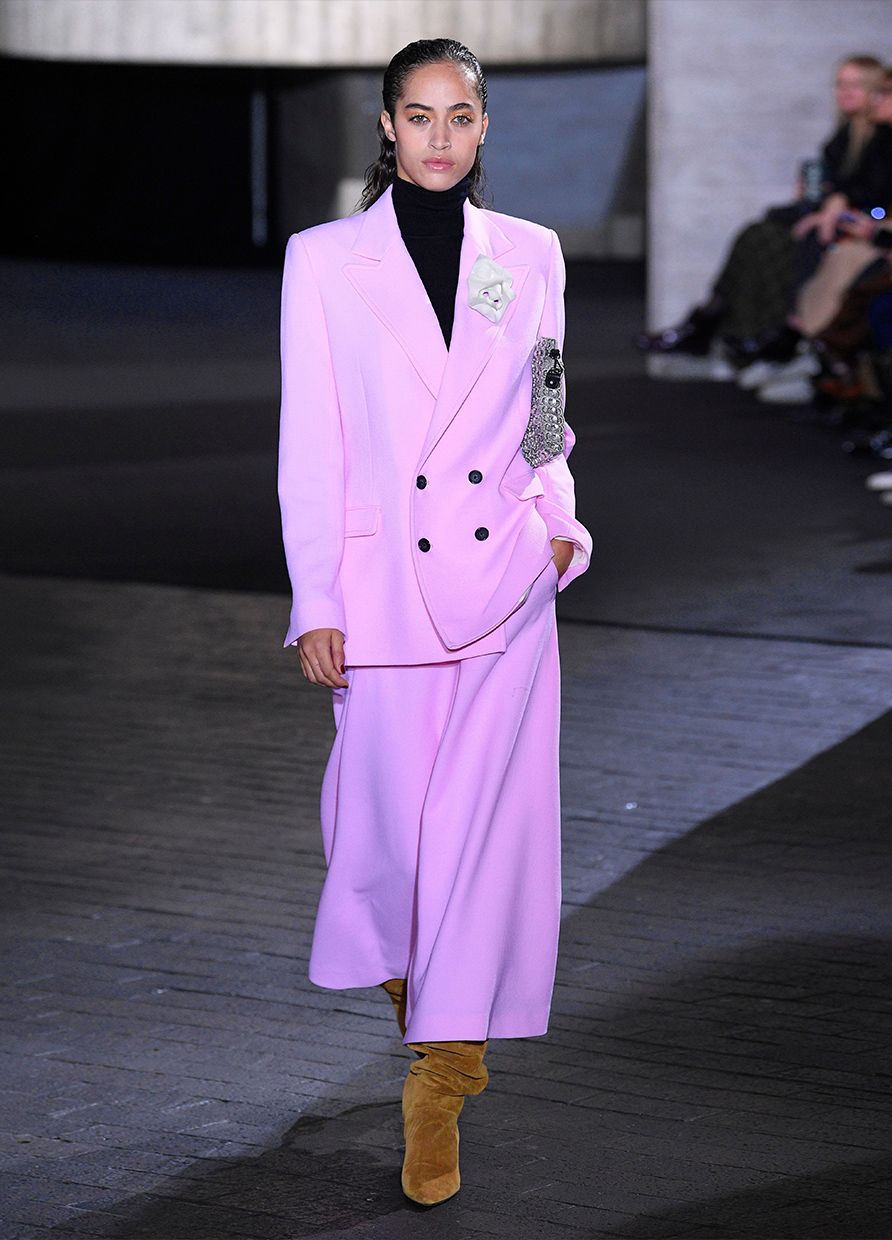 David Bowie's Golden Years was an appropriate soundscape for Roland Mouret's 80s-inspired AW20 collection, held inside the National Theatre. Think wide-shouldered blazers, Princess Diana-style blow-dries and brooches galore (made from recycling broken pieces from the sculptor James Webster's last exhibition, Martyrs). "This season, values [social change, the value of collaboration, and creating a collection with longevity] over trends shape my collection," Mouret says. Fantastique.
6 | SHRIMPS' ROYAL FLUSH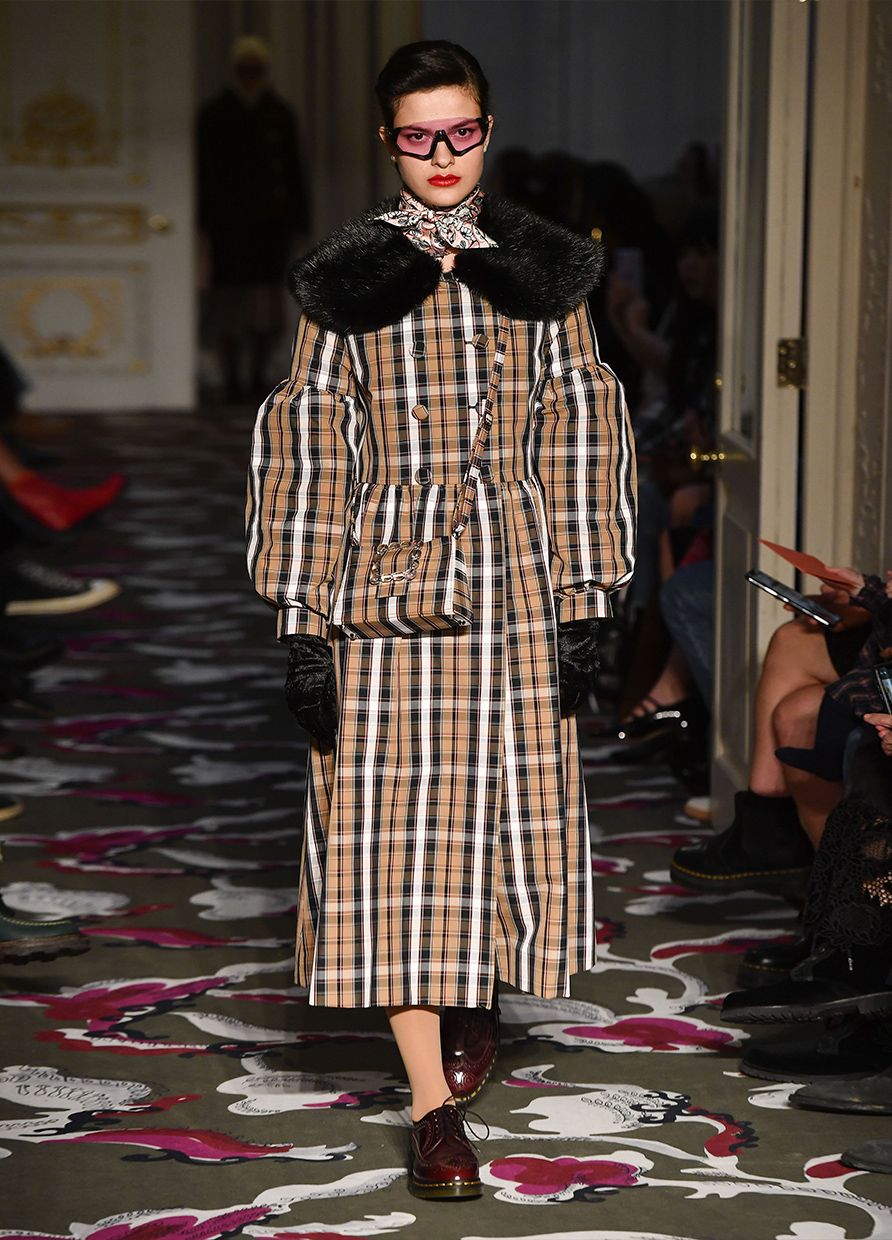 Regal inflections have been making the rounds this season, from elbow gloves to tiaras. Shrimps' muse wasn't hard to miss; a clear celebration of The Queen's closet, in all its glory. Her Majesty's wardrobe gets Hannah Weiland-ified; see the British designer's contemporary take on the classic ball gown (that fuchsia dress!), refined draped necklines, faux fur-trimmed hats, royal blue faux sheepskin coats (we want all the coats, actually), and drawing on the HRH's love of all things bright and beautiful.
7 | VICTORIA BECKHAM'S GENTLE REBELLION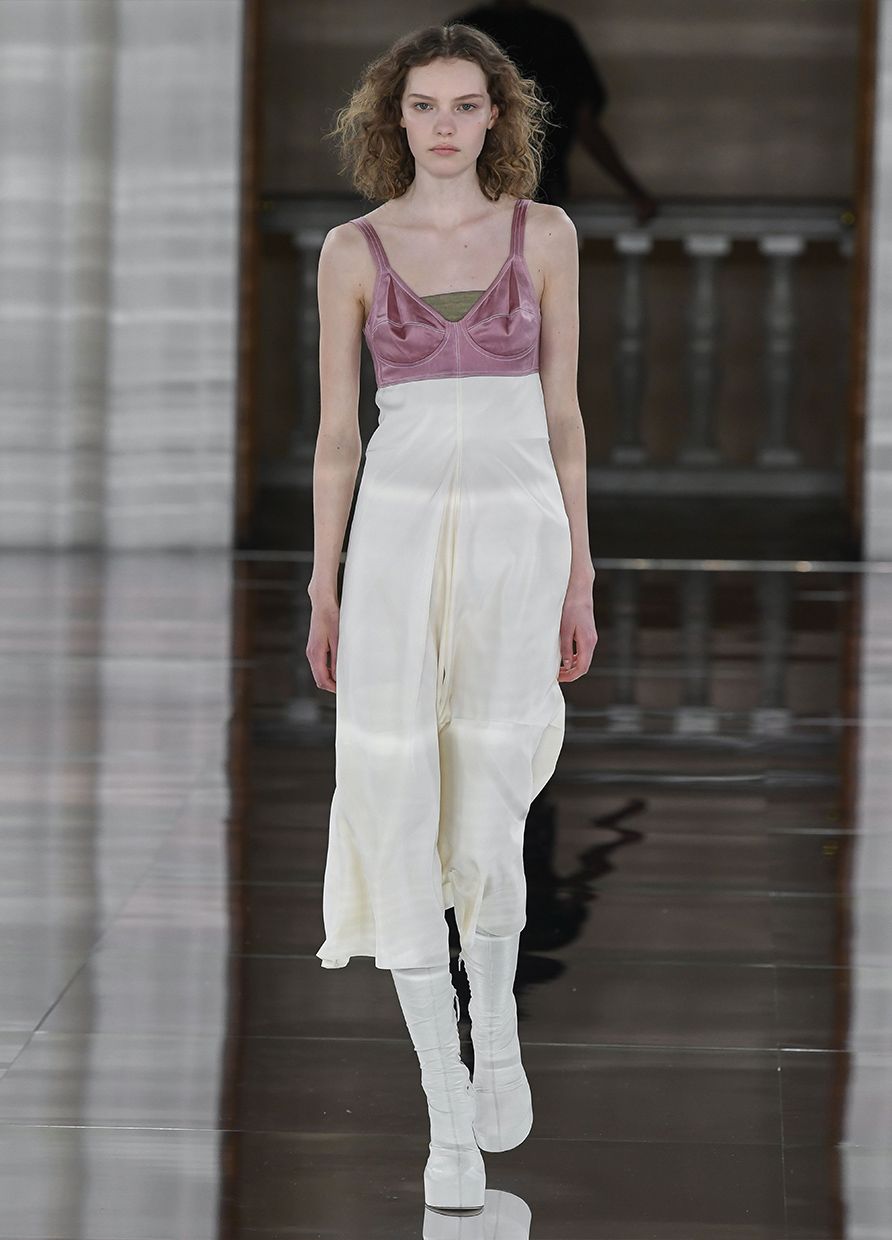 The VB muse for AW20? Just google 1960s 'It' girl, model and David Bailey muse, Penelope Tree. This season, the designer offered up a spirited collage of tight over-the-knee boots, worn with velvet overcoats, culottes, collared shirts, lingerie-as-outerwear and tweed skirts. "I was thinking about the tension between refinement and rebellion," Beckham said. "I was inspired by different ideas of women — different characters, different moments and different attitudes — but with no restrictions. The overriding sentiment that we don't have to follow the rules. We can follow our instincts. Be spirited."
8 | PREEN BY THORNTON BREGAZZI'S NEW UNIFORM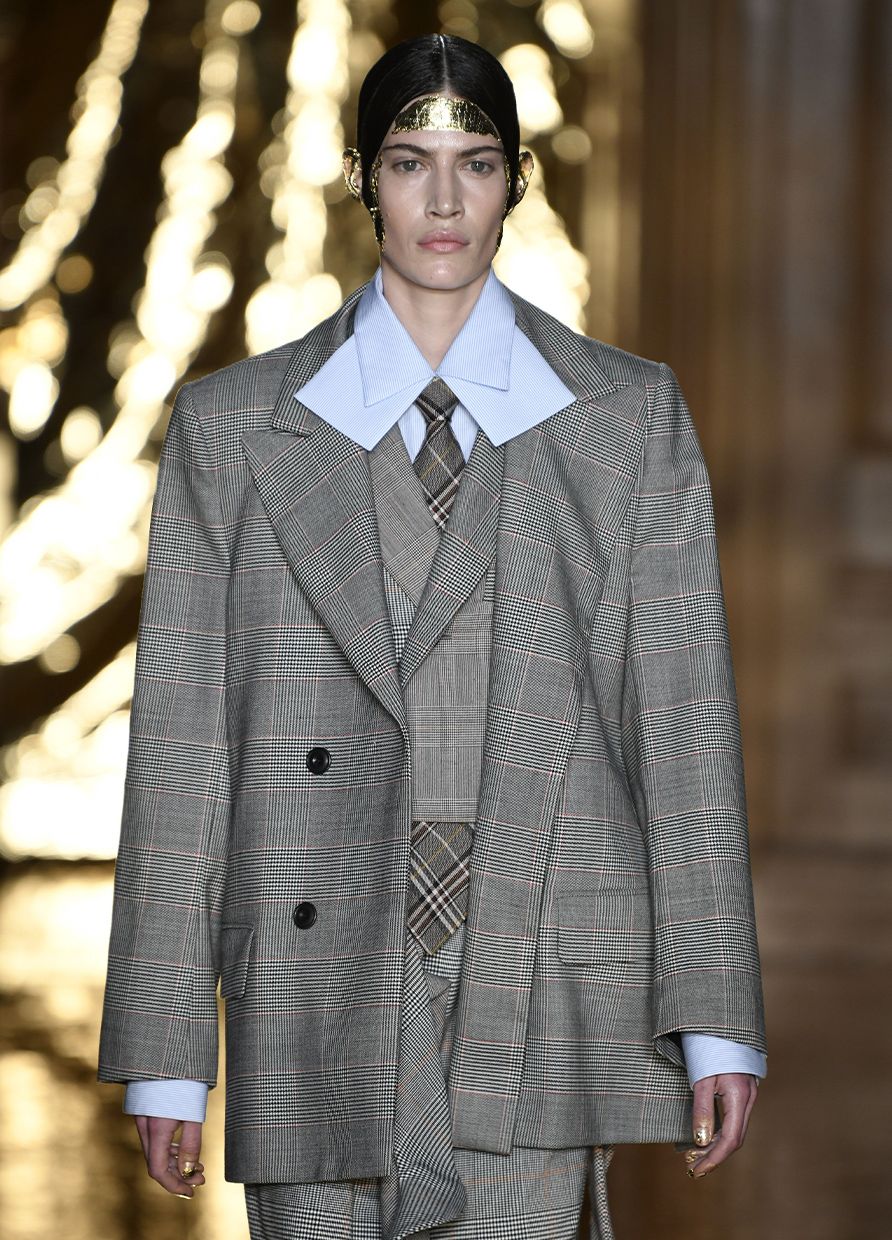 Design duo Justin Thornton and Thea Bregazzi are masters at making florals look punk. Whilst flowery accents, a mélange of prints and ruffled dresses were incorporated into the collection, the brand also introduced masculine tailoring and Working Girl-esque three-piece tweed suits.
9 | BURBERRY'S CHECK MATES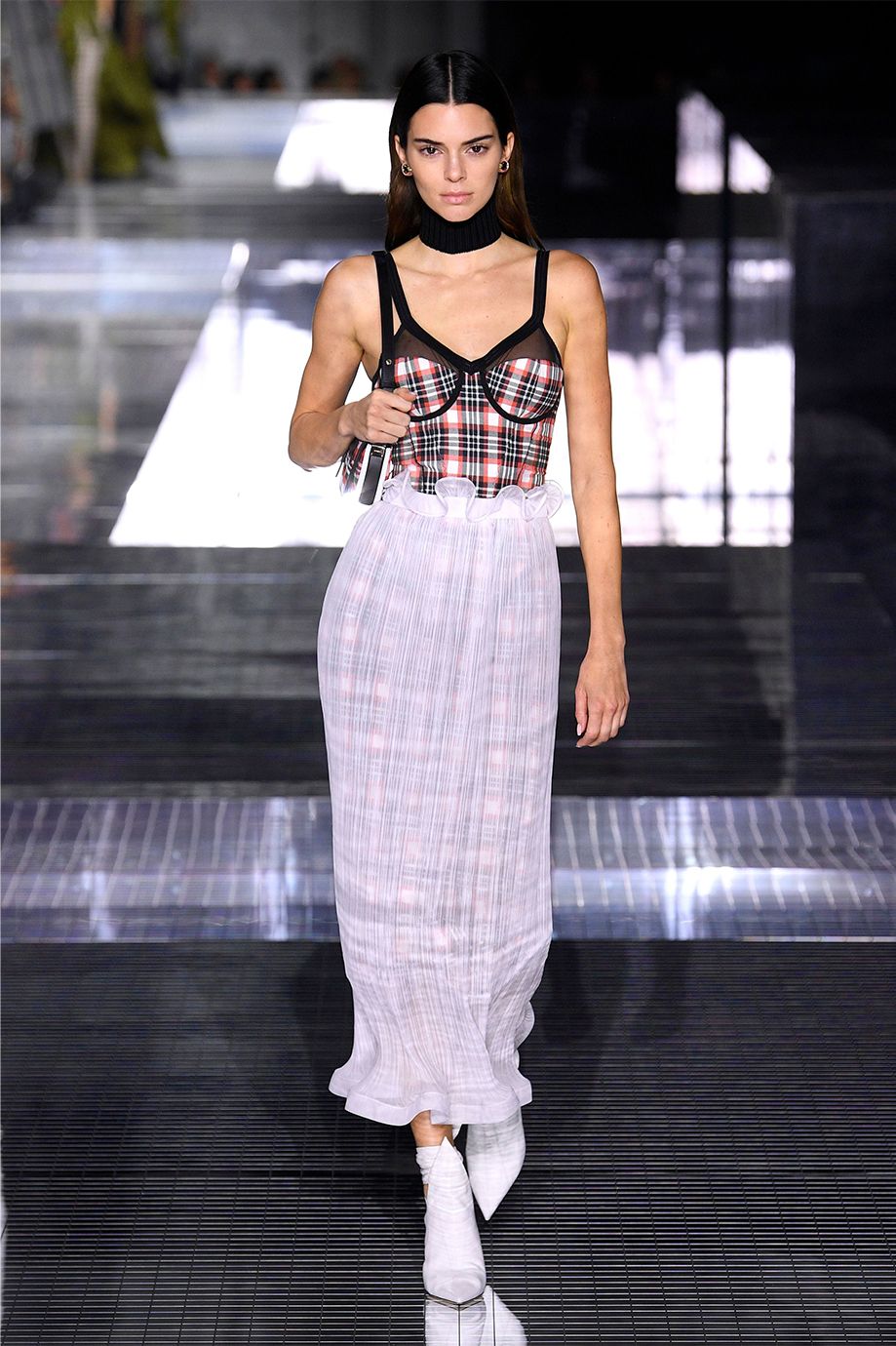 Burberry's AW20 runway remixed Burberry's classic colour palettes (khaki, beige and green) with a 90s flair. Titled 'Memories', the collection is described as an "intimate reflection of Riccardo Tisci's personal archive – a collection inspired by his memories of travel and discovery that have informed him as a designer." The result? A glorious display of grungy plaid (tartan bralette, anyone?) deconstructed tailoring and luxe sportswear.
10 | JW ANDERSON'S SIZEABLE CREATIONS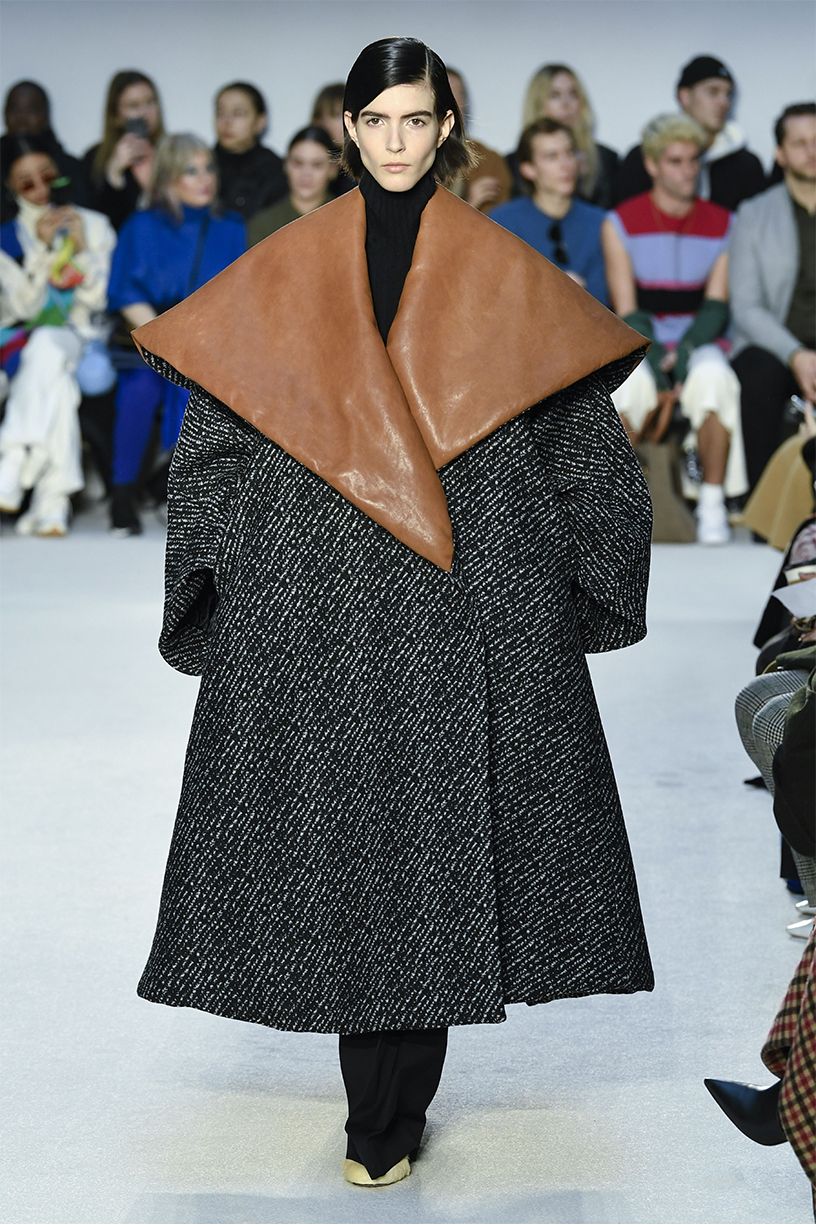 Balloon shaped bags, supersized outerwear, cocoon-shaped eveningwear. J Dub's latest collection spoke volumes, literally. The key takeaway? More is more to perk up your winter wardrobe.
First published on Buro247.com.
Now, find out where you can watch the Gucci show live from Milan Fashion Week tonight.