Dior
And just like that, we're at the final stretch of Fashion Month with Dior kicking off Paris Fashion Week. The brand's creative head, Maria Grazia Chiuri, took to the runway an impactful Spring/Summer 2020 collection that was a nod to nature.
The set up of the show alone was spectacular as botanics and florals voiced the designer's concern over the industry's impact on the environment. And whilst florals have always been part of Dior's heritage, the beauty of nature has become a concern for our future and Chiuri envisioned the concerns through silhouettes that took inspiration from Catherine Dior, Monsieur Christian Dior's sister.
Backstage, Chiuri highlighted the season's mood board, which consisted of a photo of Catherine in her gardening clothes — a man's shirt (with the sleeves rolled up), belted trousers and low-brimmed hats. Hence, the collection that unfolded on the runway saw the utility blue shirt tucked underneath embroidered dresses and A-line skirts, a darker side to thistles, poppies and wild flowers on modest dresses, and a slew of achingly cool accessories that the Chiuri era at Dior is widely recognised for.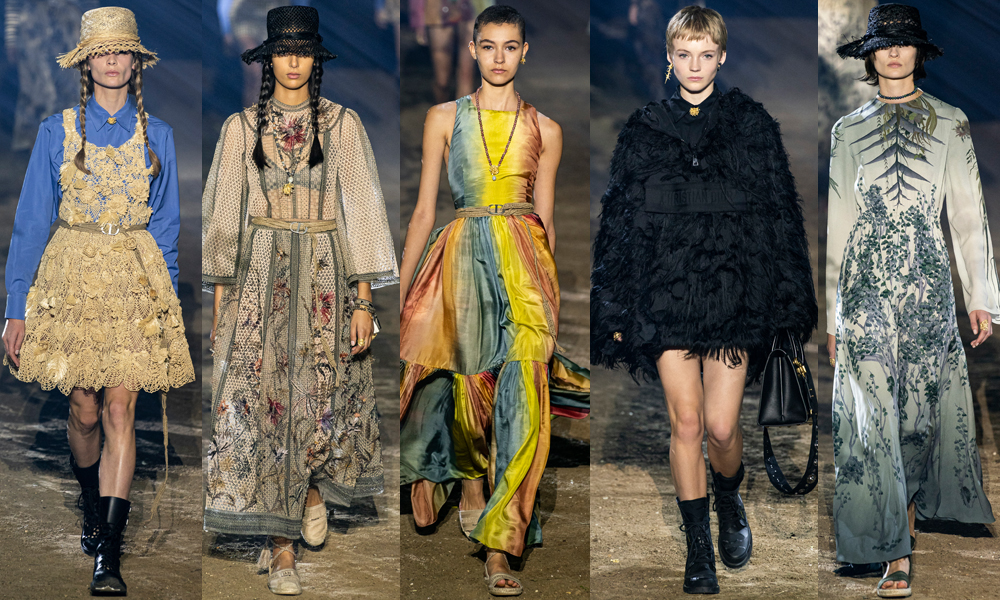 Saint Laurent
Under the twinkling lights of the Eiffel Tower (plus the plenty of strobe lights that were dotted alongside the runway) emerged Anthony Vaccarello's Spring/Summer 2020 collection for Saint Laurent.
For the season, the designer stayed true to what Yves Saint Laurent was most adorned for in the 20th century — think the iconic Le Smoking suits and his striking hippy-glam silhouettes — and also, added reworked the brand's codes for the new generation.
Shying away from his strict colour palette of just black and metallics, Vaccarello opted for softer approach to Spring/Summer dressing with a sense of romanticism infused into a more relatable collection consisting of cutoff denim, one-shouldered cut-out dresses, paisley embroidered dresses, chiffon blouses and pleated lamé skirts, too.
And whilst yes, the collection was so pretty to look at, it was Saint Laurent's closing of the narrow line-up of tuxedo suits that stole the show. Led by Stella Tenant and closed by none other than Naomi Campbell, it was a collection tailored to the old, and the new generations to come.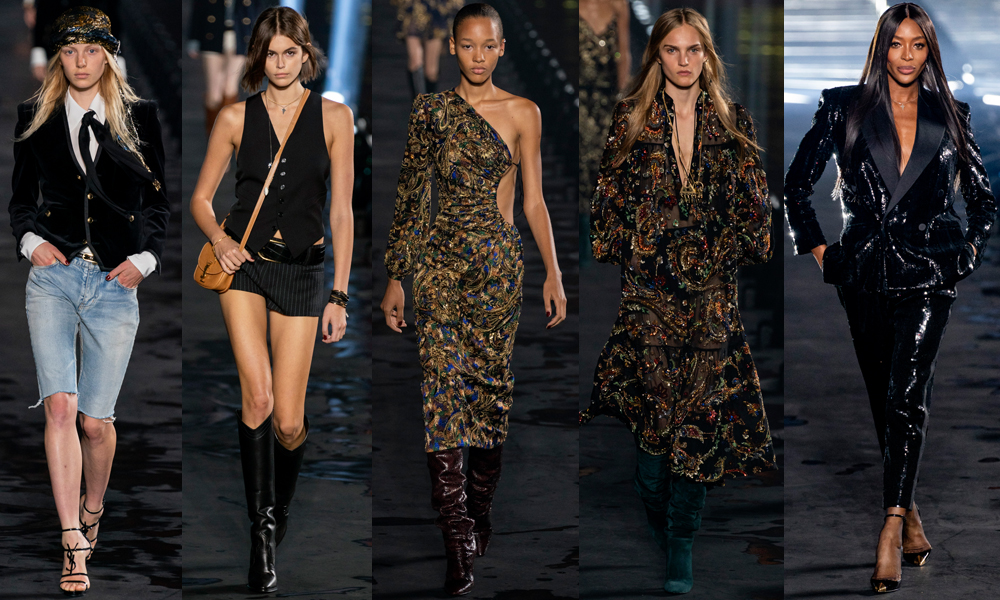 Now, read more about this major beauty collaboration that is set to make its debut during Paris Fashion Week.