Traditional window shopping is about to get a reboot thanks to Louis Vuitton. Gone are the days of seeing mannequins in a row wearing the latest wares. No, now it's all about having interactive experiences that literally stop you in your tracks, inviting you to step into a brand's world.
So, with that, the luxury French fashion house are going digital (great minds) with their window concepts called 'Postcards From The Future' to mark the start of their S/S'19 collection.
Created by artist and designer Es Devlin under the artistic direction of Nicolas Ghesquière, each window symbolises a gateway to a different city with each installation including exclusive videos created by American artist Mike "Beeple" Winkelmann, who previously developed a selection of unique prints featured in the S/S'19 fashion show collection.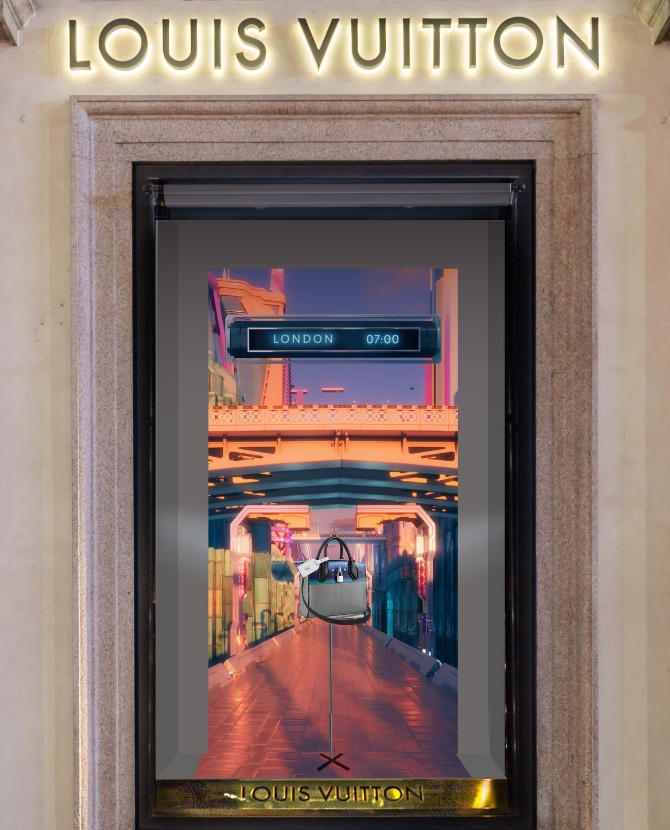 Es Devlin explains, "Now, more urgently than ever, deep in the throes of the Anthropocene era, we need to engage in empathy with the as-yet- unimagined citizens of the future. Each of our decisions will impact upon the streets they walk and the air they breathe. Once we perceive the network of Louis Vuitton windows as portals to other locations and time zones, we begin to practice this process of perspectival shift."
The women's S/S'19 windows have been unveiled in the following Louis Vuitton stores worldwide: Paris Maison Champs-Élysées, Paris Maison Vendôme, London Maison New Bond Street, New York City Maison 5th Avenue, Los Angeles Maison Rodeo Drive, Hong Kong Maison 5 Canton Road, Hong Kong Maison Landmark, Shanghai Maison Plaza 66, Beijing Maison China World, Milan Magasin Montenapoleone, Tokyo Maison Omotesando, and Tokyo Magasin Matsuya Ginza.
So, if you're heading to any of these destinations this season…
Now, check out this Carolina Herrera dress worn by the Duchess of Sussex which we kind of need for summer.