It's true. The fashion industry is constantly in a whirlwind of changes and staying relevant is quite a challenge. However, if a fashion house has undergone new creative direction AND managed to gain and secure some high profiled figures as friends, then there's no way to go but up. And that's what Givenchy's Clare Waight Keller did.
The only woman to lead the creative reigns at Givenchy has garnered immense success since her debut – especially after dressing the Duchess of Sussex for her wedding and for several occasions after that. Before she came on board in 2017, Riccardo Tisci was at the helm and some of his biggest muses included Beyoncé, Naomi Campbell, Madonna and Kim Kardashian, to name a few.
And whilst Keller was not one to make bold risks through her visual campaigns, unlike Tisci, she officially ended that streak over the weekend as she announced the newest face of Givenchy.
On Friday, Givenchy announced that Ariana Grande is the newest face to join the Givenchy family and will make her official debut with a full campaign due for the Fall season.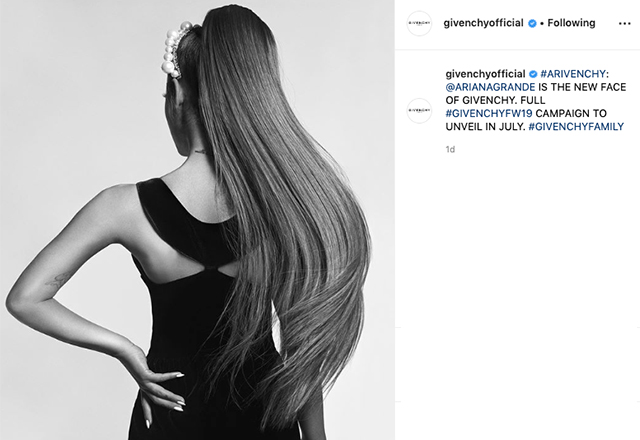 "I am so proud to be the new face of Givenchy," Grande said in a statement. "It is a House I have forever admired and to now be part of that family is such an honour. I love this clothing and the confidence and joy it brings to the people wearing it. Not only is the clothing timeless and beautiful but I'm proud to work with a brand that makes people feel celebrated for who they are, and unapologetic about whatever they want to be."
The full Givenchy Fall-Winter 2019 campaign starring the pop star will be unveiled in July. Stay tuned!
Now, find out where Keller will be staging her first stand-alone men's show.