Earlier this month, Aquazzura released a beautiful footwear collection for its Spring/Summer '18 season and now, you can shop the brand's heels, sandals, flats, sneakers, boots and espadrilles in their first boutique in Dubai.
In partnership with Etoile Group, one of the leading groups in the luxury fashion retail industry in the Middle East, Aquazzura has acquired a space in The Dubai Mall's new Fashion Avenue extension and the boutique is a perfect harmony between the Middle East's glamorous lifestyle and the Italian label's contemporary-meets-modern aesthetic.
Marking its first flagship in the UAE, the Aquazzura boutique opened its doors to an interior that was exclusively designed to pay homage to the Islamic architecture. Plus, the store also features some of the label's distinctive elements including gold detailing juxtaposed against black and white arches, the signature striped motif plastered on the facade and a beautiful geometric pattern on the floor.
Speaking of the new opening, Creative Director and Founder of Aquazzura Edgardo Osorio, said: "I'm so happy to finally be able to welcome all the wonderful Aquazzura clients of the country into our new home at The Dubai Mall. I wanted the boutique to be inspired by the charming, historic architecture of the region, but in a contemporary way".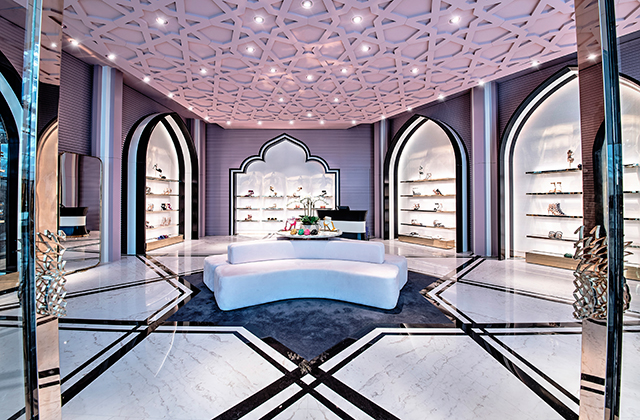 Aquazzura's new boutique is located in The Dubai Mall's new Fashion Avenue extension.
Also, discover Bottega Veneta's newest address, which marks the labels largest store in the Middle East.