The most prominent faces in fashion, Cara Delevingne, Kaia Gerber, Gigi Hadid, Kate Moss and Carine Roitfeld included, are just a handful of the celebrity names that came together to reinterpret Karl Lagerfeld's most iconic signature: the legendary white shirt.
Of the star-studded roster, regional personalities including Ingie Chalhoub and Diala Makki were a part of 'The White Shirt Project' and the latter celebrated the couturier's legacy with her very own reinterpretation of the white shirt.
Sharing the opportunity with Lebanese-bred brand Azzi & Osta, we spoke to the TV host and journalist whilst at the exclusive private exhibition preview in Dubai. The touring exhibition is taking place at the Karl Lagerfeld boutique at The Dubai Mall until October 21.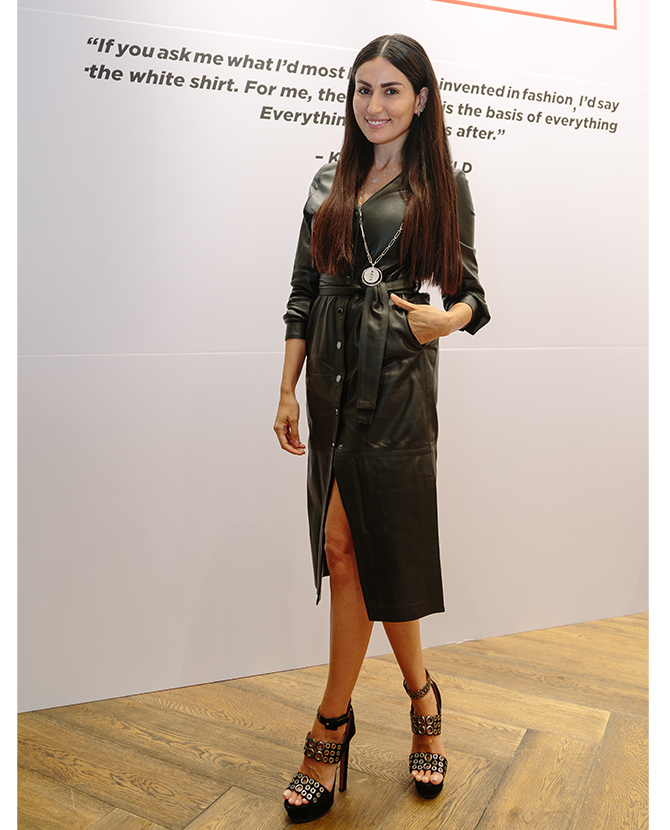 Here, we find out more about the heartfelt moment she met the late Karl Lagerfeld, her design for the project and the reason why it's important to collaborate with one another.
Can you tell us more about your collaboration with the Karl Lagerfeld brand and the design that you've presented in Paris for the White Shirt Project?
First of all, when I got the call a few months prior to summer, I was very excited and I felt very honoured to be alongside women such as Ingie Chalhoub and leaders, that are still leaders in the fashion industry, as an Arab woman.
To pay tribute to a designer, such as Karl Lagerfeld — since he passed away in the beginning of the year — I did a series of short videos where I went and I interviewed key people, prominent people, in the media industry and in the fashion industry, and I was really shocked to find out to what extent Karl Lagerfeld was supportive of young talent, supportive of creative designers and helping them find opportunities. All those things were stories that did not see the light and it just made me realise that there was so much about this iconic designer that I had not known.
I met Karl Lagerfeld many years ago in Milan. I remember during a Fendi show, I was not on the list, and our region is rarely on the list.
And that was your first interview with him…
That was the first interview with him, but in the mind of an iconic designer that was able to rebuild a brand, inject a brand with his creativity, we're talking about Chanel at this point. And I just stood there for hours and waited for him to finish all these interviews knowing that it would be really impossible for me to meet him. The kind of person that he was tells you know how my story was. He saw this young girl that he has not seen before, so determined to meet them, so determined to get her scoop, and standing there with my with my crew for hours until he walked out of the room. I still remember it very clearly. And he invited me in. And I went in and I did my first interview and that was the beginning of a beautiful relationship that I built with Karl Lagerfeld. Season after season from, Chanel to Fendi, until I was able to get the approval to do a documentary for Chanel and that's when I really was able to sit with him for a good 48 hours during the creative process during the preparations, during the fittings with the models. I saw what he ate, I saw how he deals with people around him, I saw how meticulous he is.
What triggered you the most?
The fact that he really, at that age, would still care about every single detail that goes into the creative process. And for me, that was something really interesting and inspiring to see. And it's very emotional. During the filming process, I was obsessed with the pearl earrings and accessories that were part of the cruise collection that were in Dubai. Obviously the pearl signifies the pearl trade in Dubai and the pearl is already so much rooted within our culture and tradition and the GCC area obviously.
And during the show that beautiful earring fell right in front of me and I took it out and I gave it to one of the security officers of Karl Lagerfeld. I did my interview again with him like usual after the show and as I was leaving, he literally called me and it was such a surreal moment. I still remember it clearly 'till now! And he gave me back the earring and he said, "Keep it as a gift for me to remember me by", and ever since I took that earring, put it in a plastic bag and put it in my safe, I never wore it and I never thought to wear it and for me, it was a very precious gift from a designer that really impacted a lot of lives, and he impacted my career in one way or another. Because once you do a big documentary for a house like Chanel and with names such as Karl Lagerfeld, that's really the start. It injects your career basically. So forever, I would be grateful to have these opportunities and to the creative minds that I've met and Karl Lagerfeld was definitely the top.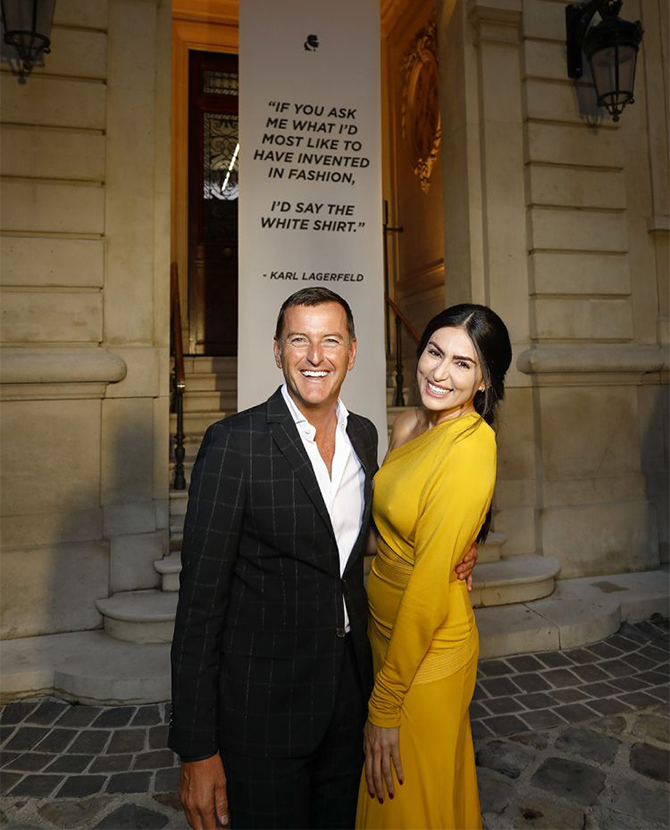 When you got the call to design an iconic shirt, what was the first thought and why did you go to another designers from the region to collaborate and do the shirt with you?

I realised how important that was for Karl Lagerfeld to support young talent, how important craftsmanship was for him. And he did that without anybody knowing. So when I got the call to design his iconic shirt, the shirt that he wears every day as part of his costume, it's already one of the key items of clothing that I love to wear. I knew that I had to put that gift there. So when I was doing the mood board, I had this hand, I had the pearl and I had the sound of Dubai, I had the letter, I had all those elements that I wanted to incorporate into the shirt. But I also wanted to produce it with high quality.
I'm not a creative designer, and I don't own an atelier. But I thought, this is a moment, not just for me. It's a great opportunity and it's a beautiful tribute, but it's also a chance for me to share this limelight with other creative people in the industry, and I wanted to do it in Lebanon, in particular, and I wanted it to be Lebanese-done in the heart of Beirut using his pearl. I wanted to use the know-how of creative designers. I really believe today more than ever, if you know your strengths, and if you collaborate with other people that have the know-how, your end product is much nicer and has a better quality and I took this as a big opportunity, not just for me.
I took this as an opportunity to showcase a piece of art, or a white shirt, that's going to be representing the region and I had no problem sharing the light with two amazing designers that I got to know. I saw how much they care about craftsmanship, I saw their passion, their dedication and I called them and I was like, "How do you think about me doing the shirts in your atelier?" and normally, it's a very tricky situation where they would say no. But I was like "Listen, I got this opportunity. I really believe in the know-how and craftsmanship of tailors in Beirut. This is what I want to do. How about we do it together?" And this is exactly what we did.
Why Azzi & Osta?
I wanted to work with designers that are on the path of getting big and they need the extra kick. They need the extra push. And I believe they are at the time in their lives and their career, they are just waiting for the next step. And I invited them to the event in Paris and they met Carine Roitfeld and everybody that's in the industry, and just to see how happy and how proud they were of the fact that they were there, the fact that the shirt was made in the heart of Beirut is showcasing in an international exhibition, a tribute to Karl Lagerfeld.
The shirt is done in a way that has big ruffles, and there are big letters on the back of the shirt. It says basically a few lines of the story like, "In 2014, you gave me this beautiful jewel to keep it in the memory of you. And now I'm giving it back to you, where it belongs in the memory of you."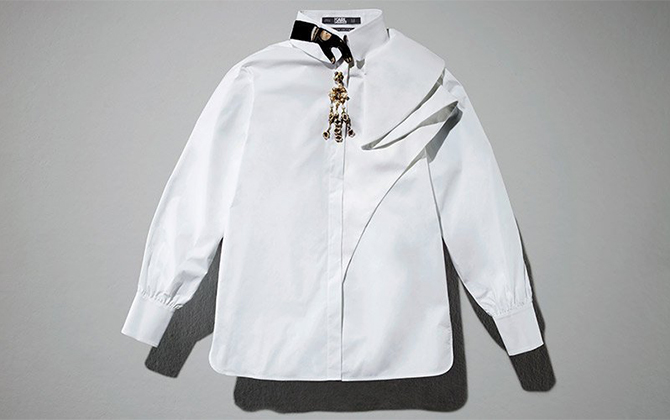 The feedback was really intense. When I saw all those creative people, and I saw the CEO of Karl Lagerfeld talking to Anna Wintour and telling her "You know, this is exactly why we did this project." When we were there, it was no longer about the craftsmanship. It was about the story. All of these prominent people that came engaged and brought in a story, and for me, the story was an emotional one, a very emotional one that I wanted it to be presented in a nice way, more than the actual craftsmanship of creating a white shirt.
From the moment we started this conversation, there was one word that we kept saying, which is giving. You learned about how giving he was, how supportive and at the same time, when you wanted to design the shirt, it was the message that you wanted to spread was giving back.
If you are in this stage in your career or in a position in your industry that you're able to support talent from your region, you should definitely do it because you will shine now. We will shine more when we shine together. This is exactly what I wanted to do with this in this project.
If you could send one message to the industry, what would it be?
Collaborate with one another, we need to support one another. We need that today more than ever, to reflect a very positive, beautiful image of the Arab media and the Arab fashion industry. Nobody can do anything on their own. You will excel if you do things together. Karl Lagerfeld did not do things on his own. That's why he was such an icon and he will remain an icon. He knew how to work with other people. He used to direct them but he knew how to work with other people. And if you look at other very successful leaders, they never work alone.
Now, find out where Chanel is heading for Cruise 2021.