It's (almost) time to say goodbye to Men's Paris Fashion Week but before doing that, a plethora of luxury labels have just finished showcasing their Fall/Winter '19 menswear collections.
Check out all of the runway action from Balmain, Loewe, Louis Vuitton and Hermès…
Balmain Homme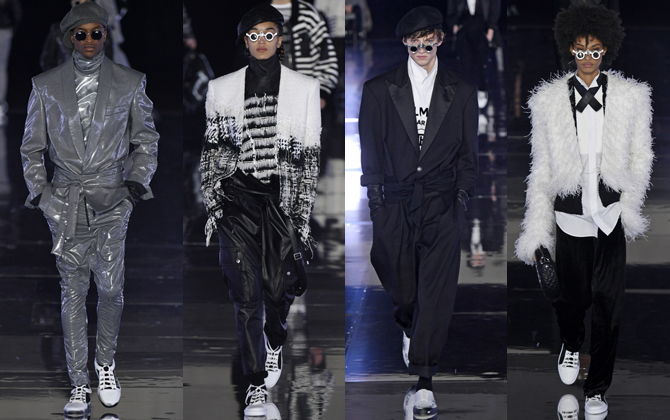 What you need to know: Olivier Rousteing delivered another standout show for Balmain and the co-ed range showed creativity, streetwear and a strong Gatsby vibe. Men and women (although quite hard to tell the difference) strutted the runway in a more toned-down collection which consisted of black-and-white tuxedos, tweed jackets, black leather separates and mohair sweaters.
Wishlist-worthy: Almost every look came complete with some achingly cool and circular frames, and here at Buro., we wouldn't mind stocking up on a few for the new season.
Loewe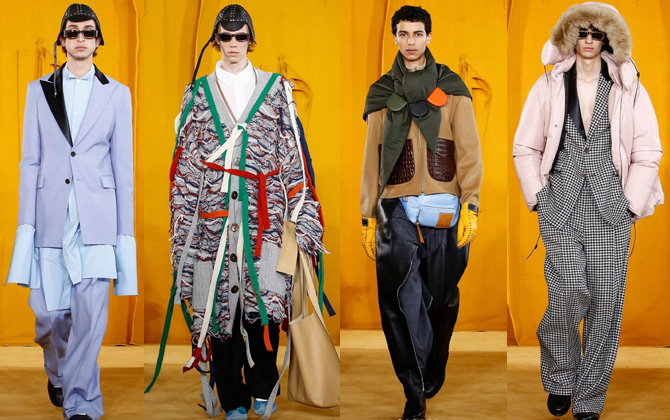 What you need to know: Loewe's Jonathan Anderson channelled elongation for Fall/Winter '19 as he presented a line of stretchy silhouettes that came in the form of tailored suits, oversized knitwear, plenty of patchworks, printed and crisp shirts. Also on display, the designer delivered a brand new offering to the typical tuxedo suit which now features a two-button detail and asymmetric satin lapels (which he translated from the women's collection).
Did you know: The show marked Jonathan Anderson's debut runway collection show on the men's calendar.
Louis Vuitton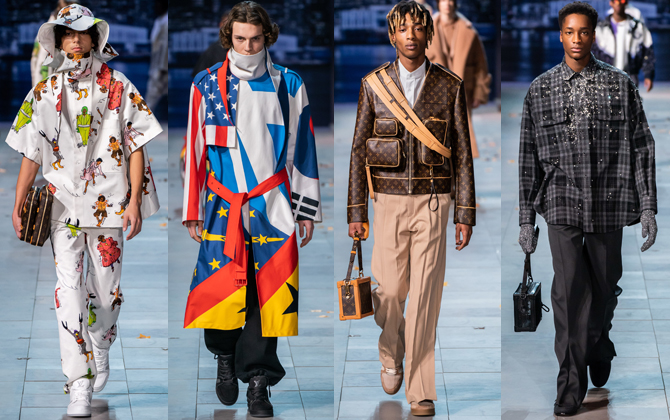 What you need to know: One of the most anticipated shows on the Men's Paris Fashion Week calendar, Louis Vuitton just delivered another note-worthy menswear collection crafted from Virgil Abloh. A clear force to be reckoned with in the industry, the designer injected his own twist on a classic suit, added cool techniques that were as refreshing as they were refined and highlighted the importance of humanity.
Michael Jackson fever: We already knew that Abloh was dedicating his second Louis Vuitton show to Michael Jackson but we didn't know it would be a full-on performance. With a New York sidewalk set as the backdrop (it mimicked the set from the singer's Billie Jean music video), plus a performance by Dev Hynes, the collection featured tributes to the King of Pop with crystal-beaded tour jackets, military-inspired constumes, sparkling gloves and a whole lot more.
Hermès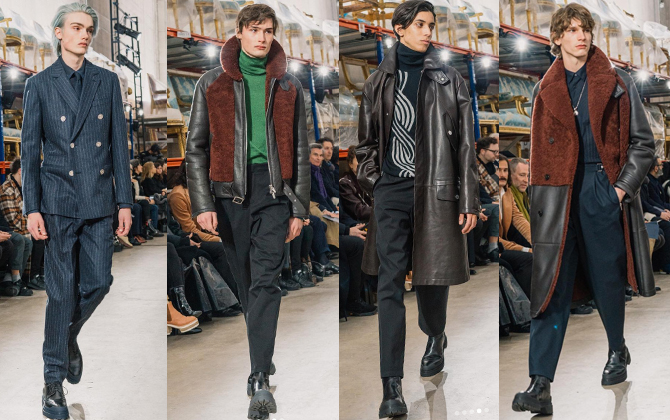 What you need to know: The brand continued to highlight timeless classics that screamed luxury for the season ahead. One of the strongest contenders on the calendar, Hermès presented a new range complete with the perfect autumnal palette (blue, brown, red, grey and orange). From parkas to double-breasted suits, leather coats and soft turtlenecks, the collection was brimming with timeless staples for any man's wardrobe.
Fabric fun: There was a sensuality of the fabrics during the Hermès show and the new collection was crafted with rich fabrics including leather and fine details such as Ex-Libris dragon buttons.
Now, take a look at what product Louis Vuitton has just launched (hint: it's not what you'd expect).