It's been another successful week of menswear shows during the Paris Men's Fashion Week calendar and before we officially bid it adieu, we're taking a look at some of the shows that helped end the week with a bang.
Overnight, Hedi Slimane made his menswear debut for Celine as he presented his latest Fall/Winter '19 creations, Humberto Leon and Carol Lim delivered a culturally-enriching collection for Kenzo and Jacquemus held a presentation that highlighted men's workwear.
Take a look at some of our favourite looks here…
Celine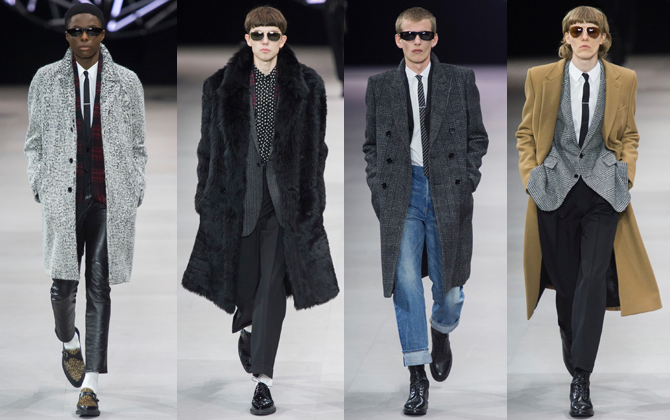 What you need to know: Perhaps the most anticipated show on the menswear calendar, Hedi Slimane made his official debut for Celine and it was, well, sort of expected in that slim-cut silhouettes, fine tailoring and sleek styles ruled the runway. While we're familiar with the ex-Saint Laurent designer's signature aesthetic, it was clear that he paid homage to British youth, as well as No Wave (a post-punk musical genre from New York during the late '70s). The influences were translated through outerwear, shearling jackets, washed-out denim and super skinny ties.
A polaroid performance: Hedi Slimane put a lot of thought into the set design and commissioned the band, Crack Cloud, to produce the soundtrack for the show, titled Philosopher's Calling. Plus, the designer built a connection between two generations asking American saxophonist James Chance, to play alongside the band for the first show.
Kenzo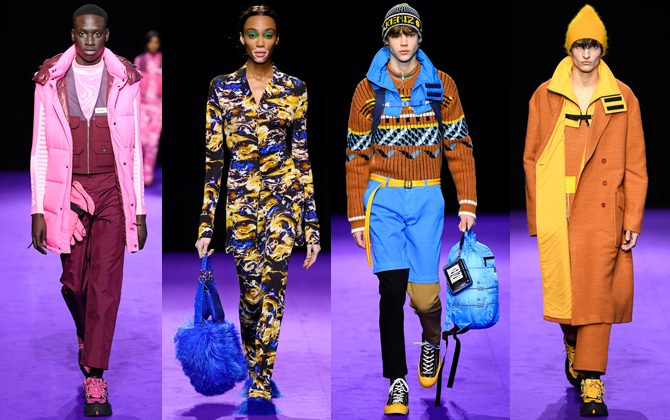 What you need to know: Ever since Carol Lim and Humberto Leon took the reigns on Kenzo, the brand's collections have been as bright as they've been bold and their Fall/Winter '19 co-ed collection was no exception. Walking against a captivating backdrop made by Pablo Amaringo, models were contrasting in their saturated silhouettes of skirts, ponchos, knitwear, puffer jackets and monochrome suits.
Influences: For the autumnal season, Kenzo focused on creating a collection that paid tribute to the Peruvian origins of Humberto Leon. There was emphasis on technical fabrications, drawstrings, rice-importing bags and faux fur floppy flats.
Jacquemus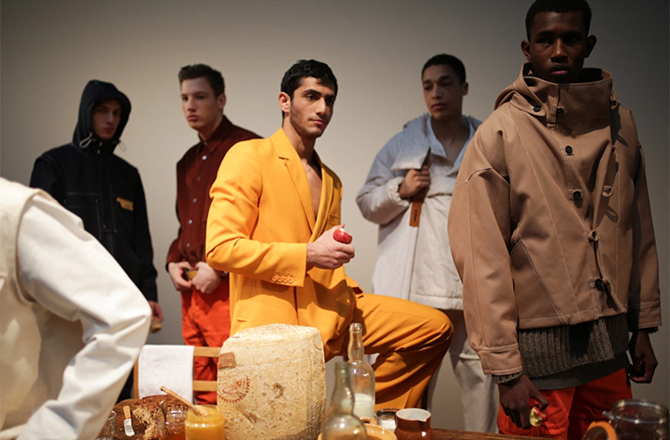 What you need to know: Simon Porte Jacquemus first debuted his men's collections at the beach last season but for F/W '19, the designer decided to highlight men's workwear. Paying homage to workers, the collection featured plenty of jackets (including marine jackets), polo collars, a reporter vest, quilted cotton shirts and cargo pants.
Presentation setup: The designer knew how to throw a proper presentation as he gathered the models around a farm table filled with trays of croissants and hunks of bread and cheese. Because we all know by now that fashion folk do eat.
Then, read more about the launch of CFDA's new eco-friendly initiative.