The fash pack officially landed in Milan this weekend (after witnessing the Spring/Summer '19 collection shows in London) and had a jam-packed schedule at Men's Fashion Week.
Some of the industry's biggest names took to the catwalk over the weekend and in case you missed any of the shows, take a look at our highlights here…
Giorgio Armani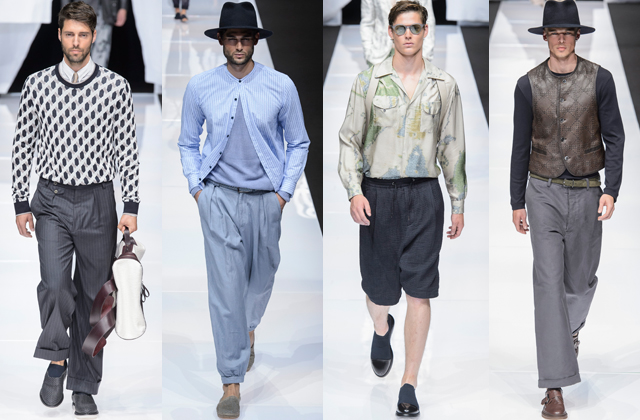 What you need to know: Giorgio Armani revived his Nineties nostalgia and created a Spring/Summer '19 menswear that was dapper and dashing. Complete with casual double-breasted jackets, Japanese-inspired wide pants, stitched leather waistcoats, safari jackets and long-sleeved T-shirts, the men's collection formed a cohesive unit in a palette of neutral tones.
In case you missed it: The collection showcased a series of achingly cool accessories including straw hats, fedoras and leather espadrilles.
Fendi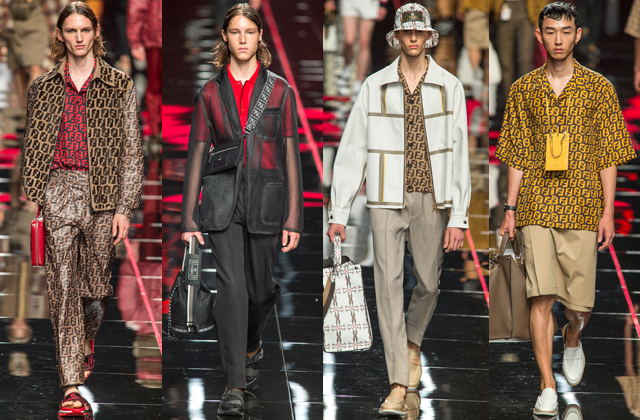 What you need to know: Silvia Venturini Fendi took a dark approach to Spring dressing with her new collection for men this season. The designer stuck to the brand's classics (think sleek tailoring and sharp silhouettes) but reimagined them with more modernity and an added streetwear aesthetic. The looks included several dark references including demons and snakes on bomber jackets, as well as polo shirts, jazzy check suits and transparent blazers.
Key trends: Fendi's runway consisted of super lightweight fabrics this season, but also saw a lot of suede and transparent perforated fabrics. On the prints front, the FF logo mania craze continued, as well as diagonal racing-stripe patterns and lightning bolt stripes.
Prada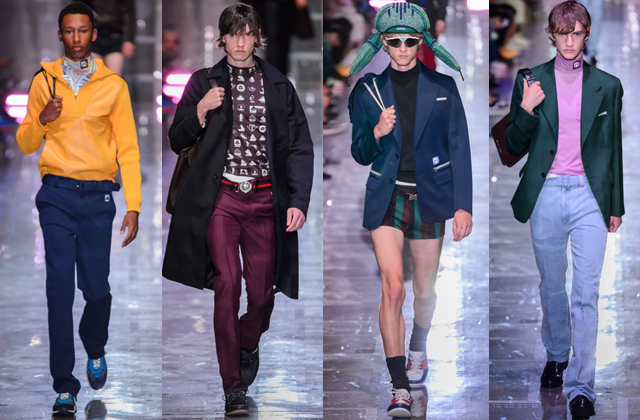 What you need to know: Prada's new menswear collection was a celebration of youth with its series of different silhouettes, fun prints and all-round contemporary elegance. Bright hues were paired with washed-out denim, leather pullovers complemented tailored pants and printed short shorts were matched with graphic long-sleeves resulting in a collection brimming with must-have pieces.
The accessories: Prada isn't one to shy away from creating a range of accessories for men. This year, the Italian label also took a youthful approach towards men's bags (which ranged from nylon sacks with drawstring ties and shoulder bags) and also introduced a sporty sunglasses range and new headwear.
Dolce & Gabbana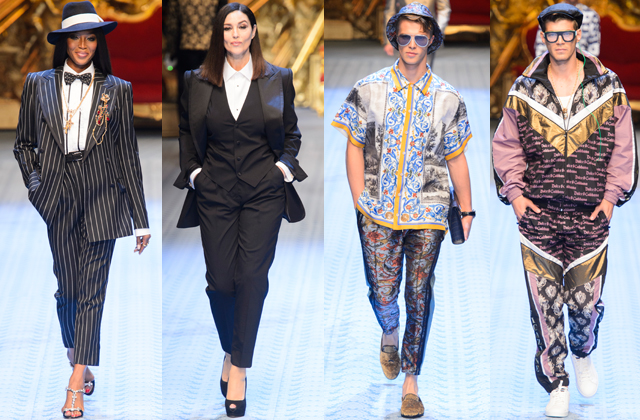 What you need to know: Stefano Gabbana and Domenico Dolce continued their millennial-driven strategy for their Spring/Summer '19 runway show. An Instagram-famous cast and well-known faces walked the catwalk dressed in 144 looks that boasted the brand's Sicilian-rich DNA — think signature classics including tailored suits, tuxedos, black lace separates and silk print dresses.
Model moment: Whilst a host of influencers walked the catwalk, the audience was treated to a major surprise as Monica Bellucci and Naomi Campbell strutted their stuff on the runway.
Marni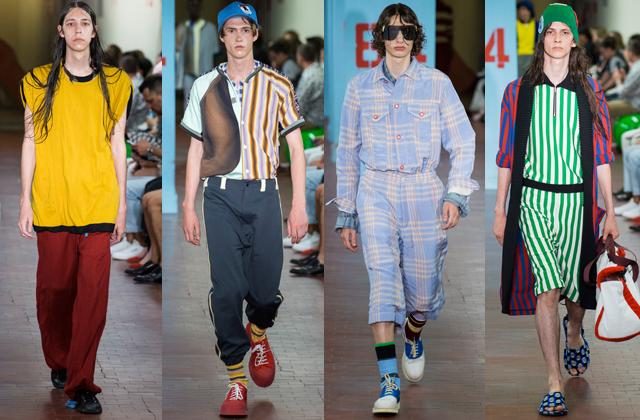 What you need to know: A major trend that took over the Marni show during Men's Milan Fashion Week was athleticism. The new seasonal collection drew its references from several different sports including baseball, rugby, basketball and swimming, and was finished in a kaleidoscope of colours. With everything from majorly oversized sweatshirts to blazers, trousers, tanks, swimming caps, bathrobes and slippers, Francesco Risso's vision of the Olympics was definitely apparent.
The audience: At the Marni show, chairs were swapped with huge exercise balls so the guests were left balancing whilst watching the show.
Versace
What you need to know: Versace's latest co-ed show consisted of Donatella Versace's creations for menswear Spring/Summer '19 and designs for womenswear Resort '19. Whilst there was a lot of crisscrossing between the two collections, it remained cohesive and showcased similar trends such as animal prints, botanical graphics in all forms, neon ensembles, monochrome looks, transparent metallics and of course, the brand's signature chain motif.
In case you didn't know: Whilst Versace's lineup always includes the industry's most-known models, this show was particularly special given that it marked Kendall Jenner's runway return after a five-month hiatus. Bella Hadid was spotted on the runway, too.
DSquared2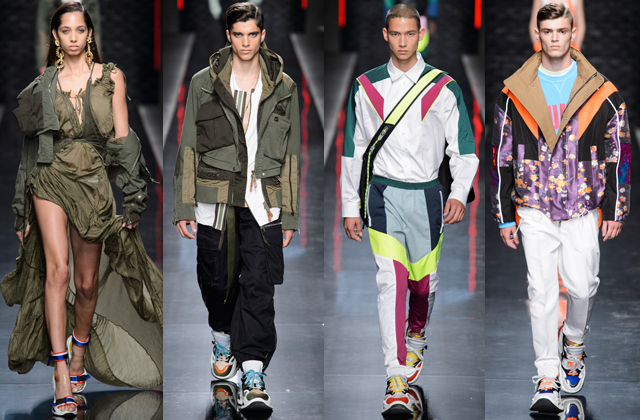 What you need to know: Dean and Dan Caten reworked a military theme for the brand's latest co-ed collection. With a bolder focus on feminine elements, the designer duo brought cargo pants, field jackets, bomber jackets, lightweight tops, bustier vests, knitted tops and baggy pants to the collection. The range came complete in a utilitarian colour palette, and there was also a range of women's maxi dresses that closed the show.
Wish-list worthy: We're getting some major Coachella vibes with the brand's army green maxi-dress as seen on Yasmin Wijnaldum.
Now, find out which e-commerce platform has decided to stop selling feathers, mohairs, silk and cashmere on its site.