NIGO has proven that he couldn't have been a more perfect fit for the Creative Director role at Kenzo. Continuing to highlight his vision for the Parisian fashion house, his latest showcase during Men's Paris Fashion Week has secured our hopes in knowing that he could transform the label into a contemporary powerhouse whilst infusing the Japanese traditions and Parisian aesthetics Kenzo Takada has built throughout the years. For Spring/Summer '23, NIGO stayed true to the brand's ready-to-wear philosophy – think evoking vibrant energy projected through a series of preppy looks.
On the runway, academic flags were floating from the ceiling. The vibe we were getting: Collegiate.
Welcome to Kenzo University, where it almost felt like we were witnessing a brand graduation as tastefully-dressed college kids (models) fronted workwear, dresses and skirts – each with a preppy undertone.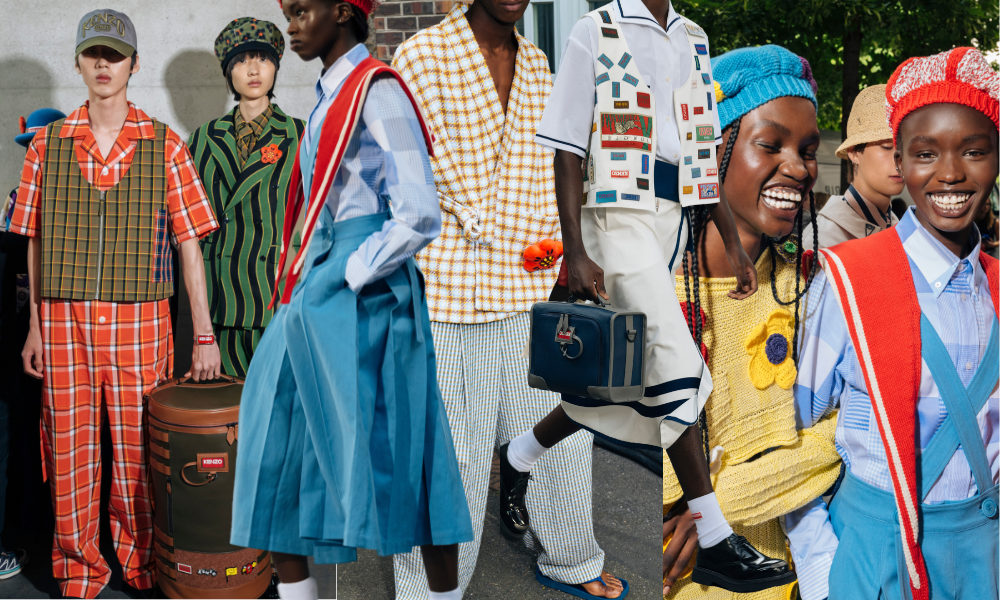 The collection expanded on themes that were relevant to the Kenzo culture – youth-driven, iconography and Parisian flair – and for his take on seasonal wear, NIGO effortlessly combined bold colours with new interpretations of classic suiting and casual wear silhouettes. The wardrobe made for every day (and everyone) consists of sweater vests, varsity jackets, patchwork outerwear and achingly cool workwear that took inspiration from the '30s and '40s uniforms of American railway workers. The dressier silhouettes – think voluminous skirts and shirts – were oozing with preppy coolness.
NIGO's ongoing love affair with denim and the Boke flower (a key component to NIGO's premiere collection) continued to echo through several staple pieces and key accessories which included derby shoes, Mary Janes and handbags that we're certain will become the season's it pieces of arm candy.
ALSO READ: NATURE AND TECHNOLOGY LIE AT THE HEART OF LOEWE.