A man that breaks the rules when it comes to menswear dressing, John Varvatos was in Dubai this week to celebrate his eponymous label's new post in the Middle East.
Marking his first store in the region, the new John Varvatos boutique in The Dubai Mall is the quintessence of the brand's DNA. With an inviting aesthetic and an evident rock'n'roll influence, it's kind of hard to miss when you're strolling through Fashion Avenue.
Fresh off of the plane from India (where he was celebrating Nick Jonas and Priyanka Chopra's wedding, btw), the designer went straight into a night filled with celebrations in Dubai alongside brand ambassador, Machine Gun Kelly. He also managed to squeeze in some time to sit down with Buro. Middle East to discuss the new boutique, menswear in the Middle East, the importance of music to the brand and of course, the wedding…
Why did you decide it was the right time to launch in the Middle East?
We've built a big store base in the United States and we've been looking here. We met the Emaar team and they approached us. But you know, coming and looking to this region on your own, a million miles away, is difficult but to have a great partner, is great. We love those guys and we thought well, they're first class and they want to do something great. They have the best centre in Dubai and that was the time when all of the stars aligned (laughs).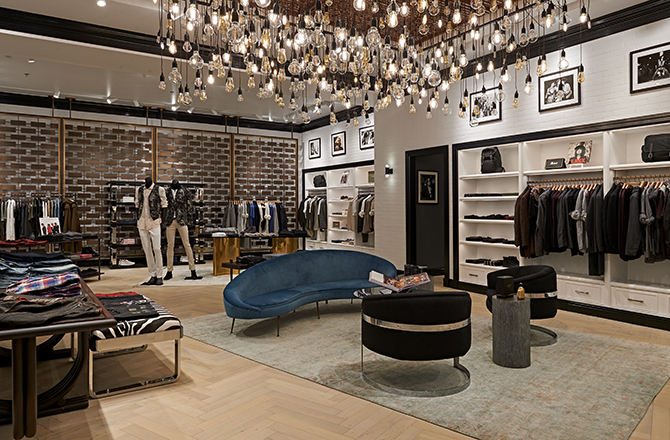 Tell us a little about the store space and how it represents your brand?
We have four stores in New York and we have a couple of different concepts in New York. One of them is in an old music club, the CBGB's music club, and then we have our Madison Avenue store which is kind of very elegant and based on my New York apartment with the white brick walls and some brass. And so, it has a lot of that New York feeling, and we took more of that here where we added more brass and all of the screen work on the doors and that. We really wanted to feel part of the region and we didn't want it to be like we just dumped something in here. I think it's spot-on our brand. It's eclectic and it's a combination of new and old, meaning we have a lot of custom features in the store but we also have vintage pieces.
What's your take on the way men dress here in the Middle East?
I've always thought that it was that guys love style here. I don't know about fashion but I know they have style and I think there's a difference between the two. I feel that they love the art here too, and I feel like art is an important thing. I actually find that it's a fairly progressive area. As we go around the world, and I wouldn't call this emerging, but it is emerging to some degree, because it's so big but I find that it's quite progressive. I think guys love dressing up here and there's this melting pot of different cultures and I think that's what also makes it really unique.
How has menswear evolved in recent seasons?
We always considered ourselves a brand that is evolutionary and not revolutionary meaning that we want to continue to evolve and feel fresh but we want to stay very true to the brand and the DNA. A lot of designer brands can be concept-driven and we are from a show standpoint but in the end, the customer doesn't dress that way. He falls in love with John Varvatos, and he'll expect that the next day he comes in, there's going to be things that are in that world.
What collection can we expect to see in the store?
So actually, for this collection, our Fall/Winter '18, we called it John Varvatos 2.0 because basically, what we did is that we looked back a bit into the things that started the brand in the early 2000s and kind of put us on the map with our own handwriting and look, and said, "Ok. We want to be connected with those but how do we put a shot of adrenaline in those, and make the 2.0 version?" A part of it is styling, a part of it is fit and fabrication development, leather development, and so we spent a lot of time in this collection, and it's been a great one for us. It's been really exciting to see the response and I think there's so much out there right now. Either fast fashion or things with patches and logos, not every guy wants to dress like that.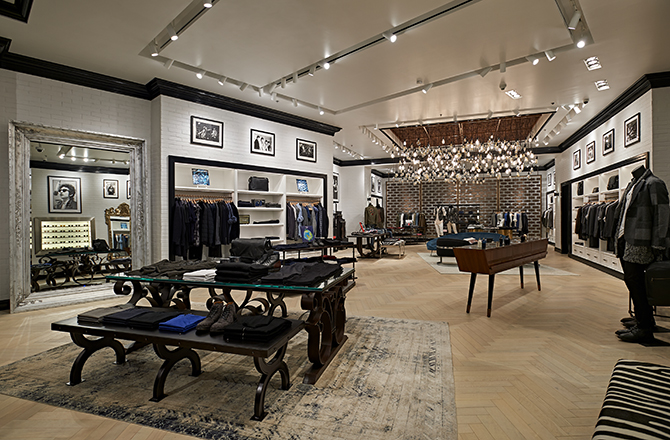 How would you describe the John Varvatos customer?
I think he has a creative soul. He doesn't have to be a musician or an artist or a photographer but there's something burning in him. He doesn't need to make a statement always with all of those logos but he can be more understated and do it. He thinks of style and not fashion, and style is also a part of his own message. His message is something like "This is who I am." I also think he is somebody who wants to create a look for himself and he's not into putting the uniform together. He wants to create his own personality and that, I totally embrace.
You're a huge fan of music as well…
When I think back to when we first started in 2000, it maybe was subliminal, it wasn't part of any of my conversations but I grew up with all of those influences. Around 2005, we had done all of these beautiful campaigns and won awards for them, and I started thinking about how we define ourselves in a way that we own. It's hard to do. I mean, first of all, you need to have your own look. I wanted to embrace the music thing and we ended up doing Iggy Pop. He is just so amazing and people look up to him because he's a rebel, too. We had so many great campaigns over the years and we did them with some of the biggest artists from all over the world. We don't pay anybody big sums of money to do them, and they have to want to do it. I remember when we shot Green Day, they had told us that they had turned down 10 million dollars to do a phone campaign, and we gave them 10,000 dollars just to do it, and they wanted to do it. Also, Ringo Starr has never done anything and they wanted to do it when I asked them. Especially Ringo, he even said, "What took you so long to ask me?". So crazy!
Is there a celebrity you've previously worked with that made you awestruck?
It's interesting because I have worked with so many good ones but I think, when I met Jimmy Page from Led Zepplin, we became good friends. It wasn't even about making it but I kind of felt like I could pinch myself. These people are calling me to have dinner and they're not looking for clothes. They just want to hang out! I kind of felt like, I love music and fashion, and somehow, organically when Iggy Pop came to my showroom, he came to get fitted for clothes, he said: "Come here" and he gave me this big hug and there was just this thing, a connection. Years later, we're still hanging out and having dinner.
Tell us more about the philanthropic side of the brand?
We grew up with very little in our family and we were very humble with how we grew up. My grandfather, who actually came from Greece, had nothing. But, he used to send little bits back to his school in his town that was really in need and it was probably not that much money but it was enough that someone was doing that. And, my parents would also do charitable things when they had no money, too. So it kind of was in the family and when we started the brand, and we started opening stores, I was kind of like, I don't want to open a store. I want to be part of the community and the only way to be part of the community is to be engaged with the community. It started with our West Hollywood store, and over the years I've worked with so many different charities, and it's a cultural thing within the company, too. We're going to be doing a big concert, which also falls into our DNA. That's for a charity that feeds people that can't feed themselves.
You've previously worked with Nick Jonas and he just got married over the weekend! What is it like working with him?
Yes! We did a fashion collection and we did a fragrance that's in store right now. We're working on a couple of other things other than fashion which we'll be announcing in the Spring. We became fast friends. I knew his brother Joe for many years but we have just become really close friends. He's kind of an old man in a young man's body. He's worldly and he's got an old soul. I connected with his family and they're just great people. I was just at the wedding, actually.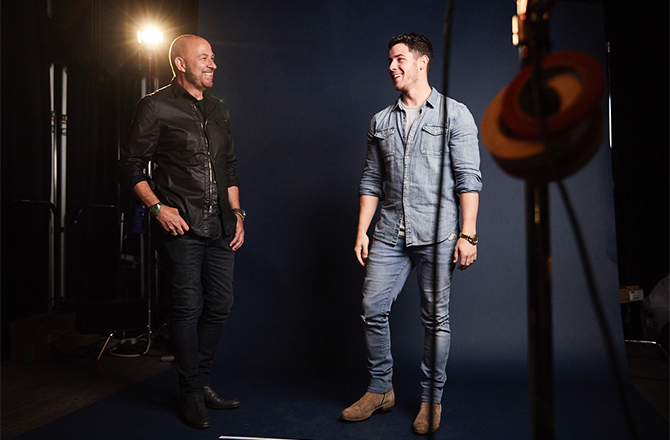 How was it?
It was totally insane! They're just special and it's been great. I love him and I love him like family. Their wedding was really just family and friends, and it was very small. Up to 200 people and the things that they did were just pretty amazing. That's all I can say for now (laughs).
Will we ever see a women's collection from John Varvatos?
It's the number one question that people ask me! (Laughs). I've been talking about it for many years and we may. We really may. We've been talking about it and trying to figure out when we're going to do it but we've got so many things going on in menswear, and it's obviously one of the reasons why we've been so successful with menswear. Because we always focus on it. Every day we get up, we eat, drink, breathe, sleep it. But, I think we will at some point, yes.
What to you makes a stylish man?
I think style is about the way a guy carries himself. I don't think it's necessarily just about his clothes. I think it's about how he walks into a room and what his presence feels like. I used to think that as a kid, that a guy like Steve McQueen, who is wearing a white t-shirt and khaki pants, and he looks so cool! He had a way about himself and I think it's part of what's inside of you that reflects in your own personal style as well.
What's next for the brand?
We have a lot of exciting things that we can't talk about (stay tuned!), including working with Nick. We're still continuing to open stores. For my record label, we've got a lot of great music coming out with that. I also have a documentary coming out in March. It's a four-part series and that launches on March 19. It's never-ending!
The new John Varvatos boutique is now open in The Dubai Mall.
Now, take a look at where you can get your hands on Kim Jones' S/S'19 collection for Dior Homme.