A quintessential wardrobe staple, the white T-shirt is one of fashion's quintessential must-haves; paired with the perfect pair of jeans it's today's modern fail-safe uniform, but with a power suit, it redefines everyday elegance taking it to elevated new heights.
This fall, the trusty classic plays the perfect canvas for Ermenegildo Zegna's latest charity initiative. Partnering with Italy-based humanitarian organisation Cesvi, the "From A to Zegna" sees the duo join forces to promote education through the launch of a capsule line of white T-shirts with the inscription of words like freedom and change, qualities that make up today's modern Zegna man. Proceeds from sales will go to support Cesvi's educational projects across the globe, which now include 23 countries throughout Africa, Asia, Europe, Latina America and the Middle East.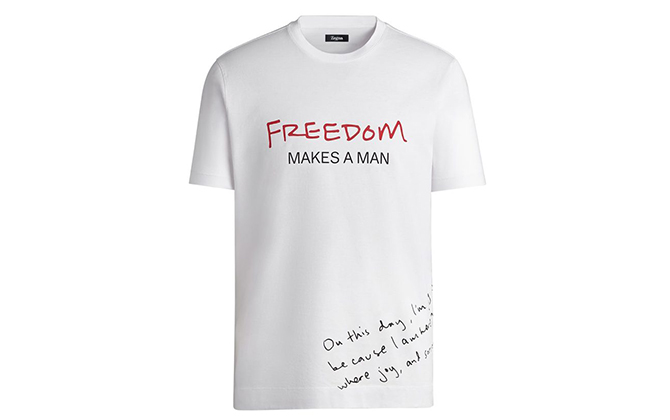 Founded back in 1985 in Bergamo, the italian NGO works at promoting positive behavioral changes among youth, addressing the needs of local communities with workshops, group discussions as well as tie-ups with universities.
The new T-shirts are available from today in all Zegna flagship stores and will be sold on the brand's e-commerce site starting Tuesday.
Now, discover Louis Vuitton's new scented candle for charity.
Text by Dina Kabbani