SXSW just finished for 2018 but before we jetted out of Austin, we caught up with Melanie Elturk, the founder of Haute Hijab, to chat about why she started the company, its upcycling ethos and how Haute Hijab is helping to break the stigma around Muslim women…
You started Haute Hijab in 2010 when you couldn't find any hijabs that suited your own personal style. How long was the process from deciding to start the brand to it actually getting off the ground?
It was a few months. When we had the idea, we ran with it. We were really excited.
Where did you source the materials from for the pieces?
When we started in Chicago, everything was sourced locally and there was a tiny garment district there but we worked mostly with jobbers They take all of the leftover fabrics from designers and they resell them so it's a small little industry but it was enough for us because when we tried to go to the bigger players, the minimums were crazy and when you're starting out it's such a huge risk to order that much inventory. So we got small amounts, put it out there to understand what really was the demand, and then we iterated from there.
So there was an upcycling process from the beginning…
Absolutely. And that is imperative, that's our duty as Muslims. It's not like, 'Oh this is a trend now so let's all move towards sustainable fabrics.' That's something that in our faith, ethics and fair-trade, these are the faith tenants that come naturally.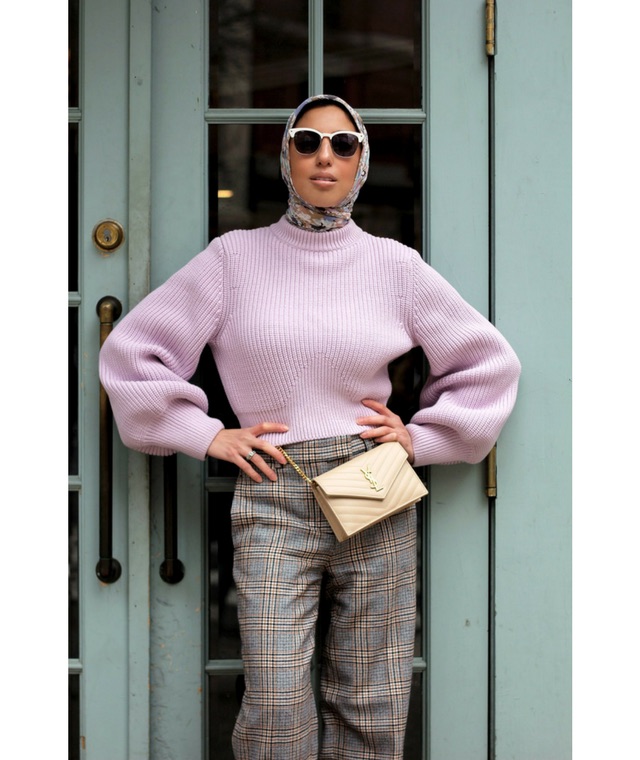 So once you get the fabrics, how are the hijabs made?
Now everything is in Dubai! When we were in Chicago, we then moved to Dubai and all of the operations moved with us and our factory is in Al Quoz. There's another in Ras Al Khor. All of the fabrics I get from the garment districts there from Deira and Bur Dubai. We work with jobbers here also because they get huge containers from Korea, Indonesia and China of leftover and discard fabrics that were maybe dyed the wrong colour and instead of them getting thrown out, we take them and we make scarves out of them.
How big is your team in Dubai?
Eight to 10 people in Dubai and now we're in New York where there's 7 of us full-time and three interns.
So you've grown to almost 20 people since you launched in 2010.
Yeah and it's really exciting because it grew from my husband and I to seven people in the NY office in six months. I was working as an attorney with the DIFC courts in Dubai and my husband was working for Marka VIP and then we quit our jobs, moved to NYC to get this off the ground, raised a C-round and that fuelled the growth. The demand was always there but we didn't have the time or the capital [to be able to dedicate ourselves fully to it] before this.
Why did you want to shift the operations to New York as opposed to staying in Dubai?
Because 90 per cent of our customers are in the US. We needed to get back home to really service those customers and find out what their needs were. I felt like I was working remotely in Dubai because I wasn't close to them and I didn't know what was happening on the ground either like what the styles were or how women were wearing their hijabs.
Do you think the majority of your customers being in the States as opposed to say the Middle East which is an Islamic territory, is reflective of the fact that there are more options for women in the Middle East who wear the hijab?
It's a mixture of a lot of things. There are definitely more options in the Middle East but when you think of the women in Dubai who wear hijab for example they're usually locals and they wear black. Our aesthetic is very western — it's prints, it's bold colours so the demand isn't as high. However, when we released our luxury collection last month the sales from the Gulf were out of control. Those are in the $250-$325 USD price point. This collection was made from 100 per cent silk with Swarovski crystals.
But those pieces were coloured, right?
Yeah they were! And that made me rethink my whole assumption and hypothesis. We need to do a lot more digging.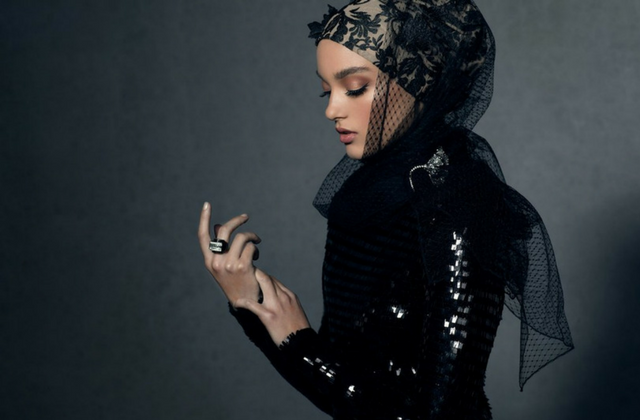 It makes sense, because there's no other hijab brand based out of the States (or really anywhere for that matter) doing what you're doing so it's great to be able to give Muslim women in the US options…
Exactly. Before they were having to go to Target or Forever 21 to buy a scarf and it's really bad. They're not meant to be worn on your head so the fit isn't right.
Given the political climate in which you find yourself in in the States in particular, what you're doing with the brand is a really positive thing to help de-stigmatise the hijab and bring greater awareness to the fact that it is a choice for Muslim women and it doesn't have to be a hindrance to style…
That's right. It doesn't have to hinder you from any activity. And that's really what we're doing. We're building out every hijab category for every occasion in a woman's life. We started with luxury and right now we're working on medical hijabs. We get so many female doctors who need access to their ears, dentists who have face masks that go around their ears and they need a solution. Activewear is another one. I know Nike came out with the hijab but as women have been testing it, it's not great, it's not optimal. So really having a hijab for every occasion and allowing you to wear one for any part of your life without it hindering you is key.
And have you felt any pushback or negativity whilst you've been marketing the hijab?
Well we target and market only to Muslims. Every once in a while on Facebook, you know these things aren't perfect, we'll get somebody telling us they don't want to see it on their page which is totally understandable. What has been more telling has been the fundraising process when we've been talking to investors. We had one VC that we talked to who was very open and direct and said, "Look I don't think America is ready for this yet."
And that was back in 2010?
No, this was last year! We finished our round in late 2017. I was happy for that honesty because that helps me understand what people's mindsets are and how I can get over that hurdle and communicate and educate people to the fact that we are very, very ready and it's necessary. I'm not going to wait around until America is ready, this is something that is important.
The reason why I'm doing this is to normalise the hijab in the mainstream so that no one looks at us with apprehension or fear.
The reason why I'm doing this is to normalise the hijab in the mainstream so that no one looks at us with apprehension or fear. And instead, a place of comfort and recognition. Like I've seen this before, it's beautiful, it's positive, it's her agency by which she's telling herself I've chosen to wear this because it makes me feel confident or command respect.
Now, read the highlights from Melanie and Mariah Idrissi's panel at SXSW on faith and fashion.