During Men's Paris Fashion Week, perhaps one of the most anticipated shows is AMI Paris, and Alexandre Mattiussi's latest Fall/Winter '20 show was definitely one to remember. No new kid on the block, the designer has gained immense popularity across the globe and he managed to create a namesake label that was just an extension of himself. All about his friends, Mattiussi has mastered the craft of dressing for men and women — or for people who simply want to dress up a bit and look elegant and chic at the same time.
Here, we speak to the fashion maestro about the AMI universe, the importance of social media and sustainability, and Paris…
How would you describe your creative process?
I like to start with the idea of creating a wardrobe — the inspiration is different for every collection but the reflection of a new collection naturally resumes where the previous collection stopped. A continuous thread that creates a kind of link between past, present and future collections. It's like producing many seasons of the AMI series!
Who are your biggest influences and why?
I have many influences from different backgrounds. Photography, cinema and music are constant sources of influence. Paris is an incredible city. I observe what is happening around me everyday. It's mostly the people I meet every day who inspire me the most: my friends, a neighbour, a boy waiting for his bus.
How does the AMI dynamic work in Paris?
AMI was born in Paris almost 9 years ago, which means the relationship with French clients have been going on for all that time. I know their taste quite well now. AMI's aesthetic is very Parisian — a balance between sophisticated and effortless clothes. Even there's an interesting "mix and match" of patterns and fabrics that result in being always very natural. Plus as I said, AMI's collections are always a part of the same story. I know that the customers really appreciate that they can keep finding the most iconic cuts and pieces every season, with different fabrics and patterns of course, but a part of the same story. The clients from different parts of the world appreciate this DNA and AMI's story, from Europe to Asia, to the Middle East and America.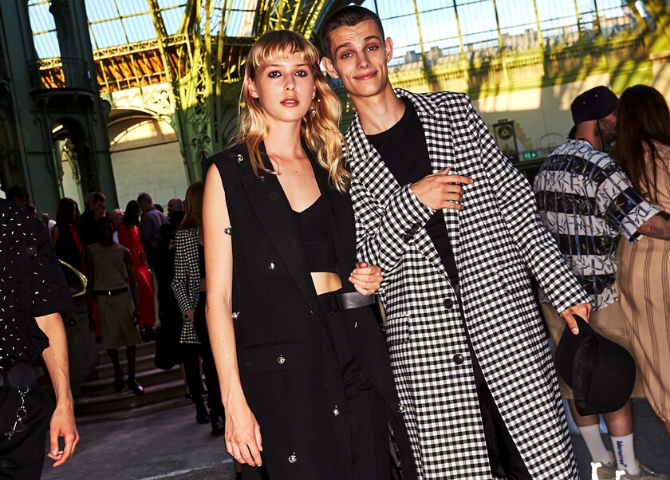 The word "cool" defines you quite very well, I must say. What do you think about being the 'King of Parisian coo'l?
Thank you for these kind words but I don't see myself  in that way. Even more, I still get pleasantly surprised when I see the "cool kids" wearing my designs, and I feel that it's important to always remember myself — where I come to have fun with what I'm doing and never take myself too seriously.
What is your philosophy regarding the junction between fashion, art and commerce?
I try not to intellectualize fashion too much. AMI offers everyday clothes that can be worn by everyone. It's simple, but it is an appealing proposition. I don't place creativity before commerciality or vice versa. They live together. At the same time, as I said I like to push myself artistically, so a part of the collection will be about trying new things, and surprising the customer. You still have to be spontaneous as a brand.
What was the main idea behind your Fall/Winter 2019-2020 collection for men and women?
I imagined a group of friends with a particular style. They wear their family wardrobe, maybe even pieces that belong to their grandparents. As a result, they wear timeless, elegant and comfortable staples which they repossess, mix and match.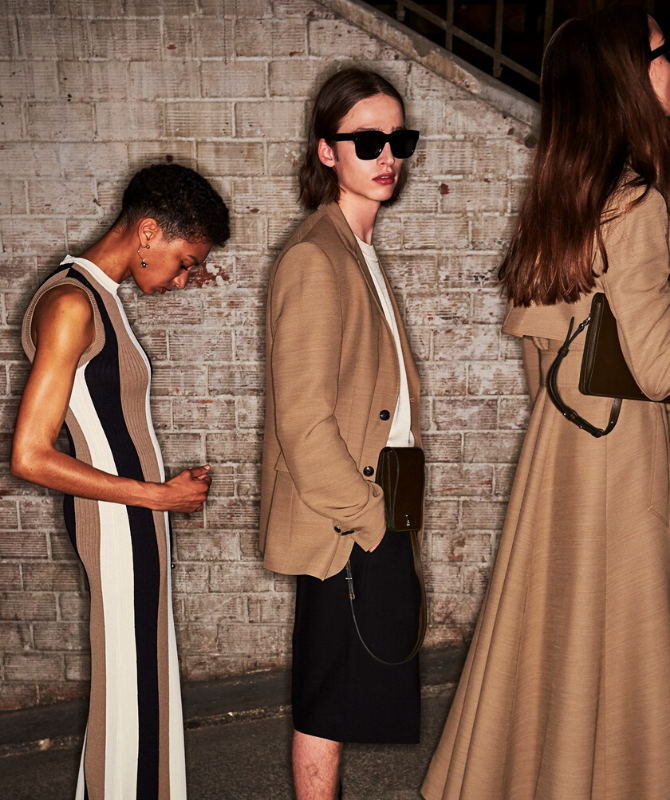 What is the place of women and men in your universe?
Both hold an equally important place in AMI's universe. I created the brand for men and I had in mind to dress my friends. Then came the first clients, who allowed AMI to be a part of their wardrobe, but even since the very beginning, women naturally "invited" themselves to my universe. My girlfriends bought themselves menswear t-shirts, blazers and shirts. When I first started created womenswear, I tried to do the same pieces I created for the men but with a different fit. Then earlier this year, I allowed myself to create more feminine pieces: a dress, a skirt and even a pair of high heels.
What is your main source of inspiration for the men's and women's collections?
When it comes to inspiration, I design things that my friends want to wear. Not things that are too intellectual or conceptual. That's the heart of AMI — meaning 'friend' in French. So as I previously said, I'm inspired by the people close to me, but also by cool guys on the street that has a stand-out style.
How important is the mood of the Atelier when designing?
The mood is essential for us, as well as having good energies between us. For example, the Director of Collection is someone who I'm good friends with, and who I knew prior to starting AMI. I trust her instinctively. We respect each other's point of view, which is healthy. Also, we have a lot of fun in the studio, it's important for me to hear laughter coming from their office.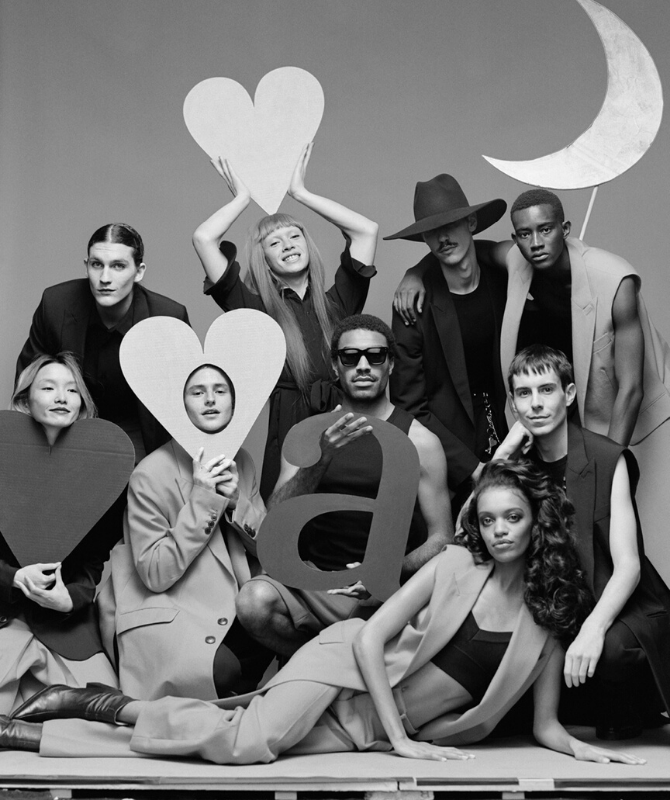 What aesthetic is the basis for your creations and the brand, and how did you translate that into the womenswear collection?
I can't give you a close answer for this as my aesthetic is always evolving but something that will never change is the relaxed and authentic approach to fashion that I try to translate into all my collections, menswear and of course womenswear.
Do you think men like fashion as much as women?
I think interest of men in fashion has evolved enormously within the last few years. Look at the new generation, a man will be as interested as a woman to get the latest pair of cool sneakers. Also within the industry, fashion has stopped being an exclusively female subject for a while now with men fashion weeks becoming more important every season.
How important is Paris Fashion Week for your creative energy?
AMI is Paris. It is always a source of inspiration. Because I live here, and I grew up here since my adolescence. Paris is a city where so much happens in the streets. People walk everywhere, they eat and drink on terraces, there is always life in the streets and you can never get bored. As for Paris Fashion Week, it's very inspiring to know that I'm a part of it and the energy and excitement I feel is the same every time, it never gets old!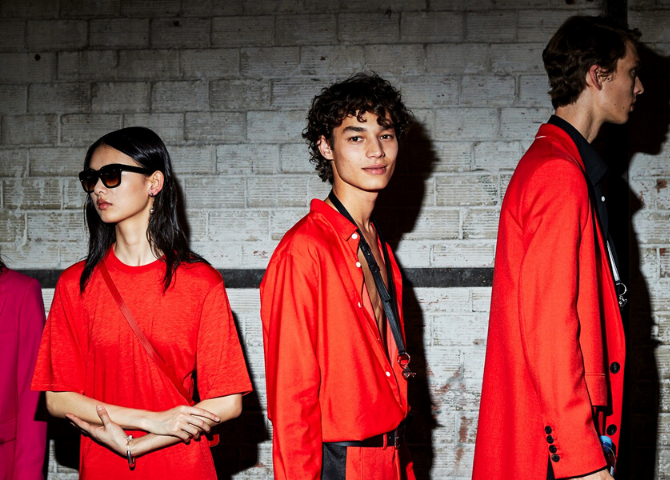 What made you want to become a fashion designer?
My original goal was to be a dancer. I started dancing at a very young age but stopped at around 14 after an audition at Opéra de Palais Garnier, when I realised that type of competitive environment wasn't for me. But the love of spectacle and the theatrical ambiance rubbed off on me. Particularly the costumes and set design. Fashion for me was a natural extension of that world.
How would you describe your current disposition — as in your current mood or state of mind?
I feel a special energy as I celebrated the 9th year of AMI's creations on January 2020. Nine has always been my lucky number so 2020 will be a very important year for myself and the brand and I'm happily looking forward to it!
What is the ultimate signature style of the AMI woman?
My vision of the AMI woman is constantly evolving so there's no such thing as a signature style, but I can tell you that she's someone who's not afraid of experimenting with different styles, she can wear pieces inspired from the boys and a bright red lipstick for example.
How do you stay visionary and stylish?
I try to not close myself within the fashion sphere. As I said, my inspiration comes from my friends, from regular people. By being surrounded by persons from different backgrounds and occupations, I keep myself in touch with my own creativity and this is what feeds my vison and style.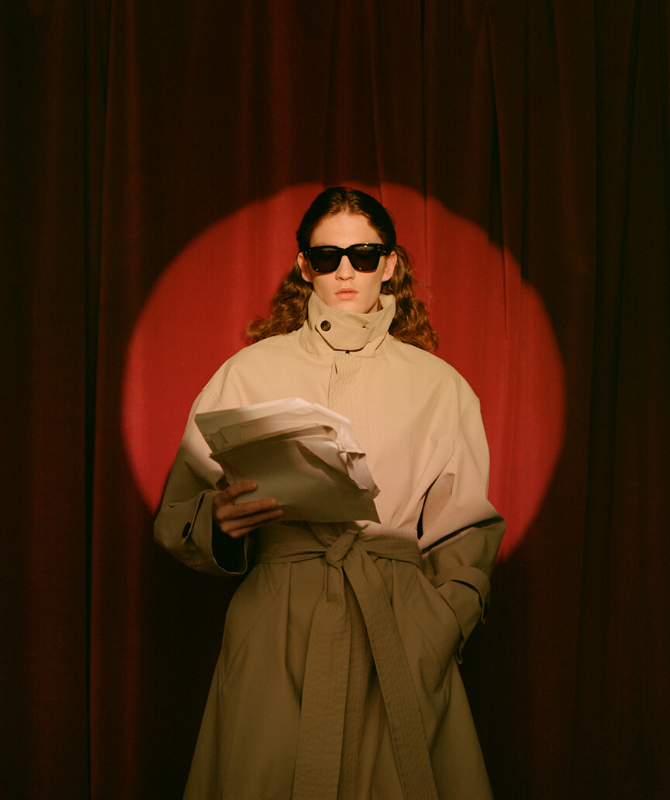 What do you think about how the current fashion systems work today, and how has AMI adapted to it?
I know that fashion is not what it used to be and that everything goes extremely fast right now. But this doesn't bother me because I love to work, and this speed allows me to bring my ideas to life faster and to follow up each collection closely. AMI does 4 collections for men and 2 for women each year, plus special capsule collections. Some may say this is a lot but I feel good working this way, it inspires me and also, I have fun.
As for how I've adapted to the current fashion system, well I'm doing it in my own way. For example, many brands adopted the "see now buy now" politic for all of their shows, I decided to do this only for special collections, it was the case of AMI's show in Shanghai.
Social media — how important is Instagram for the brand?
For a brand, social media opens up new audiences in new territories and allows you to speak directly to your followers and friends of the brand. That is why I manage the AMI Instagram account myself: so that I can communicate and connect with them in an authentic way. If you use it in this way I think it can be a very powerful tool.
Can you show us five magical places in PARIS?
– Claus Paris At Marche Saint-Germain
– Le Buffet At Rue De La Main D'or
– Le Petit Celestin, Quai Des Celestins
– Villa Leandre Street in Montmartre where I Used To Live 15 Years Ago
– Gallery:  Suzanne Tarasieve
What is your opinion about fashion's role in the global movement of sustainability?
Fashion's role is essential, and the industry will assume a more eco responsible attitude within the production and distribution processes. Nowadays this is an absolute necessity, and luckily for our environment, customers are becoming more vigilant on this very special subject.
Now, read Farouk Chekoufi's interview with Alberto Morillas on creating Philipp Plein's new fragrance.