Sabrina Sadiq recently moved to Dubai from London to begin the Middle East chapter of her growing luxury re-sale business, Luxury Promise. Started officially in January of 2017, the business helps faciliate the sale of authentic luxury goods between women across the globe. Using advanced AI technologies, as well as trained human eyes, the company, although young, has over 15 years of experience across its team members in the luxury sector and luxury authentication. Eager to learn more about the process, we caught up with Sabrina to find out more about how it worked…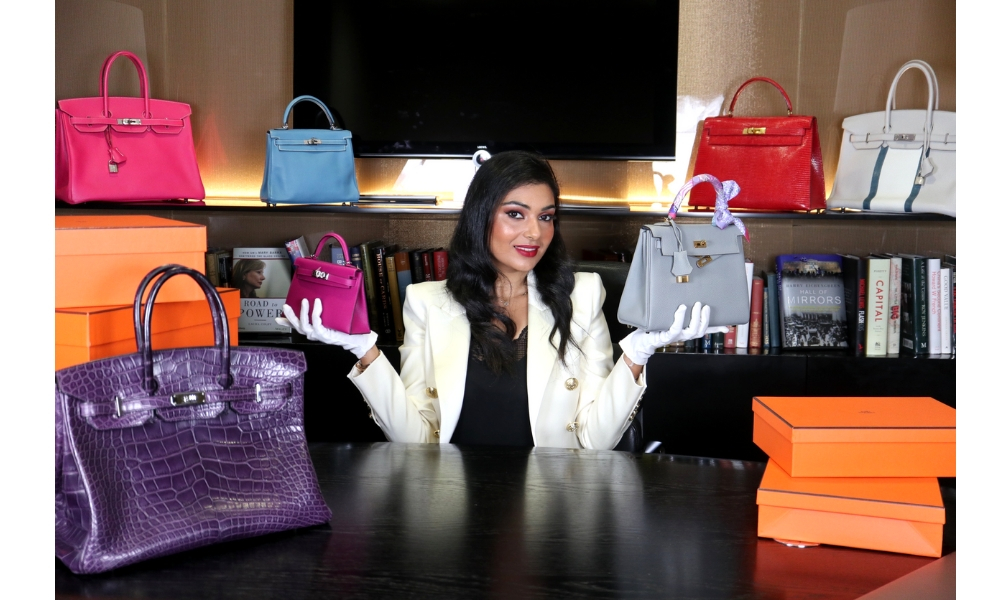 Tell me a little about how the business came about?
Luxury Promise is a marketplace where people can buy and sell luxury goods from the comfort of their home using the most advanced technology, which is our artificial intelligence. This is an enabler, not a replacement of humans, to be able to serve our clients a lot faster.
I was a lawyer to begin with and I collected luxury handbags myself and a client said to me, I really like your Hermès Kelly, which was vintage, and she said she'd buy it from me for double the price which I thought was amazing. Then my friends would ask me if I could get them one and whenever I traveled around the world I connected with amazing resellers who were selling these amazing handbags at half the price. To me that was amazing because I was getting my dream bag but saving money and it's recycling and sustainable. So I was then wondering if what I was buying was authentic even though I was buying from these trusted retailers, so being a lawyer I took a studious approach by studying how to authenticate handbags because if I was going to sell a bag to someone else, I needed to know [it was authentic]. Even though it's at a discounted price, it's still a lot of money to part with so you want that security and safety so that's why I learnt how to authenticate. For past 10 years I've taught other companies how to spot fake handbags and how to give a valuation because these handbags have a value. In essence, that's how Luxury Promise came about two years ago. I wanted to make something that was smart, sustainable, a global platform that was able to serve you with safe access to goods that are authentic – we're promising you the good are authentic, hence why it's Luxury Promise.
How does AI play into the business model?
When you're selling a bag the first thing you want to know is how much your bag is worth so the AI works through our app. You take a photo and it will instantly recognise the style and give you a valuation. This is something we want to continue developing because the luxury secondhand industry is a billion dollar industry but there's no pricing regulations so how do you know the value of your bag? If you're selling a Dhs50,000 Birkin for example, that's the same value as a car so you should be able to find out what the value is [relative to the market] and so this is what the AI, machine learning does.
And what data does it pull from to make this valuation?
We've taught the machine how to spot and identify the name, the model and give a valuation. This is done in-house. We are using technology as an enabler.
The R&D side of the business must be quite substantial then to facilitate this?
It's 10 years worth of data that I've been collecting and although Luxury Promise has only been established since January 2017, we're quite advanced in our knowledge and expertise of the team. It's a pool of 15 years worth of experience and that is the driving force behind it.
So a customer downloads the app, they upload their item, receive a valuation —what happens next?
They can instantly agree to the price to sell it onto the website — the beauty of Luxury Promise is that you actually get to have your own bag/item until it sells. Once it's sold, we collect the item from you, we authenticate that the item is real and we then give you the money and the item to the buyer. We are there as an expert middleman to ensure the buyer is getting the product that has been described, in the condition described and that it's authentic and that the seller is also selling to a person that's a real buyer and is safely protected by our platform.
Tell me more about the authentication process and how that works…
We have a team of very highly trained authenticators and it's what we do all day long. We're analysing the stitching, the stamp… people always ask if it's easy to authenticate -it's not but it is if you're a trained individual. For example, we know that Hermès only produce certain colours in certain years. Now, if you're an expert you know that for example in 2017 and 2018 the colour Rose Pourpre was introduced. Now if I got a bag that had a stamp which indicated that bag was made in 2011, I know that bag is not real because it was only produced in 2017-18. So we're experts because we analyse every detail, including the colour, which people might think is basic but is important to look at.
Luxury Promise isn't just about selling, it's about being a solution to the counterfeit market. Sometimes, people have emailed us and asked if we could give them an opinion on whether the bag they're buying is authentic and even though we're not selling it, if we believe you're about to purchase a counterfeit item, we'll tell you. We're really about combatting a problem. I always say that Luxury Promise is about the five S's: it's about women being smart — there's no shame in owning a second-hand item if you can get a discount; you can save money — it's great to buy new but if you can't and you want to buy into the market we're about democratising luxury goods, and you can save for things you actually really need, like a house deposit perhaps; sustainability, not just in relation to the environment but making sure that you can continue living the life you live; you can shop because you've already decluttered what you didn't need; and the fifth S is safety and security — you're buying from a safe platform.
What interest had you seen from the Middle East in the business?
Most of our clientele is from the Middle East, but in London. Dubai is a beautiful location that covers the GCC and is a great gateway into neighbouring countries. There's also so many amazing, stylish women here. That's one of the reasons why I wanted to come here, to meet them and tell them that there is a service for them.
You don't work with any brands, is that correct?
Yes, but the way we work with brands is through helping to stop the counterfeit market. You might buy a fake bag that you think is harmless when in fact it was made by a trafficked child — it's a black market, a trillion dollar black market and you don't know where that money is going, so it's a contribution to something dangerous.
Also when you're buying luxury goods, you're paying for craftsmanship — for example, a vintage Chanel is gilded in 24-karat gold. Now, you're not going to get that with a fake bag. What you will get is a bag with fake paint, which hasn't gone through any regulation that could be toxic.
Are there any particularly amazing bags/pieces that have gone up for sale that you can recall?
One brand which is always close to my heart, is Hermès. When you hear that Hermès is a better investment than gold, it is. This is a matter of fact. Some women are very smart and they know that the bag they're buying is very rare and in some cases, discontinued. There was one piece that was a Rouge Vif lizard Kelly and it was a deep blood red, the same colour as the Abu Dhabi flag, and someone from Abu Dhabi bought it — it was meant to be! It had a part of her story.
Is there one brand or particular item that always sells well on site?
There's three that are the powerhouses of luxury in my opinion: Hermès, Chanel and Louis Vuitton. Why? They're the only three brands that do not go on sale. Now, the reason why I mention the world sale is because when it comes to reselling the item often we have to break the news to people that their bag isn't worth the same price that they bought it at because it went into sale. [However bags from these brands] hold their value. Hermès is handcrafted by artisans that are trained to saddle stitch and the leather that's used is the best – people are artists in training to construct those bags and you can't just walk in and get them. Louis Vuitton is made by trunk masters – they really are travel bags. I've seen bags from the '80s and '90s that have travelled all around the world but have still maintained their structure and durability, and Chanel is crafted with the best leather and the vintage pieces used to be crafted with 24-karat gold. They're classic, it's not fast fashion. Goyard is another brand to mention to.
In terms of the commission, how does that work?
We work on four tiers: the first tier is working on anything below 1,000 pounds, it's 25 per cent commission, and anything above 1,000 pounds is 18 per cent commission. If you're a business, we're at 15 per cent commission and if you're not interested in any of those and you just want us to take your bag and sell it, we offer a VIP consignment service where we come and collect the item from you and that's 38 per cent. Our margin is very competitive.
How has the business grown since its launch in 2017?
Based on our customer experience and our clientele, the feedback was to come and serve our customer in the Middle East [which is why we opened an office here]. Plus developing the AI and having an improved service so there's a quick turnaround with a response within 24 hours. We also offer a concierge service, whereby if a customer wants an item we don't have on the website we'll help them source it. We really have looked at every aspect of luxury.
Now, read what Strathberry's Leeanne Hundleby had to say about Meghan Markle's impact on the brand.