José Neves is one of the most powerful men in fashion. Boasting such a title, one could assume the person holding it comes with a certain attitude, but with José, it's nowhere near the case. All smiles and incredibly down-to-earth for a man who created one of the world's most successful fashion e-tail empires, the Farfetch Founder and CEO is in town to fete the brand's recent Middle Eastern expansion which is being celebrated in a private party tonight. In addition to the party, the brand has also collaborated with local artist eL Seed to bring the company's motto "For the Love of Fashion" to life around the city. Here, he talks about what the expansion will mean for the region and why he's nowhere near done…
Congratulations on the launch of the Middle Eastern office — why was now the right time to expand into the region?
I actually wanted to do it before; it's well overdue. I think the Middle East customer could be better serviced by international players in the high-end fashion space. We felt that there was so much to do in terms of language, customer service, private clients and concierge services which is the range of things we're launching, together with an Arabic website. That was part of our plans for a number of years. Then, it all accelerated with the Chalhoub Group partnership and they helped us a lot to get this off the ground in record speed. We're very proud of the work done by the teams. We have a local MD, a local office, we have a team, an Arabic site — it's all up and running and it's really exciting.
What will the company's presence in the Middle East mean for the local consumer?
What we bring to the Middle Eastern consumer is really an unrivalled range and the ability to shop boutiques from LA to New York to Australia to Tokyo. The Middle East customer is very passionate about fashion and although in certain parts of the Middle East there's lots of retail, we bring to that customer what's just coming out in Paris, London, Milan.
Plus, this launch is covering the whole region, 10 countries in the Gulf. There's also other countries that are not as well serviced as Dubai in terms of local retail and so in terms of the localised offer it goes from language to customer service obviously but also our private client offering for VIPs. We also have a concierge service which means that even if you cannot find it on Farfetch we will search the whole world to try and find that brand, product or piece for you. We will also have localised editorial starting now and that will be an ongoing thing.
"It's been an amazing journey so far. There's not a boring day in Farfetch and we still believe that we're at the beginning. It certainly doesn't feel like we're done."
Has the response in the market here grown over time or has it always been consistently strong?
We have always serviced the region in the sense that we always shipped to the region and we provided customs clearance, duties included, DDP, so we had a reasonable level of service but we felt that the customer in the region really deserved an upgrade in terms of everything you expect from a luxury shopping experience today which should be in your language with fast delivery. For example, we have a 90-minute delivery service here in Dubai with Gucci and we will also be integrating local brands and retailers on the platform. We already have a few on the platform and obviously with the Chalhoub Group with Level Shoes, Level Kids and other mono-brand and multi-brand retail formats will be part of the platform in the future. That will allow us to provide an even faster service to customers here and then obviously the private client and VIP service offerings are really important for the region as well.
You have an increasing amount of Middle Eastern boutiques on site — how do these fare in the international market?
They do really well. We work with a number of really interesting boutiques and they have a great selection, a great taste level and a very global viewpoint in fashion so that ends up working everywhere.
In terms of the education process around when you first launched Farfetch, that it was shopping from boutiques that are traditionally brick and mortar but having them delivered to your house — what was the education process like with the consumer? Do you feel like it's a continuing process?
Absolutely, I feel like it's a continuing process. I think the consumers definitely see the benefit because what they find on Farfetch, from the big brands, is a selection they don't find in department stores or other e-tailers. Then we have designers and brands that you cannot find anywhere else so the consumer immediately sees and feels the benefit of it. However sometimes the realisation that that happens because we are turning over every stone and finding these boutiques from all over the world and bringing them under one roof… that takes some education and explanation and that's a continuing effort.
"we felt that the customer in the region really deserved an upgrade in terms of everything you expect from a luxury shopping experience today"
Are there any key differences that you see in shopping habits across the region?
I think there are. For example in terms of language, Arabic is absolutely essential in Saudi Arabia and that's very different from Dubai and the UAE where the use is actually 50/50 in terms of the preference between English and Arabic because of all of the expats. Saudi Arabia, Oman, Qatar, they're much more Arabic focused. Then I think what's really exciting is the new millennial generation because it's a very young population, the average age of the consumer in the region is much younger than the global age. The average age of the Farfetch shopper is 36, which is already quite young, and here it skews towards an even younger audience. They are very engaged with digital technologies, with social media, it has one of the highest engagement rates in the world. The penetration of smartphones is over 100 per cent so that for us makes us like a kid in a candy store when we hear these statistics [laughs]. But obviously the important thing is to turn that into the service and service proposition that really appeals to the local consumer.
Dubai is pretty unique as a city because the retail landscape is one of the best in the world. You have only five cities in the world with this kind of retail presence which is incredible but then what about the other countries and cities in the region? You go from Dubai which is a 10 in terms of access to brands and very quickly the access to certain brands and products is no longer there [outside of the city].
You've teamed up with eL Seed on a cool local initiative to celebrate the launch — can you tell me a little bit about how this came about?
I always say I started Farfetch for the love of fashion. I was shoe designer and I was a computer programmer, which is a bit of an unusual combination, and it was really striking to me that technology was going to change this industry that I love and that the industry needed a platform. It was going to be very difficult for the small boutiques and even the designers, big or small, to be able to invest in technology and create the sort of global reach that Farfetch brings to the industry. So there was this feeling of 'What can I do for this industry?' It really started for the love of fashion.
And we were talking to eL Seed about this, about how Farfetch is "For The Love of Fashion" and he loved the idea because he's very much about passion and his passion for calligraphy, calligraffiti and installations and that's where the idea of translating "For The Love of Fashion" in his works came from.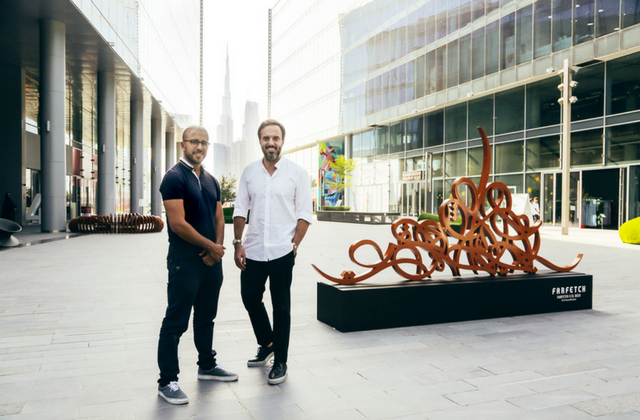 You also partnered with Anya Hindmarch on a project of a similar nature in London — why is collaborating with local artists an important focus for the company?
Because we are for the love of fashion, when Anya spoke to me about the chubby hearts idea — we both sit on the British Fashion Council together — I said, 'I want to be part of this. Can we have one in our office?' They were looking for a location in East London, they didn't have one, and that's how it came about. It's very organic. When we see something that speaks to the love of fashion, it's something that we want to be involved in.
You touched on earlier about what the company motto "For the Love of Fashion" means to you. What does it mean to the company as a whole?
I think it's really what unites everyone at Farfetch. Even the geeks, the technologists. The fashion people in the company love fashion anyway that's why they chose it as a career. I always say fashion is a beautiful industry because I don't know anyone that started a career in fashion and then changed. It's kind of this very sticky industry and I think most people do it for the love of the industry. But for the geeks, like the computer programmers, the engineers, they love the fact that we're a platform for the small guy in a way, for the boutiques, and designers added directly on the platform — of which we have 300 — but we also have designers who, through the boutiques, have their first online presence. That really unites the company in this sense of purpose and it's the common thread.
Building on what you just mentioned, there's so much talk at the moment about brick and mortar stores and e-commerce and whether one can exist without the other. I think Farfetch has this really beautiful melding of the two. In terms of the luxury experience, do you think that brick and mortar will always need to exist or do you think it's a 'one or the other' type scenario?
I very much believe that physical retail will never disappear, especially in fashion. I always say that you cannot digitise fashion. You can digitise music and video and media, and that's why these industries have pretty much moved into being 100 per cent online. You cannot digitise fashion. The feeling of being in the store, the scent, the interior design, being able to touch the clothes, try it on there and then, the storytelling that goes on between the shop assistant and the customer, that very human connection — you cannot replicate that online. I think online is going to continue to grow but at some point it will probably plateau and the majority of the sales will still happen in the physical stores. What I think is that the physical store cannot continue as it is today — it's stuck in the '80s. You shop the same way I used to, well, when I used to shop before Farfetch gave me a discount [laughs] — you go to the store, they go to the stockroom to check if they've got the inventory, there's a till with a queue… It's really stuck in the '80s and '90s and I think that will have to change and that's why we've invested in the star of the future, what we call the Augmented retail vision.
Is that the partnership with Chanel?
Yes, and also what we are developing at Brown's East and we'll be extending that to the Brown's West in the future and to other players in the industry. This is a process that will take probably five, eight, 10 years — it's an industry that moves slowly. It won't be [immediate], especially in the physical store environment where companies have invested billions of dollars building these store networks and building them as they are. It's not immediate that they will be open to change but I think it was a huge honour that Chanel saw in us a partner. It's a mutually exclusive partnership for the next few years so I think we couldn't be in better company.
I did laugh to myself when I saw the news as Chanel kept saying, "This doesn't mean we're selling online!" and I thought, 'Not yet'….
[laughs] We were having these interviews next to each other and Bruno [Pavlovksy, the President of Fashion at Chanel] leant over and said, 'Sorry I have to say this otherwise people will get confused' and it's true. Otherwise people will think, 'Chanel is on Farfetch. Where is it?' That's not the case. It's really an innovation partnership to change their physical retail at the moment.
This year marks 10 years since you launched the business — is there on thing you can pinpoint from these past 10 years as one big milestone or has it been a series of key milestones?
I think it's a series of things. We started with 25 boutiques in five countries in Europe, in terms of supply. We then, the year after, opened our offices in the US and we started becoming more and more global. We added brands directly to the platform in 2015 but obviously the boutiques are at the core of the DNA at Farfetch. I think it's beautiful that designers and boutiques co-exist on one platform because they're part of an ecosystem and really complement each other. It's been an amazing journey so far. There's not a boring day in Farfetch and we still believe that we're at the beginning. It certainly doesn't feel like we're done.
Now, see The Modist's exclusive edit of Ramadan capsule collections.