The FIFA World Cup 2022 has officially come to an end following an intense final that saw Argentina take home the trophy, beating France in an intense penalty shootout. Considered one of the most exciting and nail-biting finals in the history of the sport, Qatar proved successful by hosting the World Cup – and we couldn't be prouder. And in true Qatari fashion, doing things bigger and better come naturally and over the weekend, the country hosted the world's largest fashion show two days before the highly anticipated finals.
Qatar Fashion United by CR Runway, presented by Qatar Creates and CR Runway, celebrated fashion, music and culture by invited over 150 designers from six continents and 50 countries to reveal their collections to a sell-out crown in one of the stadiums.
With more than 20,000 spectators at the Ras Abu Aboud 974 Stadium, Qatar Fashion United by Cr Runway presented a dazzling array of looks from both established and up-and-coming designers, as well as 21 Qatar-based brands represented by M7. The fashion show was accompanied by renowned names in fashion and regional and international music superstars.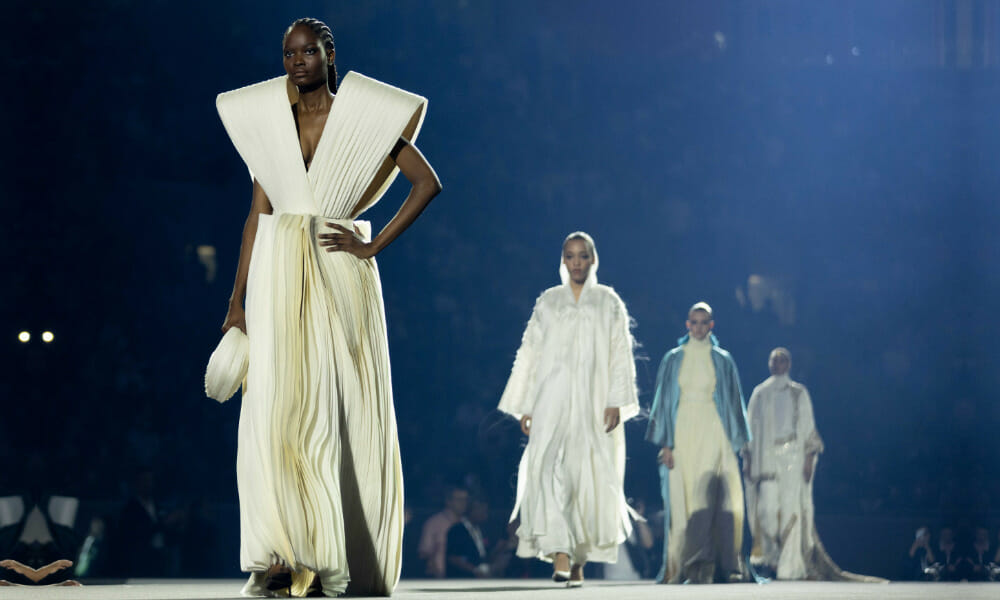 Speaking at the side-lines of the event, Her Excellency Sheikha Mayassa said: "Qatar Fashion United by CR Runway celebrated music, fashion, art and architecture in the unique 974 stadium. An accumulation of years of hard work, QFU brought together people from all corners of the world, demonstrating the true power of culture – bringing together disciplines of fashion, music, art, heritage and football to connect people and transcend borders. There could have been no better time to celebrate fashion and football than now, in the final days of the FIFA World Cup Qatar 2022, and I am so proud of all we have achieved – especially the Qatari and regional designers whose creativity and talent will lead the way for the future of fashion in the region."
All proceeds from the show will benefit Education Above All (EAA) Foundation, a not-for-profit organisation that provides educational opportunities to underserved children and youth, and empowers women to become active members of their communities.
ALSO READ: FENDI LAUNCHES A CAPSULE COLLECTION WITH SARAH JESSICA PARKER.