It's Monday morning. You're standing in front of your closet, backed up with clothes buy with nothing to wear; not a single outfit that works and failed looks piled on the floor.

What you need is a closet cleanse.

It's like a colonic for your wardrobe. After it, you will feel lighter, brighter, fresher. So, go ahead, dig deep and purge.

Here's how…
STEP 1:
CREATE 3 PILES TO ORGANIZE YOUR PURGE: RESELL / DONATE / RECONSIDER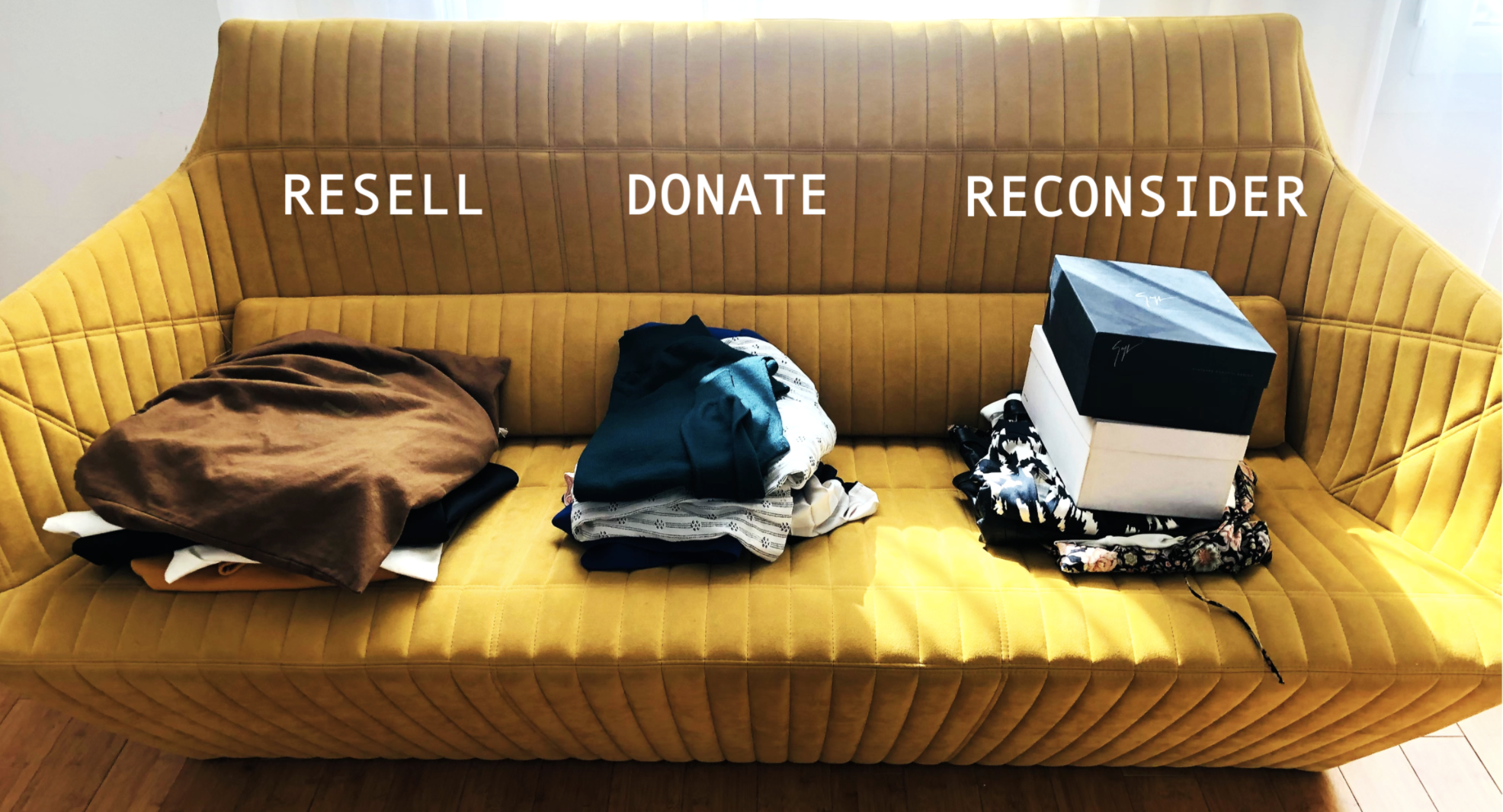 RESELL: These are items that as the name suggests, you will try to resell. They should ideally be designer pieces in good condition. Classic, timeless pieces like Chanel, Louis Vuitton, Hermes bags will sell relatively easily, often retaining their value if they are rare items in excellent condition. So, take care of your stuff. Conversely, don't discount trendier / "IT" items/brands like Gucci, Amina Muaddi, Bottega – all of which are having their moment. So, if you are no longer excited by them, now's the time to sell and get someone else's heartbeat racing.

DONATE / HAND DOWN: These are high street items of insignificant re-sale value and are not worth the hassle of uploading onto a resale site (unless it's something like Depop or other self-publishing sites specializing in more mid-tier/accessible brands). I personally don't have the patience for it, so would advocate simple donations or hand me downs to friends / family / daughter / friend or foe. For example, those low-rise Cheap Monday skinny ripped jeans you bought on a whim when feeling thin? Don't clog up your closet, just go ahead and pass them on…

RECONSIDER: This one is the trickiest and will require you to do some soul searching and trial runs before you can conclude on the outcome. We will need to double down here. Basically, these are the items that you haven't worn for a while for a variety of reasons:
Size is off (too big), but may be salvageable with alteration? (If it's too small, forget it. We are not going to waste precious time trying to get into something that doesn't fit us any more by dieting for 2 weeks on celery juice).
Love it, but don't know how to wear it?
Not sure if it's still "you", or ever really, was you?
There's a lot to unpack here. And there are solutions to answer these existential closet crisis questions. But that comes later. For now, just put them in the "RECONSIDER" pile, and guess what…we will reconsider them. I'll walk you through it.
STEP 2:
DEFINE YOUR WARDROBE ESSENTIALS
OK, so now we begin. We all have days when we're faced with a wardrobe full of clothes and nothing to wear. Where nothing feels or looks right. And no one understands how discombobulating this is, and why lying in a fetal position in your underwear with one shoe on is the ONLY default solution.

Right. To avoid the drama, we need to start with defining and building your WARDROBE ESSENTIALS.

These are the items in your closet that are your Holy Grail. The pieces that make you feel most like yourself. Usually, these are items you wear a lot, on rotation because they make you feel good. Take the time to DEFINE what those pieces are as they are the ones you DO NOT WANT TO GET RID OFF. You may in fact need to BUY MORE of them to UPDATE your wardrobe. (No this does not defeat the purpose of a cleanse as really learning what is needed after doing a cleanse allows you to refuel and re-energize. Like a good meal).

To illustrate the point, I will give you examples of MY PERSONAL WARDROBE ESSENTIALS and how they help me work out what to keep / toss.
A SLOUCHY HIGH-WAISTED PANT
THIS IS A STAPLE FOR ME.
IT COMES IN MANY GUISES AND COLORS, FROM DENIM TO POPLIN AND LINEN.
PAIRED WITH 2 OTHER STAPLES (BODY SUIT + OVERSIZED sunglasses), LOOK HOW HAPPY I AM!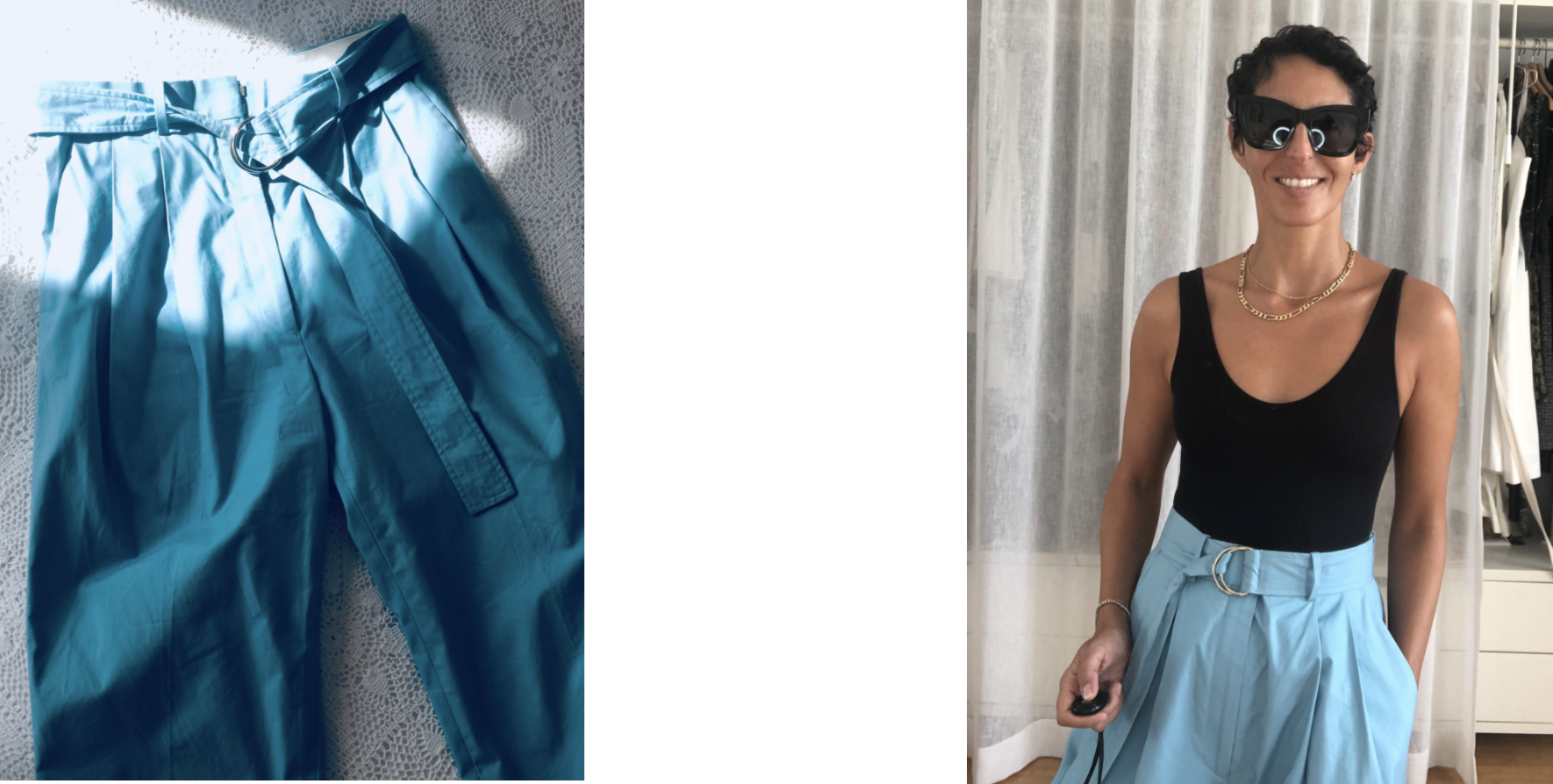 A TUXEDO BLAZER
A FAILSAFE. ESPECIALLY FOR EVENINGS.
SHRUGGING THIS ON WITH A LINGERIE BODYSUIT, HIGH-WAIST SATIN PANTS & HEELS, I FEEL SENSUAL VS. THE CLICHÉD SEXY EXPECTATION.
WORKS JUST AS WELL WITH A PAIR OF JEANS & A TEE.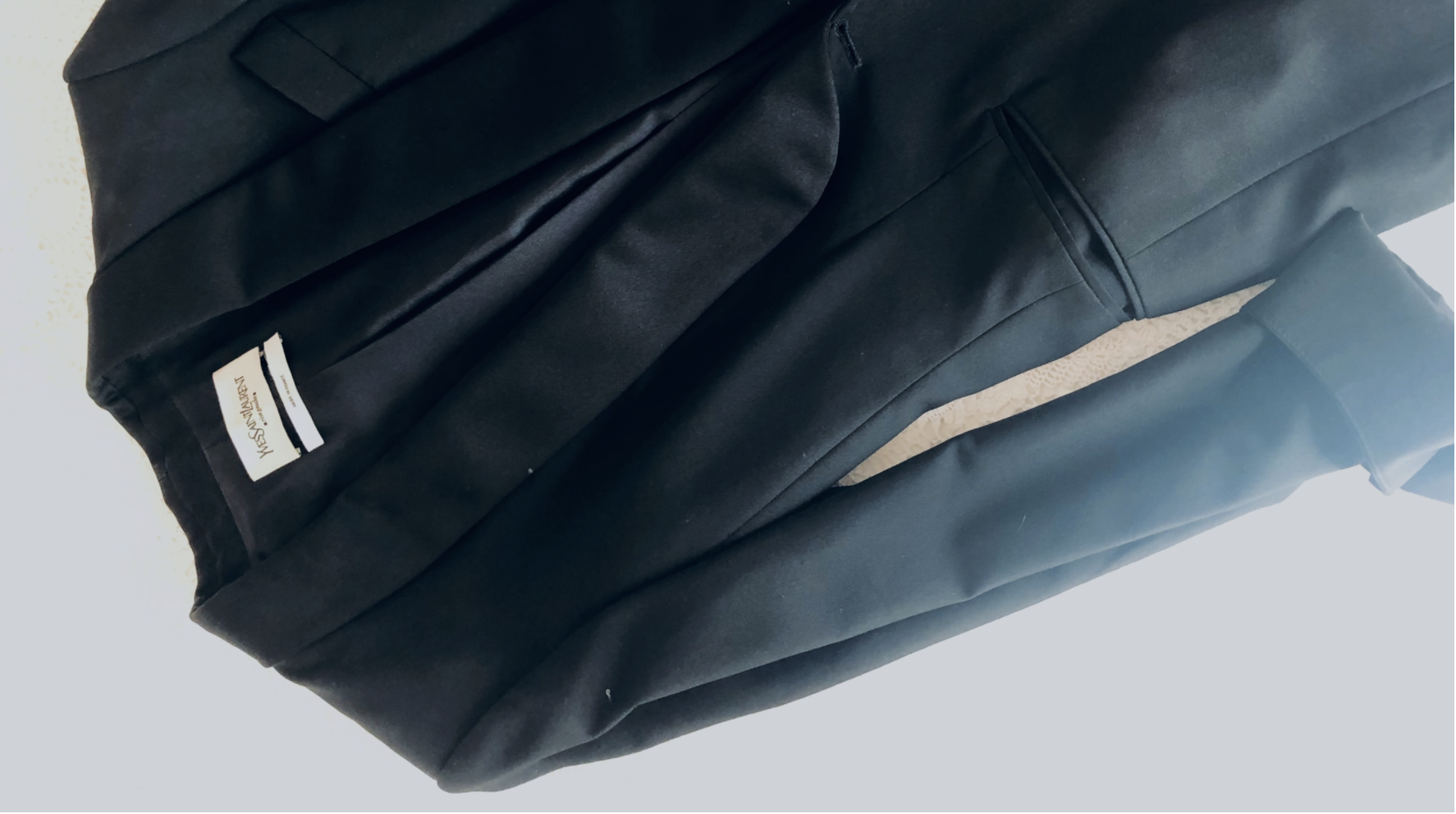 THE WEIRD SHOE
A SUBVERSIVE, SLIGHTLY MAN-REPELLENT SHOE IS SOMETHING I AM DRAWN TOO.
IT ADDS A POINT OF INTEREST TO MORE SOLID OR SOMBER OUTFITS.
IT'S ALSO A GREAT CONVERSATION STARTER. THE ODD MAN WHO APPRECIATES THEM IS FOREVER ON MY LIST OF LIFELONG LOVES.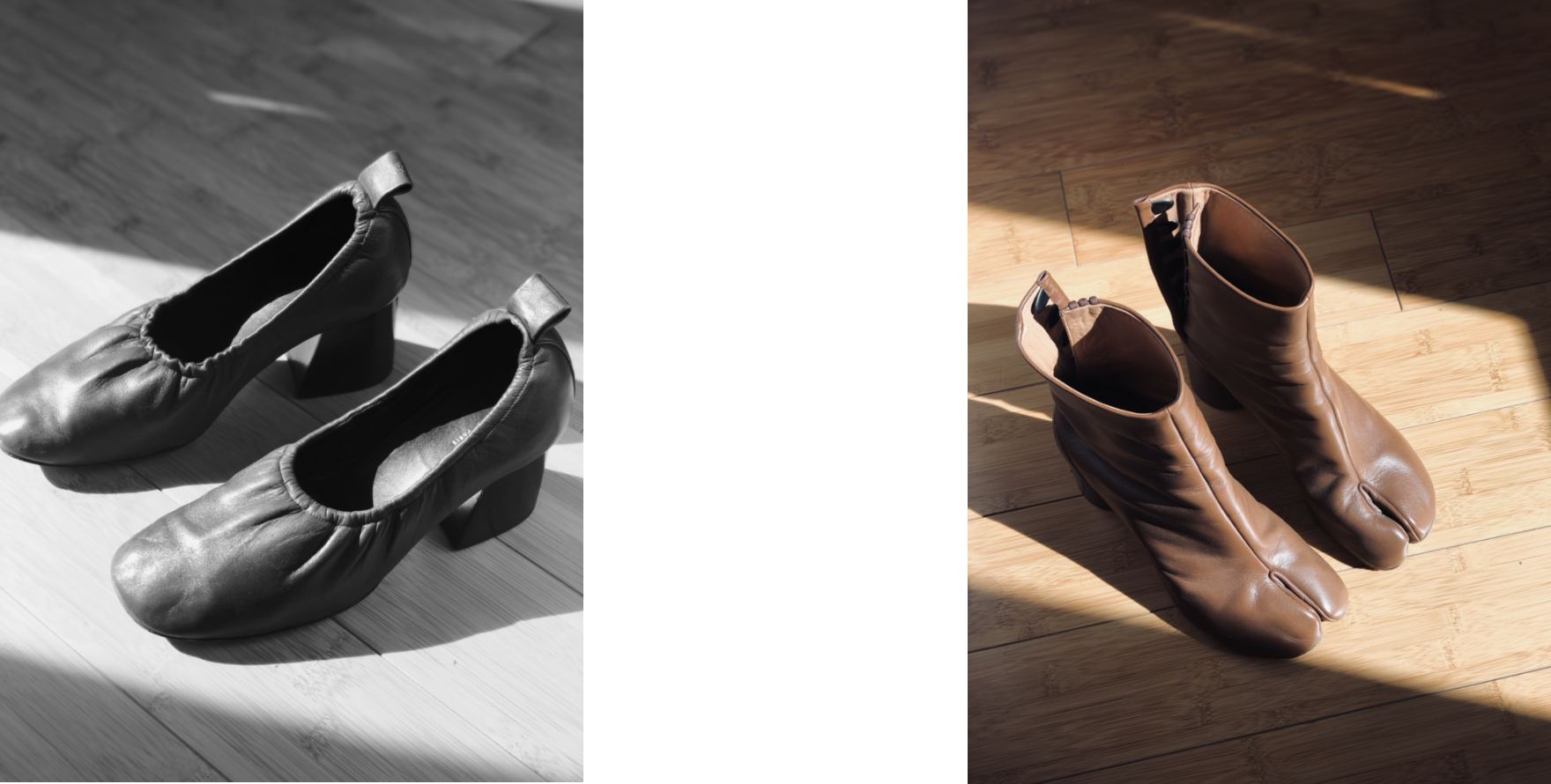 Those are some of my core wardrobe essentials. The pieces that make me feel like the truest and best version of myself. I make sure to update them with newer iterations to keep things fresh, and I know that if I have items I am not too sure about, by pairing them with one of my wardrobe essentials, I have a better chance of making them work. For example, if I want to try out the crop top trend, I know that if I pair it with my failsafe high waist pants, I will be able to pull it off. Not so much with a skinny jean. That is NOT a core staple for me, and most likely will make the donate / sell pile.
STEP 3:
CIRCLE BACK TO THE "PIECES TO RECONSIDER"
This is where the work really is. The trials & errors of working it out. As we mapped out earlier, these are the pieces that you have kept aside as you are not sure of them for a variety of reasons. Either a sizing issue, haven't worn them for a while for lack of occasion (excluding COVID), they no longer feel like you, or you haven't really figured out how to wear them.

One thing I like to do, which I feel inadvertently tackles all the above is the following:
THE 3 WAY CHALLENGE
Ok. What it's not is a sexual rendezvous. What it IS: a very simple rule of thumb. If you can't style that questionable item in 3 ways that are suited for your life, then well, out it goes. To get more mileage out of that item, I like to think of how I can wear it for different, real occasions in my life. BECAUSE ULTIMATELY, WE NEED TO DRESS FOR THE LIFE WE LIVE.

SO…I ask myself the following:
Can I wear it to work / office / a meeting in IRL vs. Zoom?
Can I dress it up for dinner or something a tad more formal?
Can I wear it in a casual way for weekend/off duty?
I shall illustrate with an example featuring a vintage Louis Feraud jacket. (I love it but haven't worn it on account of not really knowing how. Consequently, it just sat there waiting for the special occasion that never came).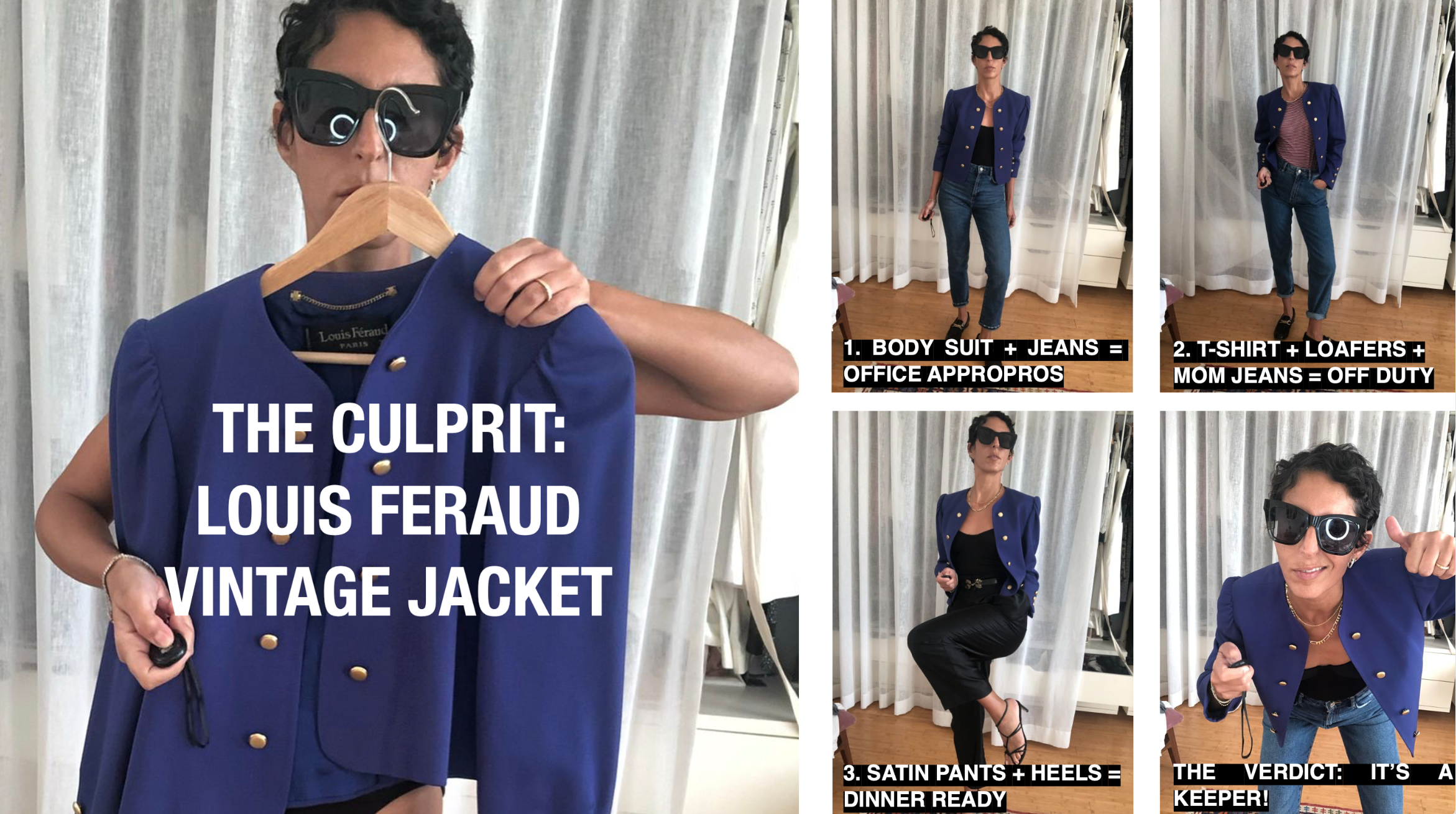 I find the 3 WAY CHALLENGE really helps iron out all those questions of – Is it me / does it fit right / how do I wear it?

By making that item work for you in 3 different ways that you feel good in, you are reassured of several key points:
It's versatility and that you will WEAR it for the LIFE YOU ACTUALLY LIVE.
It's fit. By trying it on with the intent of wearing it in different ways you can determine small tweaks that can be made to make it work better for you…IE: If you nip it here add a shoulder pad there, you can bring it back to life.
It feels like you. And that's the most important part.
Et voila. You are now ready to detox that closet of yours and unleash all that emotional baggage that comes with it.
HAPPY UNPACKING*.
*Bonus tip. Keep your spouse and small children / furry animals away as you do this. They will misunderstand your madness & squeals of joy once you nail it.