Joan, the immortal intellectual, crystalized as iconic style maven by a brand that was the indisputable tastemaker for modern, intelligent, achingly cool women. That was a moment.

Finally, we gasped! Old(er) women are being represented like themselves, bearing their age and looking old, yet in a way that is still aspirational and inspiring. BOOM! Philo does it again. The images went viral, sparking a collective jolt of electricity and excitement as they flooded our feed. This was ground-breaking. Exciting. Novel. Brave. Visionary even. Then came Bottega more recently with their S/S 21campaign toting an older, stylish aspirational woman. How progressive and inclusive this felt. Ironically, "refreshing" in fact.

Which got me thinking (again), why is the notion of seeing a woman of a certain age so revolutionary when it comes to selling high-end contemporary luxury fashion? At the end of the day, isn't she the one buying it? Can't imagine those hefty price tags are being pandered off to some 20 year old who is still paying off their school loan, right? So why is it that we are so taken aback and baffled when the actual CLIENTELLE is featured in the ad vs their 20year old nemeses?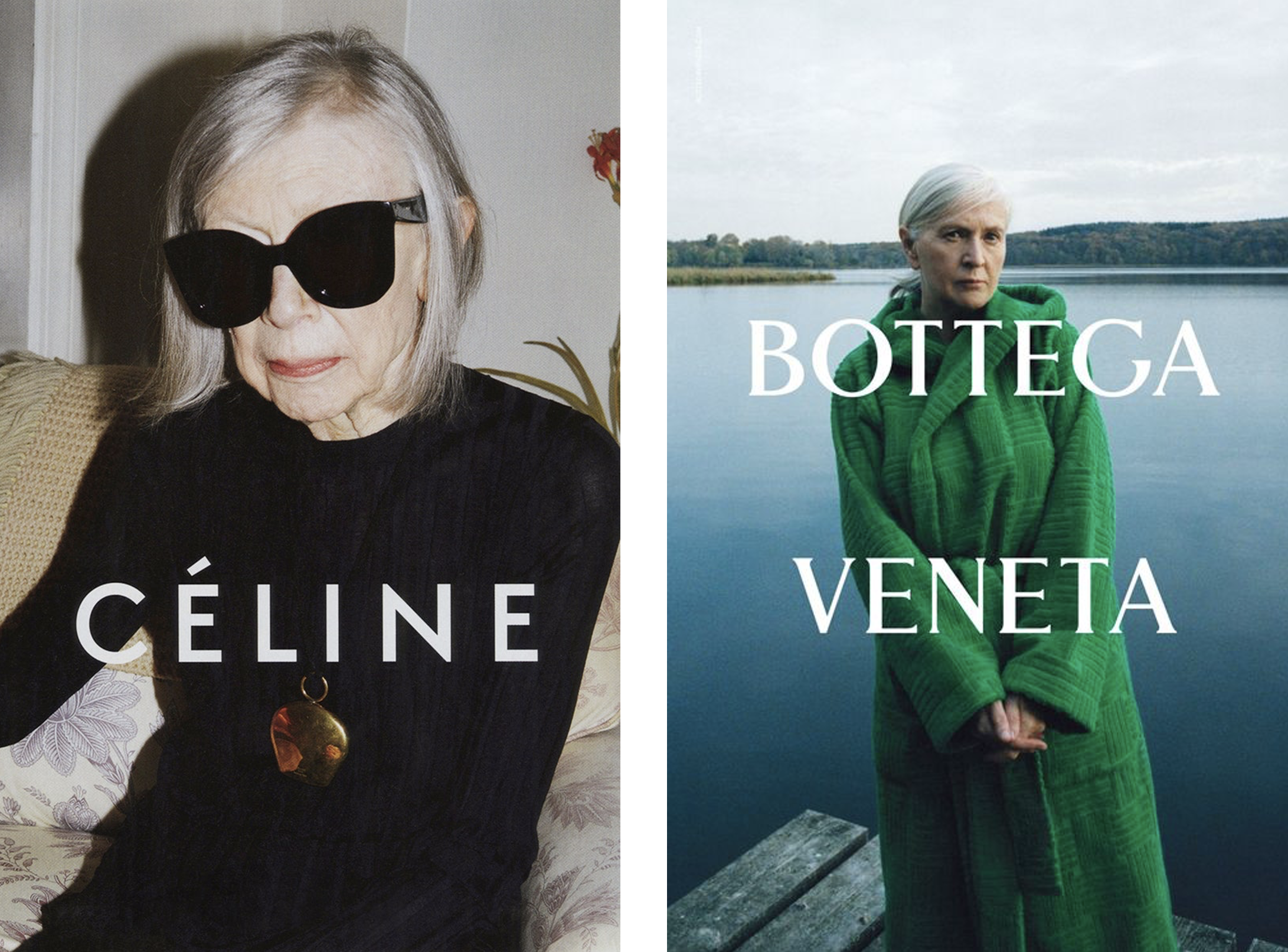 Ok, it's no secret that the fashion industry prioritizes youthful aspiration over a realistic depiction of what their customer actually looks like. I mean, seek no further than "adolescence raider" Hedi Slimane and the sacrilege committed at new Celine. A puerile obsession of chasing youth-gone-rogue, which now reeks of the pungent aroma of jumping the bandwagon on a shallow trend with no authenticity or integrity. I doubt anyone can convince me of the added value of a $600 hoodie that I or any 20-year-old can nab at Abercrombie. And yes, I have reference Abercrombie in context to Celine which is fashion heresy.

But I get it. Beauty does favour the young. That goes without saying. Tawny lithe limbs, vibrant skin tone, lush hair, oblivion to the notion of incontinence and stubborn belly fat. Yes, youth is beguiling and desirable. We are constantly hurtling towards it, spawned by media harking it if not THE only standard of beauty, then at least the ULTIMATE. We've been programmed to believe that youth and beauty are somewhat synonymous, so what happens when as a woman you inadvertently get old(er)? Does that beauty automatically get dumped down the wastebasket of irrelevance? It's almost as if women after a certain age start to become invisible. Less present, less "seen", ultimately feeling less desired. An erasure of more mature women despite their spending power, accumulated wealth, success, a density of experience and frankly, better taste.

Yet, despite such accolades and accomplishments, the pressure women face defying that ageing leads them down some seriously dark rabbit holes…

Take, for example, the Demi "Morte" train-wreck at the Fendi S/S 21 show where the universally beautiful actress stepped out looking painfully rechiselled, and not with the sleight of hand of Michelangelo. It's easy for us to ruthlessly leer and critique from the comfort of our screens whilst the mounting panic arises, because if DEMI MOORE lost her confidence at being in the spotlight and felt the need to resort to such drastic measures, then what chance do us mere mortals of a lesser gene pool have? A fate of endless facial "interventions" and shrouding ourselves in Supreme to get down with the hipsters?

Ick no.

Kudos then to the other extreme…to the colourful eccentric style icons documented in Advanced Style, a blog that celebrates and captures the sartorial savvy of the senior set. Iconic style deities like Iris Apfel and her clout of gregarious, creative, iconoclastic women way over 50, shed a high wattage spotlight punctuated with a great deal of sparkle, feathers, colour and vitality to the table. Extravagant and unconventional, these older women have done a stellar job of conveying their unique selves, informed by experience, exposure and the confidence of knowing who they are and expressing it out loud. Peacocking their maturity, they are the elder-set equivalent to RuPaul.

But.

And I preface this with deep respect and appreciation for eccentric, extreme and extravagant expressions of personal style. On the contrary, I absolutely relish is but is resorting to excess and dressing more loudly the only way of being seen and heard over the age of 50? Is being personified as eccentrics the only way to stand out? Today, unfortunately, what's getting press and attention are the extreme ends of the spectrum: Hot babes over 50 who are painfully trying to look under 30, OR the over-the-top, avant-garde eccentrics full of flourish and conviction.

So where do we normal, yet incredible women stand? Those who want to do justice to our age, be adventurous and unexpected, yet not become a parody of ourselves. How do we navigate that journey?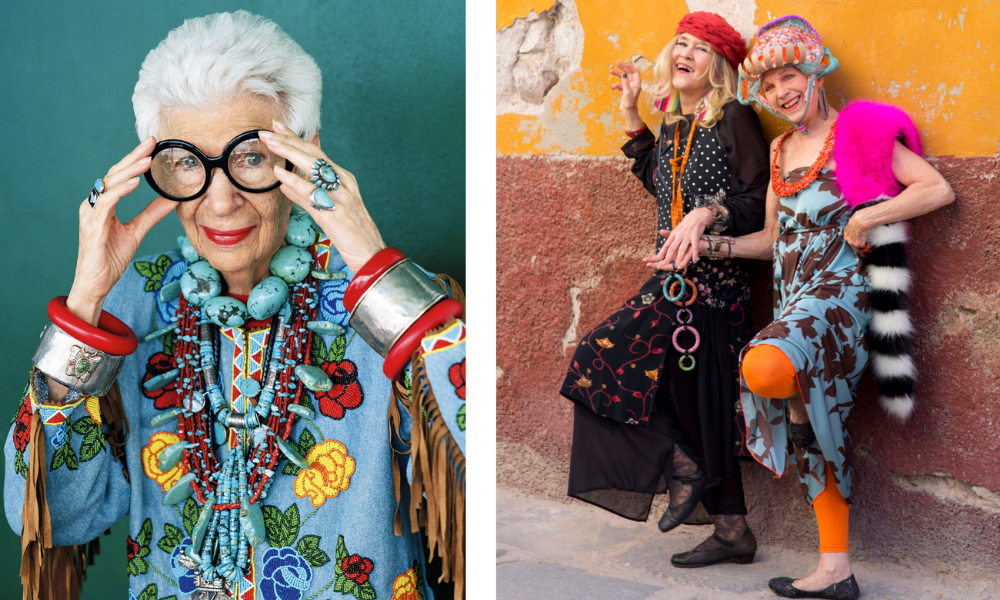 Well, for a starting point, Amy Smilovic's perspective of not dressing for age, but rather for type really resonates with me. Amy, the founder and creative director of Tibi attests to the idea of not letting age define how you dress, but rather letting your personal style shine through irrespective of it. Ok, yes, I can totally get behind that. Being age agnostic and not letting the years being the only thing that defines you is certainly empowering, cleaning the slate for the style trump card.

Then again, being cognizant of the time-lapse of experience and the patina of taste that comes with some maturity is worth savouring…a little bit like having your age fermented fruit cake and eating it too. It admittedly gets better, more mellowed out with time. The flavours coming together just so, sort of like the buttery, elegant tones served up at THE ROW.

Ah, The Row. (*appreciative sigh*) Helmed by the premature honorary octogenarian Olsen Twins whose whole chic, restrained aesthetic celebrates an elevated sensibility that ultimately makes you feel like you need to grow up to earn it (or mortgage your condo for a coat). The modes and the muses underpinning their designs project a RESPECT for age, not in glamorizing or fetishizing OLD with erratic extremes, but a more deeply imbued reverence for the process of maturity and the refinement that it gleans. That's inspiring. And should be celebrated. Because when seen from that standpoint, it's no longer about the loss of youth or the aspiration to be younger, but the privilege gained from time and experience, and ultimately of aspiring to be the best version of oneself, irrespective of the mounting number. Assuming a quiet authority rather than a wailing scream or plea for attention.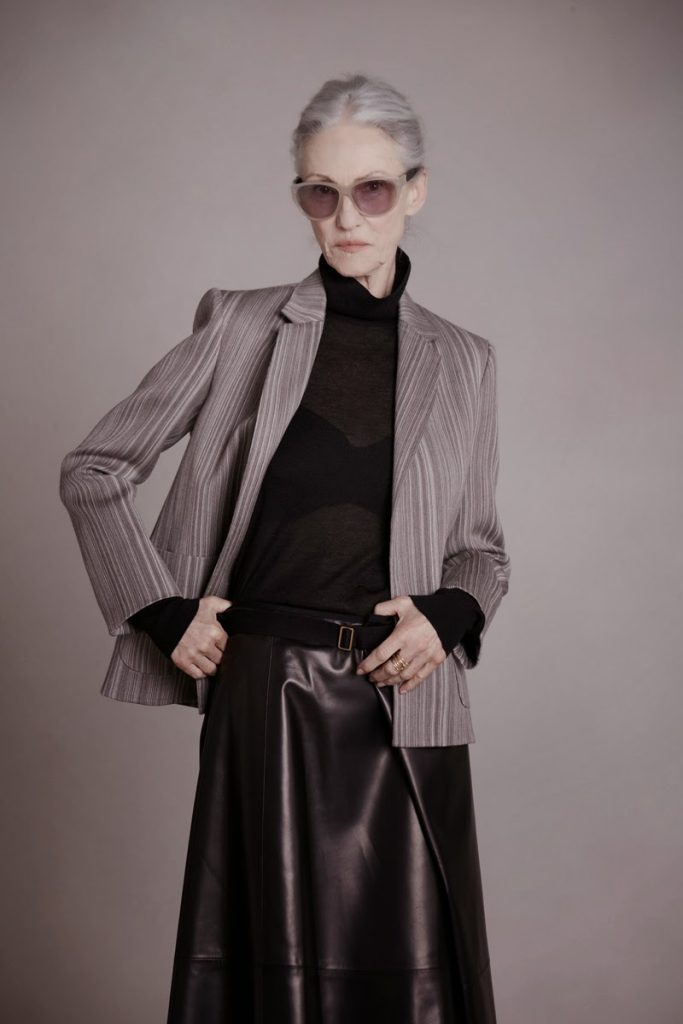 Perhaps somewhere along the line we (read, I) are guiltily of having auto-silenced ourselves, automatically denigrating aging as something we scrape our heels at trying to avoid and combat, rather than, as the adage states, aging gracefully. Enter Norma Kamali, aged 75 who ups the ante on aging with her striking looks, vital personality, and the ethos of aging with POWER & INFLUENCE. Paraphrasing from her aptly named book "I am Invincible" she concedes that there's a certain discipline and rigor to maintaining a level of wellness and health, that effectively puts you in charge of your mind and body. Consequently, looking and feeling good is by no means vain. In fact, it becomes virtually impossible to feel invisible when you yield the power to manage your wellness and outward appearance. It's about taking agency in ourselves, setting our own terms, and cognitively re-shaping our relationships with our new, older selves. Smashing. I want to do that, but tangibly how?
I'm no Sherpa, but here's how I plan to climb the sloping hill of life.
Reconnecting with my vibrant, modern, active, and diverse female friends. And if you don't have them, go out and make them. That feminine power is rejuvenating and fulfilling in ways that microblading is not.

Be present in those pictures. I realize I had stopped featuring in selfies and random photos, gleaning at my past to reminisce on my former self. Well, if I settled into the background, how could I expect the media not to do the same. Be present on your turf. Smile and show off those laugh lines. I promise you we will look back and be like, fuck. I was hot. Why didn't we believe in ourselves more? So, do that now.

Take on new projects. Especially the ones that scare the shit out of you. Those are the ones that are going to challenge and make you grow. And yes. We still want to do that. Cause ironically, staying put and stagnant is what gets you old.

Dress to please yourself. Own your personal style. If it's loud, good for you. But know that's not your only option, and you can be heard and seen in ways that are authentic to you. Acknowledge that you have a voice and perspective bred from experience, time in the driver's seat and an opportunity to have actually curated some semi-remarkable items. But if not, fuck it and go shopping at The Row.
So. Ultimately. I may be losing my edge. To all the cool kids from France. But I was there. And it was good. In fact, it still is.
(*Inspired from LCD Soundsystem, "Losing My Edge". If you know, you know. If you don't, check it out.)
Women to be inspired by today, tomorrow and for a long time later…