Over the past two years, things were shaping up extremely well for Saudi Arabia following a slew of positive changes to the Kingdom including women being allowed to drive back in 2017 (and can even apply to become Careem drivers), that the Arab Fashion Council have opened an office in Riyadh and that cinemas will be built in the country.
However, earlier this year was just the cherry on top of the nation's constant push for the better as Princess Reema bint Bandar Al Saud was appointed as Saudi Arabia's first female ambassador to the United States.
Now, the new envoy is in Washington, DC, and is ready to begin her duties as she officially presented her credentials as the Kingdom's ambassador to the United States — more than four months after she was nominated to the post.
Princess Reema made the announcement in a tweet that read: "Honored to present my credentials today to @StateDept. Looking forward to starting this chapter of my life in Washington DC the journey begins with a wonderful team @SaudiEmbassyUSA".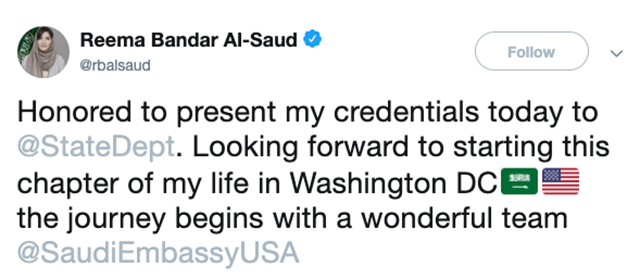 This historial move marks HRH the 11th Ambassador of Saudi Arabia to the United States and the first Saudi woman to hold this post since 1945. She has replaced Prince Khalid bin Salman, Crown Prince Mohammed bin Salman's younger brother (the Kingdom's current Deputy Defense Minister).
From what we know about her background so far, the Saudi national is the daughter of a long-time ambassador to the US (Prince Bandar bin Sultan) and is an advocate for women's rights. With a background in business, she also has deep knowledge of US politics.
Big congratulations are in order!
Now, find out which major musicians are set to perform in Saudi Arabia later this month.