Shortly following Apple's latest launches which include a purple iPhone, a colourful line-up of iMacs, the introduction of the AirTag and plenty more, Apple's Music division is launching a new feature titled City Charts. Bringing emerging and global artists to the forefront, City Charts is based on destination discovery where users will be able to come across the top 25 songs gaining momentum with listeners locally.

What makes the new feature unique is that it's the first streaming platform to spotlight music based on a city, rather than simply on a number of plays.

Set to be updated daily, you can find City Charts on Apple Music's Charts page and you can even ask Siri to play a local city chart. For example, Dubai's chart, simply say "Hey Siri, play the Top 25: Dubai, United Arab Emirates". You'll then be able to add your favourite City Charts to their library, download them, and share them with friends.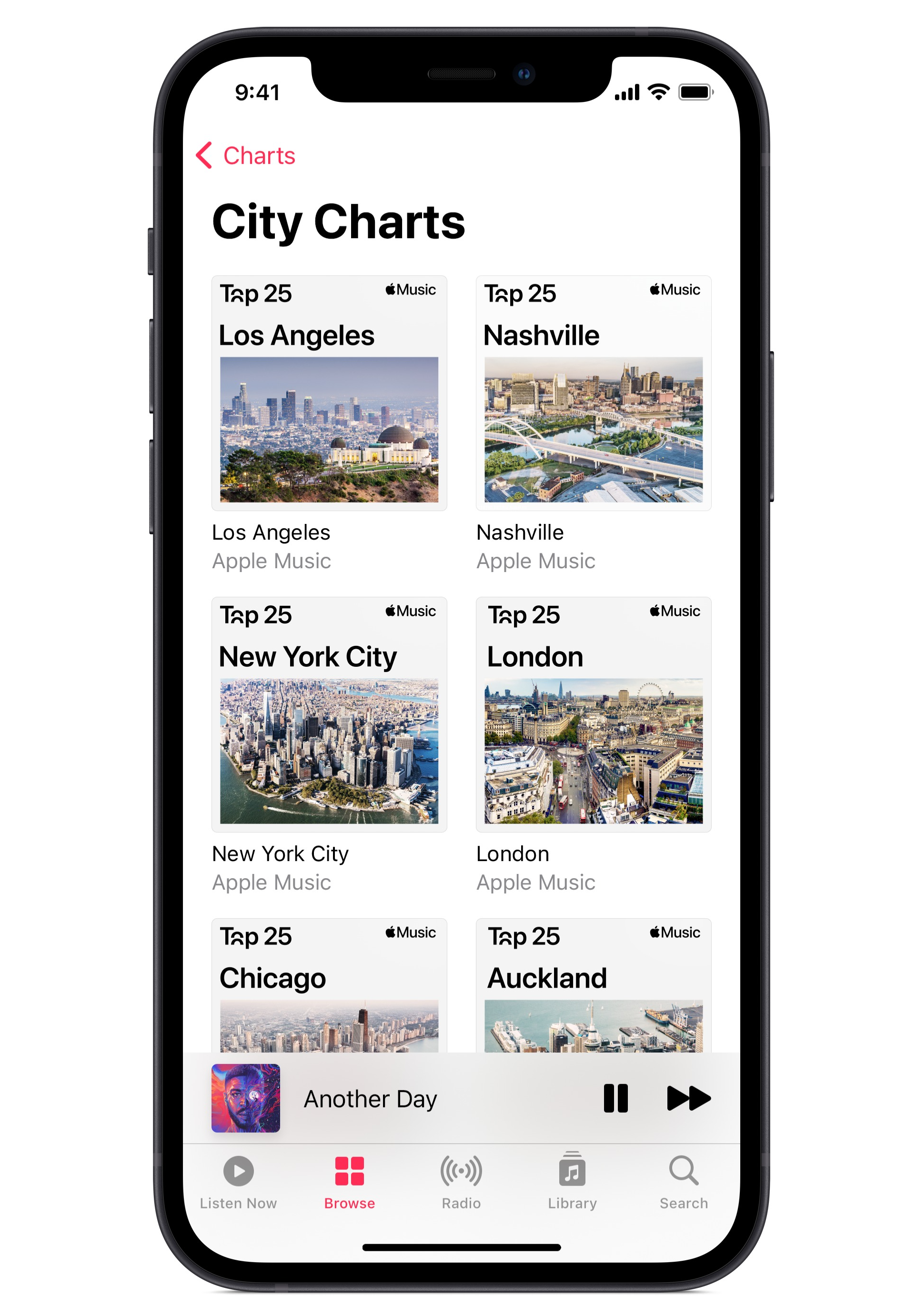 In addition to City Charts, Apple Music also launched an exceptional range of chart offerings, which includes its Daily Top 100: Global and for 116 countries; album, top songs and music video charts in various genres; as well as the iTunes, Shazam Discovery Top 50, and Shazam's Top 200's, Discovery, Cities and Genre charts in its portfolio.

Also, if you're an Apple Music subscriber, there's a plethora of new features that just launched. These include:
Motion for Artist Detail Pages: Artists can add their own moving images to artist detail pages.
Lyrics Sharing: Lyrics are now linked to the exact moment of the song and you'll be able to share your favorite lyrics using Messages, Facebook, and Instagram Stories.
Record Label Pages: Explore the latest and most popular releases from hundreds of record labels.
Search for Record Labels: Find exactly what you're looking for by searching for Record Labels in Suggestions and Top Results.
Explore other albums from your favorite labels: Albums released from selected labels now have a link to the Record Label page just below the tracklist.
Library Made for You: To make things that much easier for you, Apple Music launches a 'Made For You' Library shortcut.
Apple Music's City Charts and brand new features is now available to all Apple Music subscribers. Non-subscribers can view City Charts and preview songs on music.apple.com/browse/top-charts.