I'll never forget my first dye job: A halo of thick, yellow stripes. I was 12 years old, but I felt a lot older in that moment, sitting in the salon chair. My hair has always been naturally dark blonde – or, on unwashed days, "mousy" – but pre-teen me was mad for Aguilera Blonde (this was the early noughties). And so, I was hooked. Experimenting with – some arguably questionable – shades. From a dark brown (thought it make me look cool and French. In fact, I just looked perennially washed out) to red (less Amy Adams, more Carrie Grant in Fame Academy). Throughout my twenties there's always been one colour that I've had an affinity for, from afar. Pink. Just writing it down gives me a serotonin hit.
There's something so alluring about someone's hair painted a shade so obviously unnatural. Whether that's Natalie Portman's candy coloured bob in Closer, albeit in wig form, or girls wafting down Kingsland Road; it feels playful and peacock-y, without being too brash.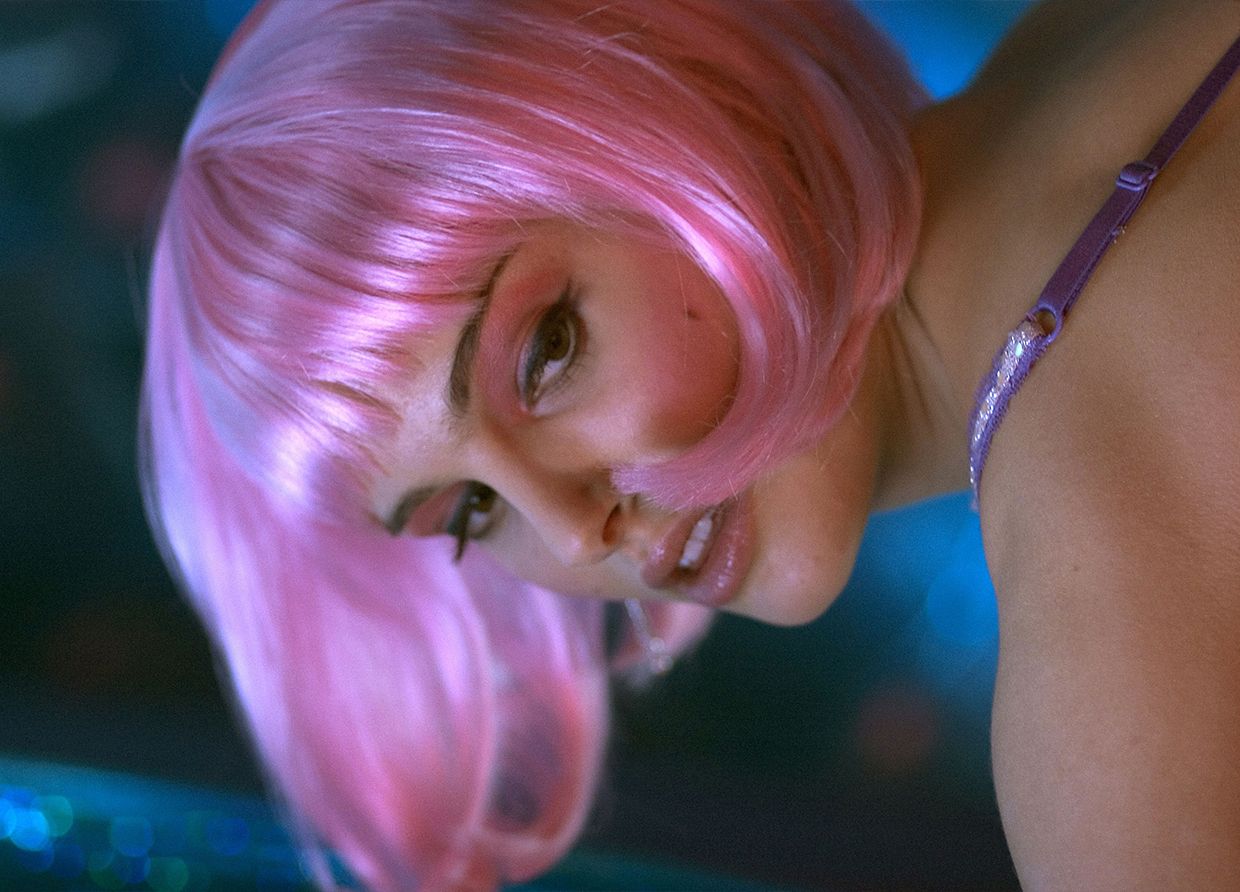 So, feeling a bit 'meh' and unmotivated (are you even quarantining properly if this isn't you at least once a day?) I decided to take some action on my own, increasingly lacklustre mane. Which – for context – needed highlights six months ago.
To distract myself from conspiracy theories, I tried out a colour theory. Armed with two bottles of BLEACH's The Big Pink. Proper, professional advice below on how to do this at home, but my steps were as follows: shampoo, towel dry, disposable gloves on, wrap myself in a towel I don't like (do not wear anything special: it gets messy), saturate all strands in dye (I used up an entire bottle), pop on a shower cap, wait 30 minutes (slash, watch a TED talk on how to relax). And then the fun bit at the end: the exhilaration of seeing a bathtub fill up with hot pink water.
Post-blow dry, obviously I looked different – but more so, I felt viscerally happier. Like me on a good day, but more laissez faire (call me a lockdown cliché, but afterwards I painted the entire afternoon – which I hadn't done for 10 years).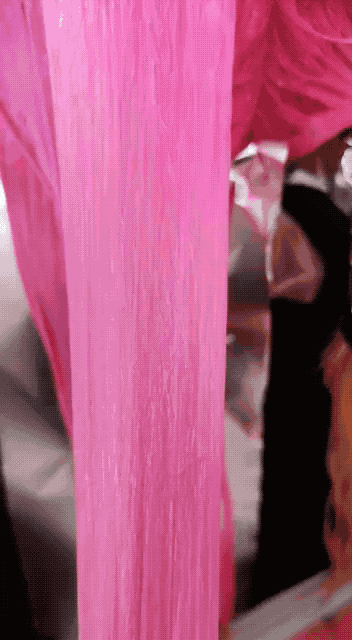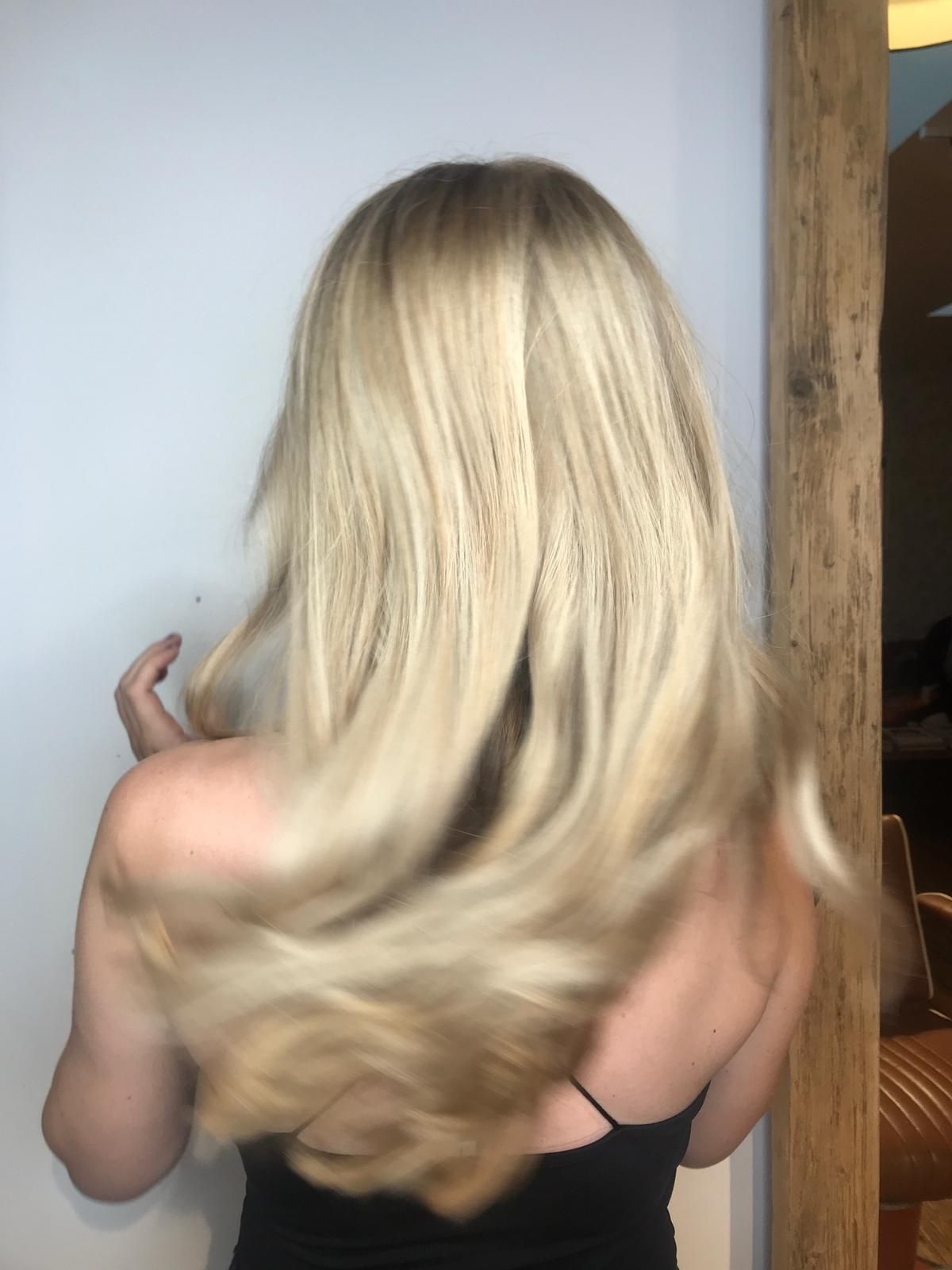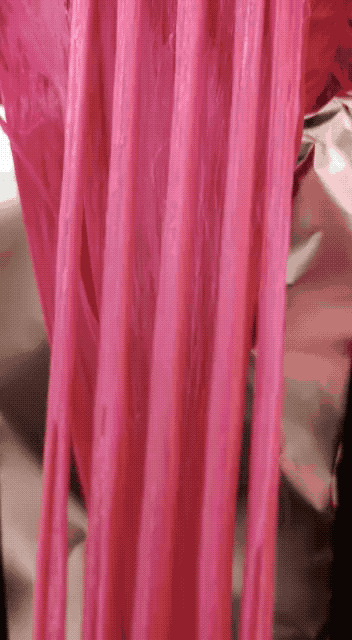 "DYEING YOUR HAIR PINK IS AN ENTRY STEP INTO MORE ADVENTUROUS HAIR COLOURING"
Hair stylist and BLEACH co-founder, Alex Brownsell, explains that psychologically you start to embody the attitude of pink-haired people you've looked up to – whether that's 90s Kate Moss in bed or an anime character on-screen. "You feel slightly more impulsive, not caring as much what other people think," Alex says. "But also wanting attention at the same time." Adding that it's a similar process to "creating an avatar for yourself online", as in that situation you probably would give yourself hair "you wouldn't normally have yourself." If there's ever a time a time to experiment with your identity – that time is now.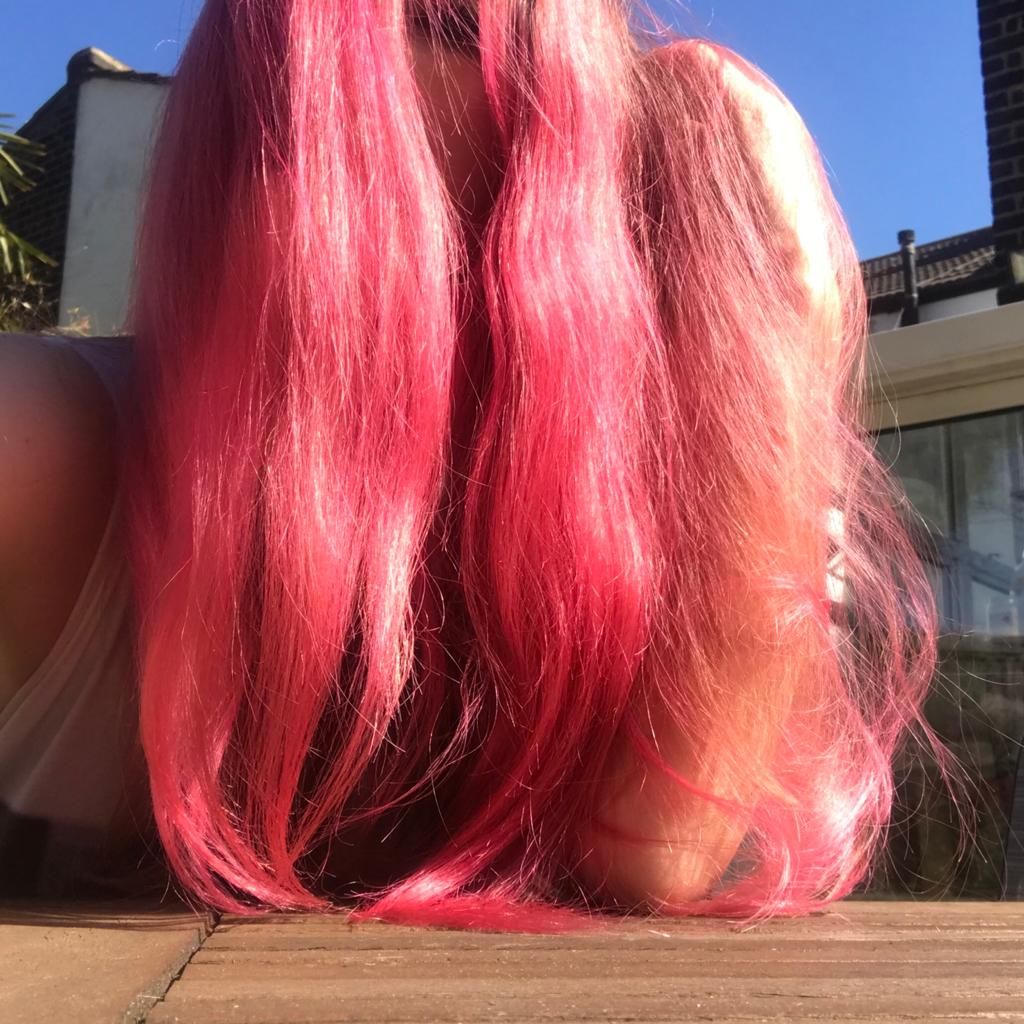 "YOU FEEL SLIGHTLY MORE IMPULSIVE, NOT CARING AS MUCH WHAT OTHER PEOPLE THINK, BUT ALSO WANTING ATTENTION AT THE SAME TIME."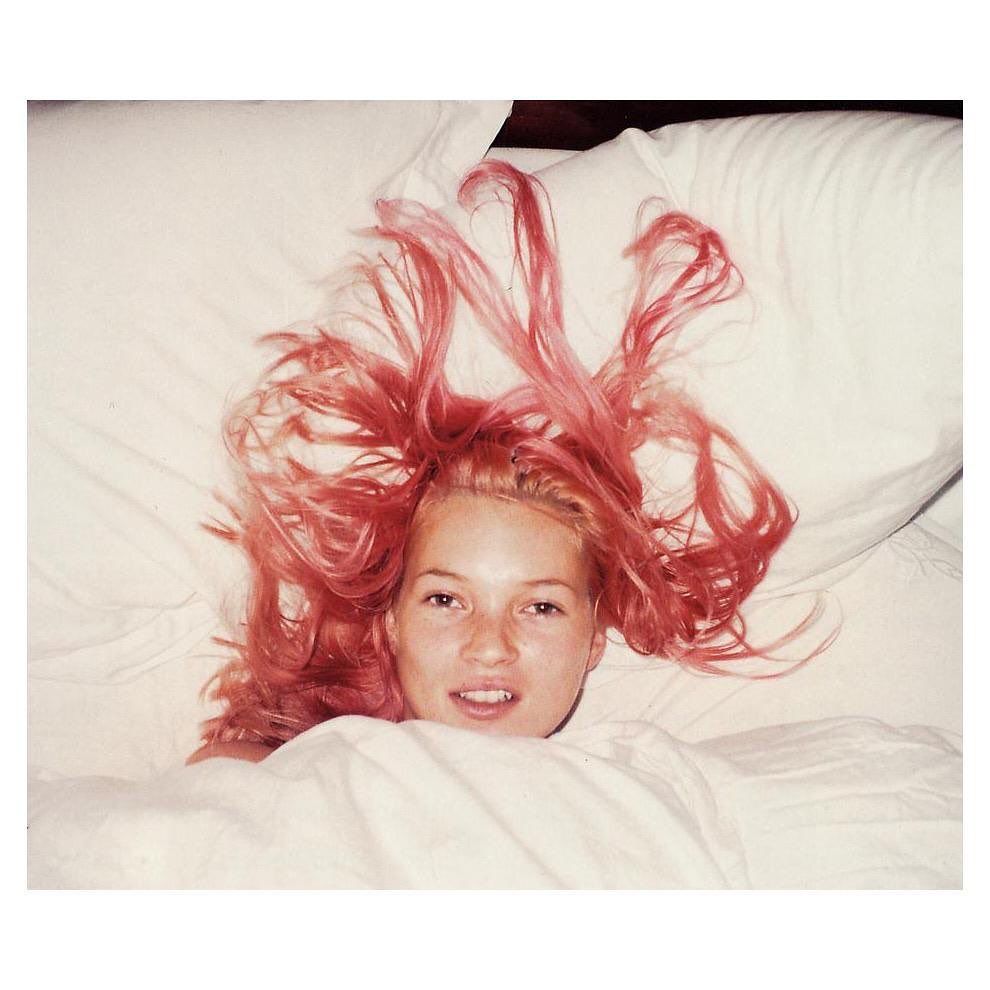 "Dyeing your hair pink is an entry step into more adventurous hair colouring," she continues. "Because it's quite low-maintenance. If you already have blonde hair, you can just use it like a conditioner. It's easy to put in and it's easy to get out. The molecules of pink fades really quick – which annoys people that want to be a forever bleacher. With pink, people are always asking us 'how do I make it last longer?' Because it only lasts a few washes – which is great for some people and not for others. You can have pink hair for a few nights or a weekend, it doesn't have to be so long-term."
Another bonus? You can put on an otherwise drab outfit and still look dressed up. Which, let's face it, is a blessing right now. Intrigued to join Team Flamingo? Alex shares her wisdom for first timers.
PROCEED WITH CAUTION
"Unfortunately, you do have to have pre-lightened hair. If you're naturally grey or dark blonde, you'd have to go for a darker shade of pink. If it's that colour naturally (grey and blonde) it means your hair is super healthy and not porous enough, so you'd have to go for a stronger pigment to achieve that look. Any bleaching process will mean your hair can absorb the pastel colour better, for a more intense result."
MIX 'N' MATCH
"I think it's good to mix up a few different shades for you. We'll sometimes have people buy Rose and it's not right for them – the nature of it is that you should be experimenting. There's a pink identity for everyone; it's a really flattering colour in your hair, [as] it suits every skin tone, which is not always the case with bold hair dyes."
GET SMOOSHING
"I use an Eco-Conut Hair Dye Tool Kit – which is a coconut bowl and a brush, so you can do a really thorough application, with no patches. Then, use your hand with a smooshing technique; you have to apply the colour not just to the root and comb it through but apply the dye to each part of the hair. So, you can do your roots with a brush, then on the mid-lengths smooth and massage it in with your hands. Here, it's really just about the application being even through the ends. Sometimes using your hands is a much easier way to do this."
TOP UP YOUR COLOUR IN THE SHOWER
"You can also just dilute your dye with your conditioner as well for a nice pastel pink. I'll mix my conditioner with a darker shade – like The Big Pink or Odd Fuchsia – and leave it in my hair for a couple of minutes before washing out. It doesn't mean you'll get a perfect application, but sometimes that's part of the fun of it – it doesn't have to be perfect."
---
BURO.LOVES:
First published on Buro247.com.
Now, take a look at how these celebrities are proving that pink hair is the biggest trend of social distancing.