When asked whether your skin is oily, dry or combination, if you find yourself answering the latter more often than not you'll be shown product pairings that are made up of items created to target the other two skin types. Combination skin-specific products are far and few between — but that all ends today.
Aesop has just announced the launch of its new skincare range, called In Two Minds, after three years of research and development. Containing a cleanser, toner and moisturiser, the collection has been specifically formulated to "address the complex needs of combination skin and to restore the skin to a state of calm equilibrium." The products are made using scientifically proven ingredients, botanicals and oils.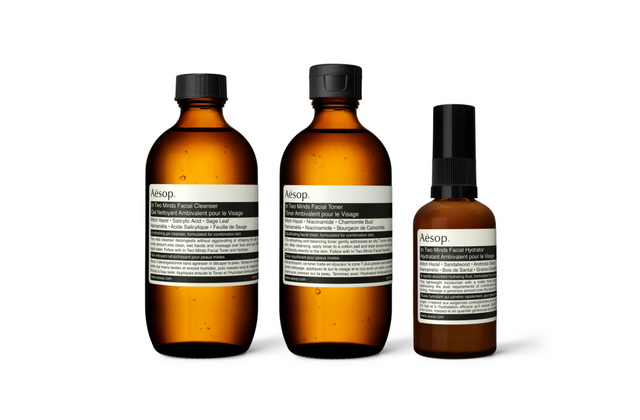 Dr Rebecca Watkinson, the brand's Innovation and Research Manager, said of combination skin, "Over the past decade we have observed an increasing prevalence of combination skin among our customers, particularly in warmer climates, and they were finding it increasingly difficult to manage this challenging and often reactive skin type." As for what constitutes combination skin? "It's typically characterised by an oilier T-zone or forehead, with dry to very dry skin across the cheeks and has a greater tendency towards reactivity."
The hero of the collection (which is available from today in Bloomingdale's, The Dubai Mall) is the gel-based In Two Minds cleanser which has been formulated using Salicylic acid that does not aggravate the skin but thoroughly cleanses it to remove all dirt and residue. Promising to refresh skin without overburdening it with products, the range aims to promote skin that glows, minus shine and with no dull spots in sight.
Now, find out more about the new product that aims to fight hair fall in the UAE.