Guerlain and art have always gone hand-in-hand, and they've enjoyed an unbreakable relationship for over a century. Today, the brand's passion for the arts is translated through an artistic collaboration seen with its latest fragrance, Jasmin Bonheur.
Bottling a plethora of fresh ingredients – think radiant orange with an apricot note, vibrant violet with powdery iris and tender pink with rose – Jasmin Bonheur is reimagined in an artistic limited-edition inspired by the palette of Henri Matisse, a French visual artist known for both his use of colour and his fluid and original draughtsmanship.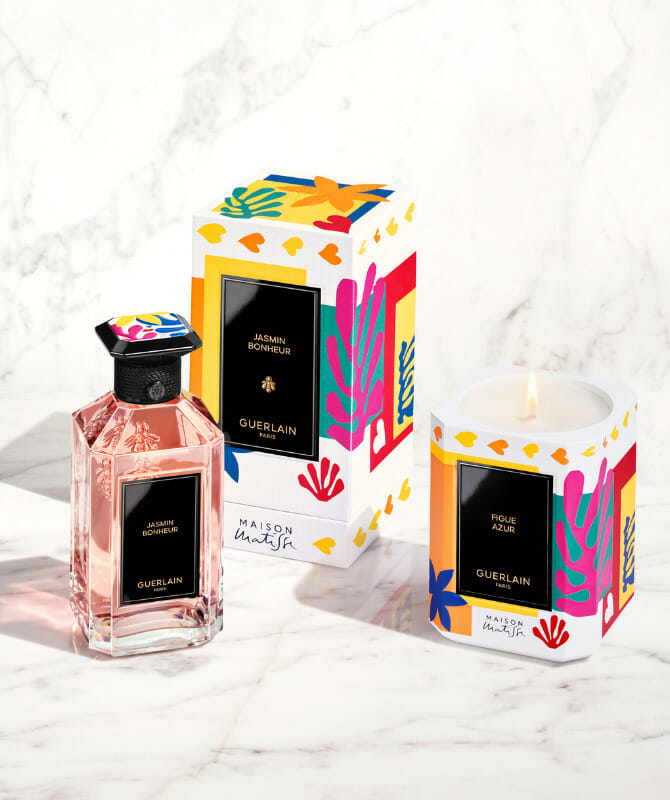 Created exclusively for Guerlain, the Maison Matisse aesthetic adorns the Jasmin Bonheur bottle featuring a playful take on an embossed version of the Guerlain-exclusive motif. Inspired by Henri Matisse's work, One Thousand and One Nights, this Maison Matisse precious edition of Jasmin Bonheur transforms its case and the plate on its stopper into the most exquisite adornment.
Limited edition of 1,000 bottles available worldwide, the multi-panel piece is a celebration of happiness through colour as hearts, jasmine blossoms and leaves abound in this vibrant composition imbued with the scent of contemplation.
To shop the limited-edition collaboration, please visit Guerlain.com.
ALSO READ: HEDI SLIMANE WORKS HIS MAGIC WITH CELINE'S HAUTE PARFUMERIE COLLECTION.