Whilst Rihanna received her first several accolades as a singer from Barbados, she has since evolved into a global style icon, makeup entrepreneur, fashion designer and now, skincare guru.
Following the launch of her latest business endeavour, Fenty Skin, the Middle East in particular is celebrating the arrival of her debut skincare brand in Sephora across the GCC. And what better way to celebrate other than coinciding with the region's highly anticipated festival of the year, the Dubai Shopping Festival.
Currently in full swing, the Dubai Shopping Festival will see The Dubai Mall Promenade transform into an immersive getaway to discover the new culture of skincare. Here's introducing the 'Fenty Skin Island', open to the public from January 6 – 16.
We could all use a getaway to kick start the year and The Fenty Skin Island is an incredible experience where you'll be able to discover exclusive activations — all whilst feeling like you're in the tropics.
How does it work? The island will feature hidden QR codes scattered throughout and once discovered, will unlock rewards and endless opportunities. Also, keep an eye out for the hidden treasures which will include Spotify playlists, digital content and social media-worthy spots.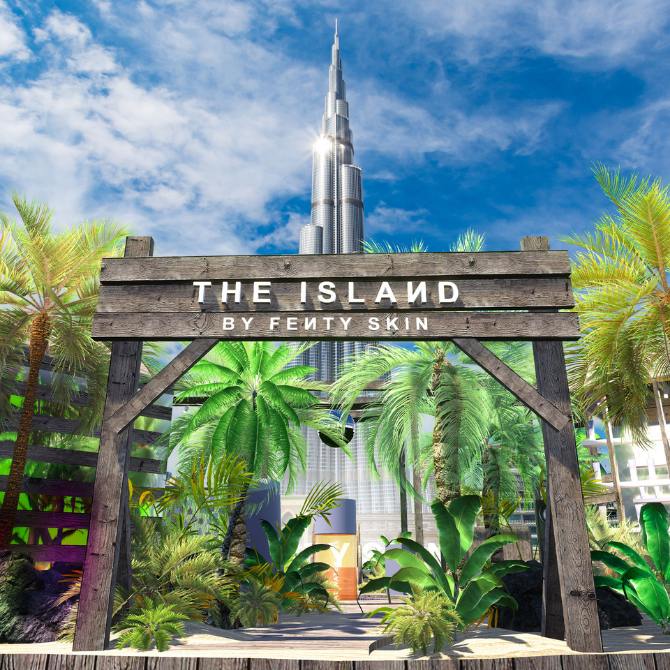 If you haven't had the chance to discover the products, you'll be able to shop the full Fenty Skin assortment and learn about the conscious elements of the product and brand ethos. Expect to find the perfectly packed (and clean) formulas that help achieve a healthy-looking complexion and feed your skin with nutrients.
The global launch event has never been done before so make sure to be a part of it and head down to The Dubai Mall Promenade from January 6 – 16 to discover the Fenty Skin Island. We'll see you there!
The Dubai Shopping Festival will run until January 30, 2021. For more information, please visit mydsf.ae.